Intro Comments:
I guess I should start one of these build threads so you all can track my progress with this truck.
Make:
Nissan
Year:
2014
Model:
Xterra
Trim:
S
Color:
Brilliant Silver
Transmission:
5 speed AT
Location:
Long Island, NY
Intended Purpose:
Good balance of all off road environments
Comments:
I owe a lot of my happiness with this truck to the great community that this truck brings with it, so pat yourselves on the back for that. I have had a lot of help from the local NY guys and the not so local guys and gaining knowledge that I can 1 day pass onto others is really something most of the car community is lacking these days.
MODS
Exterior:
Cravenspeed stubby antenna
Weathertech bug deflector
Thule 450 foot pack with 65" crossbars
4ft. Firestik CB antenna
Melt mod
Armor:
Hardcore Offroad LLC rear bumper with hitch and recovery points
Hardcore Offroad LLC steel plate winch bumper with pre-runner hoop and recovery points
Hardcore Offroad LLC radiator skid plate
Hefty Fab Sliders
Hefty Fab engine skid plate
Hefty Fab transmission skid plate
OEM Pro4x transfer case skid plate
OEM Pro4x gas tank skid plate
Ballistic Fab diff cover
Hardcore Offroad LLC tire carrier bumper ordered
Airflow snorkel- not installed
Lockers:
Lokka front locker- not installed
Ratech 1104 shims- not installed
Tires/Wheels:
Stock wheels 16x7.5
285/75/16 Falken Wildpeaks
Coyote Automatic tire deflators set to 15lbs.
Suspension:
Sway-A-Way 2.0 650# Rebuilt by Greg at PRG
SPC uca's- regreased with marine grease
Moog lca's
PRG cam bolt kit
Bilstein rear shocks 3-4" lift
Nisstec adjustable shackles
Nisstec steel shims 3°
PRG single leaf aal
PRG U-bolt flip kit
Interior and Electronics:
Midland 1001LWX cb radio
Bosch Platinum AGM battery (650cca)
2 Arsenal light bars 17"
Drivers side Dephep Molle panel with quickfists for shovel
Rear hatch handle delete mod (lost it to my trunk mounted spare)
Various recovery equipment in hatch
Retractable hatch cargo cover
OEM Nissan Xterra rubber floor mats (front & rear)
Removed
Oem crossbars
3ft. Firestik antenna
Yakima Load Warrior basket with side mounts, extra crossbar & cargo net
Procomp 7089 16x8
PHOTOS
Here's the day after I brought her home from the dealership.
Started looking on this forum and posted up a WTB oem cross bars, picked them up from Dutch169 (Dennis) for free! Dennis, thanks again!
Not soon after I found a set of hefty fab sliders on craigslist so I picked those up
And installed them when it warmed up a bit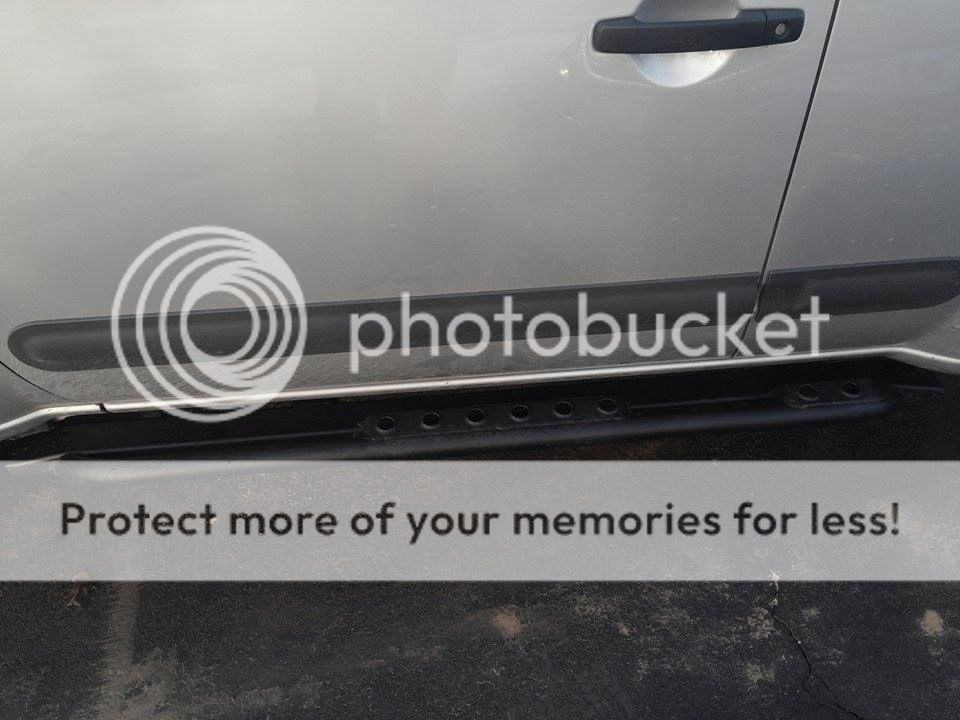 Next up was skid plates, I picked up an oem pro4x transfer case skid for free from Dforlenza, Thanks again Dom! And Greg also sold me 2 hefty fab skids radiator and engine, but I sold the rad skid soon after buying it.
Picked up a dephep driver side window molle panel and mounted 2 sets of quickfists to it.
Got them mounted up the next day after about 20 mins of explaining that they would definitely fit to the guys at the tire shop who seemed skeptical
Bought a set of Hardcore Off Road LLC bumpers, front with no fog holes and pre-runner hoop and rear without tire carrier but with hitch for an unbelievable price so I drove 5hrs 1 way to PA to pick them up
Then I coated them with roll on bed-liner and it came out okay, but I think during the winter, I'm gonna re-do them probably with just rattlecans
Went on the VT trip with Noah who only stopped by the first night but brought us some delicious local brews and homemade ciders, Thanks again Noah! Romeo, Juan, Brian, and Will, thanks again guys for a memorable trip! and learned a hell of a lot about the capabilities of this truck, the capabilities of a good spotter, and driver and that my girlfriend is actually enjoying this hobby as well (which is important to me)
On this trip I also learned the importance of armor, drove back like this from VT and sat on a ferry for an hour, had no idea it even happened until the next day when I spotted a large puddle of diff fluid in my driveway...the carnage
And my next obvious purchase was this Ballistic Fabworks diff cover