Update 10/18/2013
Sometimes I realize after nights like this why I hate working on the truck.
Anyway, placed an order with RockAuto couple nights back; ordered BECK/ARNLEY Wheel Hub Assembly. Came in the mail by FedEx and was quickly to work at 5:30 Pm . I had already spent the previous night setting the truck on Jacks, removing the tire and removing the 32 mm Hub nut, laying out tools and loosening the Torque Member Bolt(s)(removed the lower one)
I planned on removing the Hub Assembly by NOT removing the UCA, I succeeded but MY FREAKIN GOD, why does it have to be so difficult/annoying and just plain stupid :tard:
(HOLD for other other update...I'll explain in the future the tool I needed to make....)
I finally got the damn hub off and cleaned up the parts; luckily my axle was smooth within the spline but the hub shell was such a PITA) I used wire brush, Pb blaster and cleaned up the surfaces in the surrounding area. Got the new hub on after a good cleaning and some lube in a couple of areas.
I torqued down all the bolts I removed to spec.
2X Torque Member Bolt - 135 ft-lbs ea'
4X Hub Assembly Bolt - 44 ft-lbs ea'
1X Center Hub Nut - 32mm- 101 ft-lbs
6x Wheel Nut - 96 ft-lbs ea'
I have the slightest wiggle...
:scratch:
Cause?...
- The bearings in the Hub Assembly are moving (not a true OEM part) as I did not go with Timken Bearings.
- Something else has started to break down; been driving on this issue for probably a couple weeks not thinking it was the bearings.
- Axle Nut not providing the needed pre-load on the bearings?
So after all that bull****, still have some wiggle after replacing it.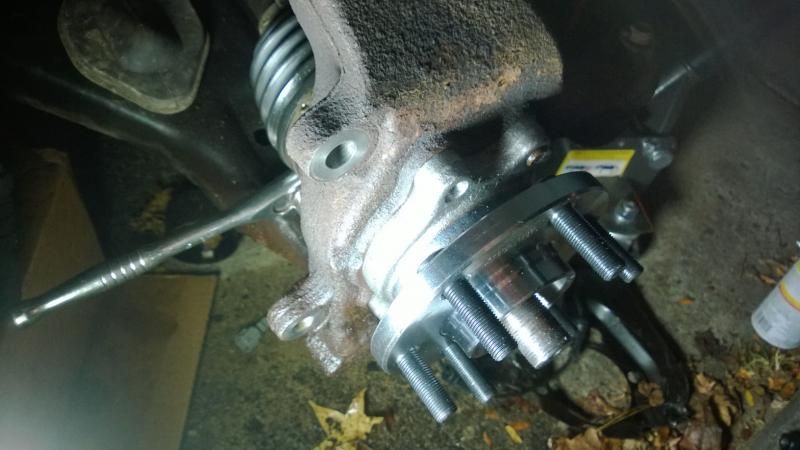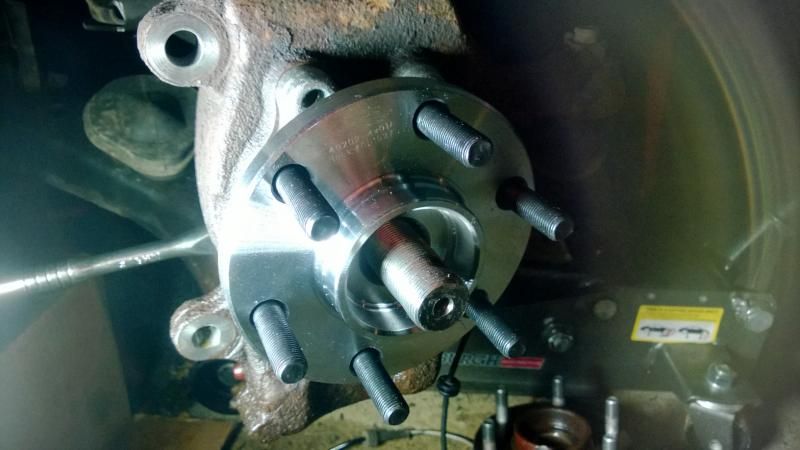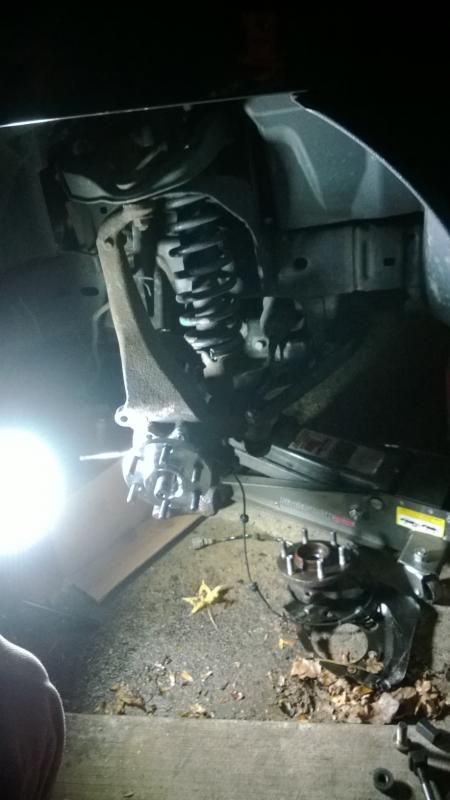 _________________________________________________________________________________________________________________________
Hey everyone, in August I became the latest victim to SMOD
The Dealership however had replaced the rad/transmission :drink: Onto my issue though...
I have 2006 with just over 80k miles to it.
I am getting this intermittent "thud" when slightly turning the wheel left. I'm not sure if it really goes completely away driving straight or turning right but I certainly can't make it out nearly/at all compared to turning left. It's easy to hear driving slow and the loud road noise/wind might combat @ higher speeds from allowing me to hear it.
I can also feel it in the floor with my foot, but I can't tell if it's driver or passenger side.
Brakes were done Summer of 2012; Differential fluids were replaced with Amsoil in April of 2012.
I will 100% jack the car up tonight on both sides and check for wiggle on the tire at 12 and 6 o'clock; until then...I have to research or get Ideas from others.
- I already have scoped out the bearing hub assembly if I need it.
Maybe some joints needs some oiling? I don't know, but I don't like it.
I also got under the truck two days ago and could't catch anything that was obvious.
Any input would be great here from any past experiences. :salute:
Thanks,
-Jason