Discussion Starter
·
#1
·
As you may know, the
Rubicon Trail
was not gentle on the passenger side fenders of the Xterra. I put two dents in the rear door fender. The largest was about a 3/4-inch deep and 5 inches long dent. There was also a shallow 2-inch by 2-inch dimple in the front fender.
Some may say "What's the big deal Snoop, chicks dig body damage!" but the damage was starting to rub me wrong. Not on a 2005 rig. So I decided to fix it...
I looked into a professional; the cheapest was easily over $2,500.00, which did include pulling out the dents and the repaint.
The alternative was to do it myself. So we went to work over the next month sanding down to metal, pulling the dents, adding a whole lot of Bondo putty, priming the fenders, and then finally putting a few coats of
DURABAK
over the area.
The fenders of our Xterra are now lined with a truck bed liner type paint called DURABAK. I chose DURABAK due to the UV protectant they mix with the paint. They also have a wide verity of colors to choose from.
Images below: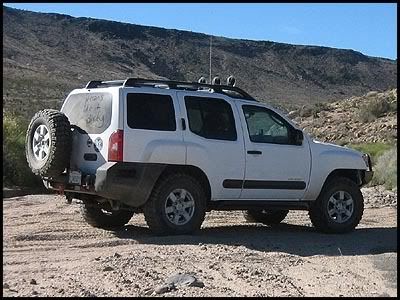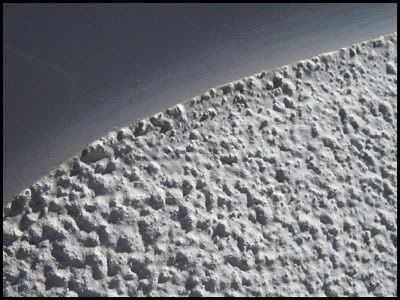 I'm not sure I would have used DURABAK on a stock fender but for an inexpensive, yet rugged, fix for a damaged fender, I think it does the trick.
As far as durability; it survived the first trip, a two-day, 135 miles trip through the Mojave Deserts of Southern California. The day after we washed the truck with a high-pressure washer from a car wash with now ill effects. I'll continue to update you all on the durability of DURABAK.
UPDATE: As of November 2007, the DURABAK is holding up well. No chipping what so ever. However it is starting to yellow o' so slightly. I plan on putting a coat of white paint over it so it matches the body color in the future.