Username:
IZVERG (formally TXterra37)
Year:
2005
Make:
Nissan
Model:
Xterra
Trim:
Titan-swapped S model
Color:
Night Armor
Engine Bay, Performance, & Exhaust
- Volant CAI w/ AMSOIL dry filter
-
Optima Yellow Top D34/78 battery and Ballistic Fabrication battery box
-
V-LEDS 5000K bi-xenon HID headlights
-
PIAA Sports Horn
- Custom Y-pipe w/ Flowmaster Super 44 off road muffler
Stereo & Interior
-
Kenwood Excelon DDX814 head unit
- Nissan GPS docking station w/ Garmin nuvi 780
- Focal 165A1 front component speakers
- Infinity Reference Series rear speakers
- Rockford Fosgate amps (P450.4 & P400-2)
-
FatMat
-
Alpine Type R 10" sub
-
HID white LED dome lights
-
VisionX Tantrum LED red strobe pods
-
LED's in vents & cup holders
- WeatherTech FloorLiner DigitalFit front floor mats
- OEM Nissan all weather rear floor mats
- MagLite LED flashlights (4D & 3D)
- Fire extinguisher
- LOBO shelf
- OEM Nissan pet divider net
- Cobra 19 Ultra III CB radio
-
CoverKing NeoSupreme seat covers
-
OTRATTW dual-illuminated LED Contura rocker switches
-
The Rev Mod - auxiliary rear cargo LED's
Armor & Exterior
-
Shrockworks front bumper
-
Lightforce 240 Blitz front bumper lights
- Clevis shackles w/ anti-slap mod (two up front and two on the rear)
-
Shrockworks sliders
- Shrockworks skid plates
-
Ballistic Fabrication C200 diff cover
-
V-LEDS 5000K HID headlights and fog lights
-
Stealthed exterior trim
- Full tint
- Third brake light "Xterra" decal
- Wade in-channel vent visors
-
FireStik Firefly CB antenna
-
V-LEDS brake, running, turn signals, and reverse lights
-
Mad Maxx roof rack
-
Kennesaw Mtn. Accessories rear bumper
- 48" Hi-Lift
- Wedco Jerry can, red
- More stickers than you!
Suspension, Wheels, & Tires
-
285/75/16 BFGoodrich Mud-Terrain KM2's
-
ProComp 7089 series 16x8 wheels
-
Titan Swapped
(PRG Titan UCA's, stock Titan LCA's, extended Radflo 2.5 coilovers w/ Eibach 600# springs, Titan axles, M205 front diff)
-
Timbren bumpstops
-
PRG brake lines
- Metal Matrix brake pads
- Stillen cross-drilled & slotted rear rotors, slotted front rotors
-
Radflo 2.0 reservoir rear shocks
-
Alcan leaf packs (4" lift, 400# + load capacity)
-
PRG adjustable shackles
-
3 degree rear axle shims
Oil & Lubricants
- AMSOIL
Photos
Before... bone stock and only a few days old.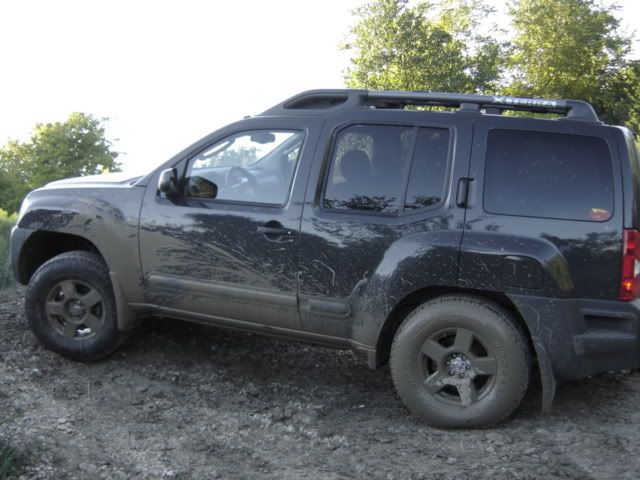 First lift
(PRG 2" spacers, Deaver AAL, & 265/75/16 BFG AT KO's)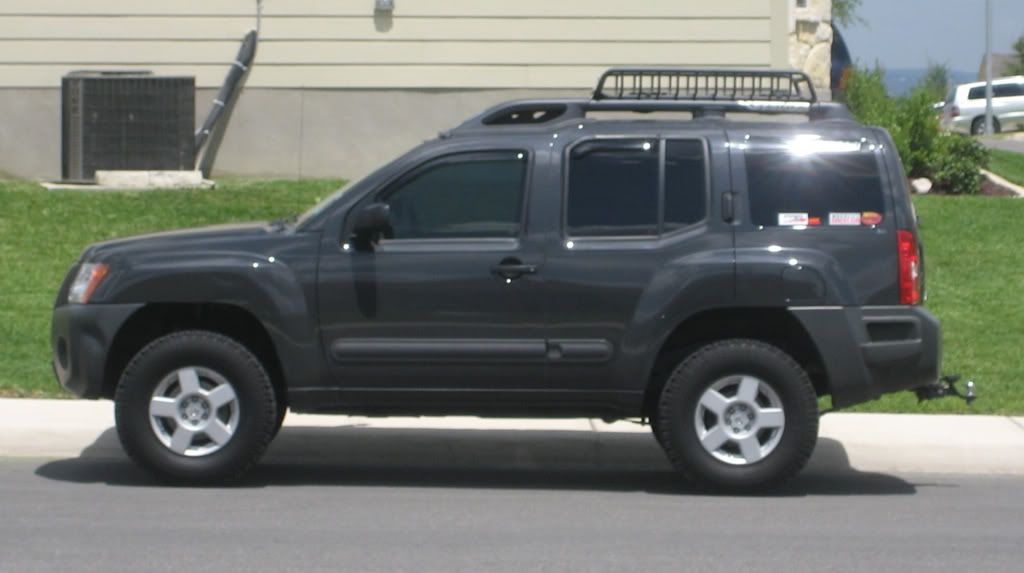 Second lift - PRG Advanced 4x4 Kit (UCA's, Radflo 2.0's, PRG braided SS extended brake lines, Deaver AAL, Bilstein 5125 rear shocks).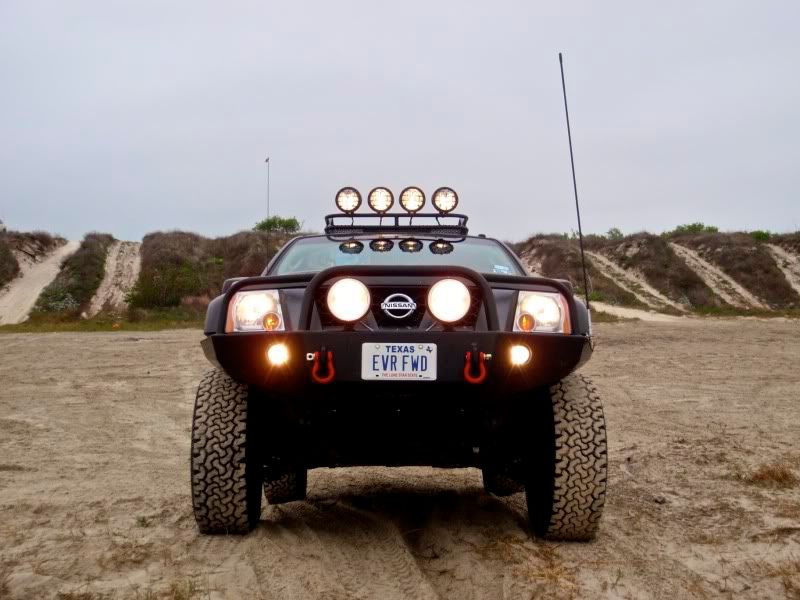 UPDATE 6/26/09
Well I have just about all my parts in for my Titan swap. PRG Titan UCA's and 2.5 Rads will be here Monday but, unfortunately, I will not. Have to leave Sun for Buffalo to start knocking out last minute wedding stuff. Will be coming back to VA mid July-ish for my VCU orientation and will be doing the work then, along w/ my M226. That's right! Looks like I will be taking BPotter's rear axle off of his hands for him and swapping out my C200 for some locked goodness!
UPDATE 7/21/09
Titan swapped! PRG UCA's, 2.5 Radflo's w/ 600# Eibach springs, stock Titan LCA's, and 2" wheel spacers in the rear to match the wider front.
UPDATE
New rear suspension arrived! And wow Greg, when you said surprise I was expecting some bulk stickers or something. Thanks for the upgrade!
UPDATE 10/19/09
Just got the X back from the shop. 3.36 gears in the rear, new Rads and Alcans are in along w/ new Ballistic Fab diff cover. Did the u-bolt flip w/ Titan axle plate, along w/ some Timbren rear bump stops. Mo' bet'ah pics to come...
UPDATE 10/24/09
Added docking station for Garmin nuvi 780
UPDATE 11/9/09
Lowered rear suspension and full stealthy!!!
UPDATE 12/6/09
New HU on the way,
Kenwood Excelon DNX9140
. Rear KMA bumper will be getting powder-coated (semi-gloss black, so as to match my Shrockworks sliders and front bumper), remaining Shrock skids should be here any day (engine/oil pan, gas tank, & tranny), and after the body shop is done repairing the rear quarter panel & front fender damage I will be having her completely detailed (inside and out) and clay bared & waxed. An exciting couple of weeks ahead for the X!
Oh, and V-LEDS is hooking me up w/ a set of their
5000K slim ballast xenon headlights
! After I organized the group buy I did some other work w/ them along the lines of some detailed pics and install how-to's for their specific LED's for the '05+ Xterra. Can't wait!
UPDATE 1/2/10
New Kenwood DDX814
UPDATE 1/6/10
Got the V-HIDS installed. BRIGHT!!!
Day shot
Night shot
UPDATE 1/30/10
33" BFG KM2's
Lightforce 240 Blitz