I have been researching the trip and the mileage to the town of Deadhorse AK via the Dalton highway.
Connects: Elliott Hwy to Deadhorse, AK
Route#: Alaska Route 11
Length: 415 miles
Road Surface: 25% Paved, 75% Gravel
Season: Open all year
Highest Pass: Atigun Pass, elev. 4,800 feet
MILE 0 Junction with Elliott Highway .
MILE 56 Yukon River Camp; food, gas, lodging. BLM Visitor Contact Station and Yukon River viewpoint.
MILE 60.3 Hot Spot Café and Arctic Circle Gifts (email); food, lodging, gift shop. Mile 60 BLM campground and dump station.
MILE 98.1 Finger Mountain BLM Wayside; day-use only rest area with walking path to tors.
MILE 115.5 Arctic Circle BLM Wayside; picnicking, Arctic Circle monument, camping.
MILE 135.7 F 219.7 D 279.3 Prospect Camp, turnout with informal camping.
MILE 150.2 Grayling Lake Wayside; day-use only rest area.
MILE 174.8 COLDFOOT (pop. 12); gas, diesel, food, lodging at Coldfoot Camp. Arctic Inter-agency Visitor Center.
MILE 175 Coldfoot Airport. Alaska State Troopers and Dept. of Transportation to the west.
MILE 179.7 Marion Creek BLM Campground.
MILE 188.6 Turnoff for WISEMAN (pop. 16); Wiseman Historical Museum. Lodging at Arctic Getaway Cabin & Breakfast, Boreal Lodging (Boreal Coffee & Gifts) and Wiseman Gold Rush Camp B&B.
MILE 244.7 Atigun Pass, elev. 4,800 feet, in the Brooks Range, highest highway pass in Alaska.
MILE 274.7 Galbraith Camp (no services); undeveloped public campground with outhouse.
MILE 354.6 Last Chance Wayside; day-use only rest area.
MILE 412.8 Deadhorse Camp; lodging, restaurant, gas, tire repair. Arctic Ocean tours (24-hour advance reservation and ID required).
MILE 414 End of Dalton Highway at DEADHORSE/PRUDHOE BAY; food, gas, lodging. Deadhorse Camp offers lodging, restaurant and Arctic Ocean tours.

it is 3500 miles one way from San Jose CA to Deadhorse.
here are some of the resources I have found.
The milepost magazine
Dalton Highway - The MILEPOST
The magazine comes out yearly and list all mile post along the Alaskan highway.
I bought an older copy from eBay just for planning/dreaming purposes.
Great PDF's of the Dalton Highway can be found here.
It breaks the map onto two sections that are large.
http://www.blm.gov/style/medialib/blm/ak/fdo/maps_and_documents.Par.65162.File.dat/Daltonmaps.pdf
Here is a smaller map of the complete Dalton Highway.
Good driving tips for driving a rock and gravel Dalton Highway
BLM Alaska: Dalton Highway - Tips for hunters
What is the best time to drive the Dalton Highway?

June:
a lot of mosquitoes, muddy and slick sections due to late breakup make it a little more challenging in May and June; long daylight is a plus already early in the season.
July:
the road is drier, long daylight hours make driving easy; there are less mosquitoes by the end of July
August:
less mosquitoes, it can be dry or rainy (August generally has more rainy days than July); fog in the early morning hours around Atigun Pass can be very thick be the end of August. Always check the road conditions before you drive.
September:
conditions are usually pretty good until mid of September, although snow storms are possible, especially around Atigun Pass. Almost no mosquitoes anymore but it gets dark at night

October - April:
winter conditions
2017 Calendar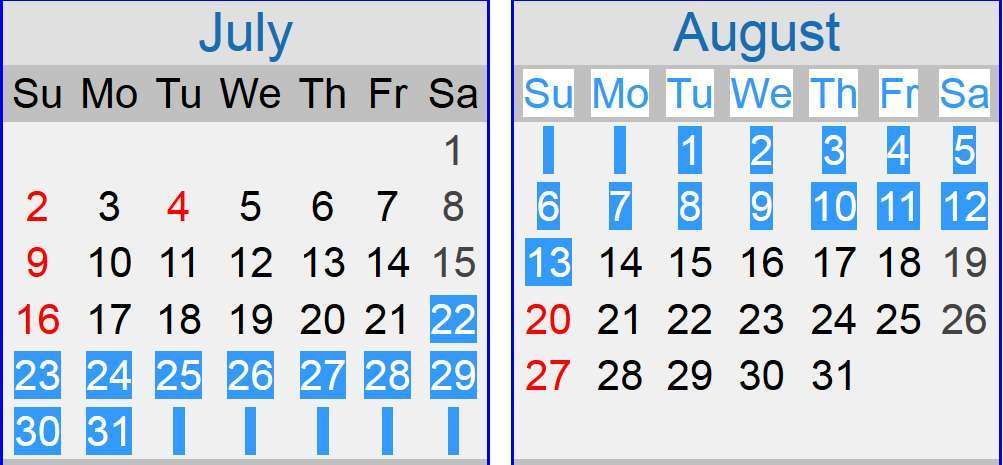 23 days total
15 business days
mosquito's are on the wain.