Discussion Starter
·
#1
·
The picture below shows a Radflo coilover setup for a 5" lift (which I ended up returning after I cancelled my Calmini order) and the rear shocks I had Greg build for me. Due to some miscommunication between Greg and I, the rear shocks were built for about 2" of lift.
I now need a slightly longer shock due to the 2" lift Alcan packs and Daystar shackles I'm running, and I decided to have Greg build a resevoired shock. The new ones are on the way.
So... long story short, I've got a set of these rear shocks lying around. Greg offered to take them back but I told him not to worry about it since he's been so cool with me. The extended eye to eye measurement (although it's difficult to tell in the picture) of the shocks is 21.5 inches, which makes them perfect for a 1.5-2.0 inch shackle or add-a-leaf setup.
Greg had Radflo build an identical set at the same time these were built, and he's currently running them on his wife's Xterra.
Greg cut me a pretty sweet deal on them when I ordered them, just because I had ordered quite a bit of other stuff. Again, these are BRAND NEW. I never tried bolting them up. I took some measurements before trying to do so and realized they would be too short.
I'm going to sell them for what I paid for them, which is $220, and I'll pay shipping to the continental 48. I'll take the first PM. Paypal preferred. Thanks.
EDIT: Also, these will be shipping from Eugene, Oregon.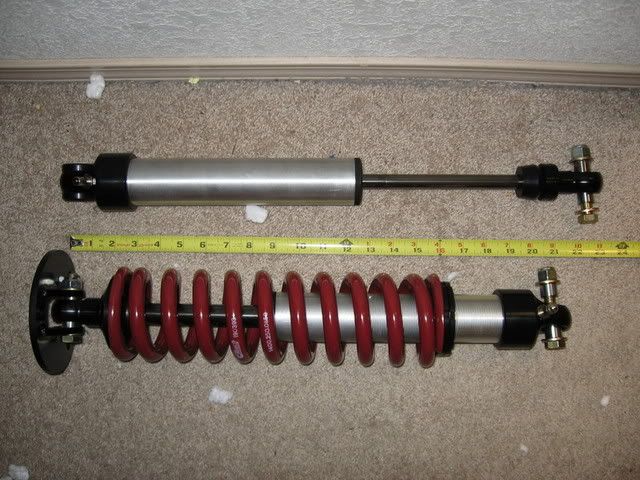 EDIT: Sorry guys, I just shipped these out....