Discussion Starter
•
#1
•
Upgraded to a 10lb bottle and a different mount, no longer have a need for my 5lb bottle.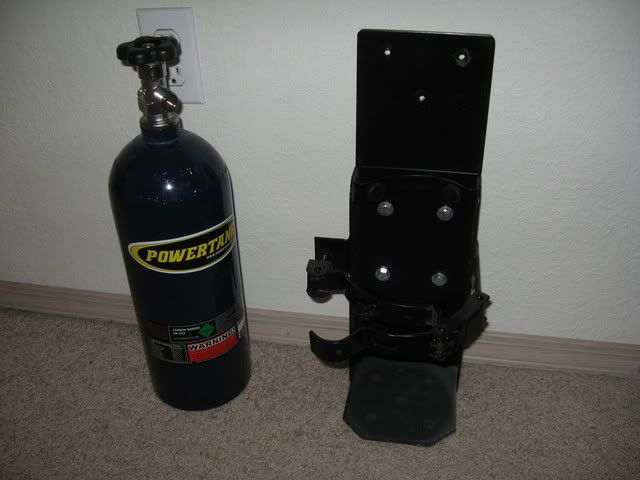 Keep in mind this is just the bottle and a bracket, REGULATOR NOT INCLUDED. You can buy a house, handle and adj. regulator directly from Powertank for around $230 (last time I looked). If you want to do it on the cheap, and you're just going to air up tires you could get a non-adj regulator, like the one that "The Source" sells for about $40...
http://www.wheelersoffroad.com/co2systems.htm
Also, if you look closely at the bracket you can see an extension plate that I fabbed up out of aluminum and painted. It's about 13" long and is bolted to the back of the bracket (you can see the hardwarde). I did this so that I could mount it in my Xterra like so;
This mount was plenty sturdy, but it was causing a bit of a rattle in the plastic sidewall that I found to be a little annoying after a while, which is why I went to a different mount. Anyway... I'm going to throw the extension plate in but you could easily unbolt it and throw it away.
I'm going to sell the bottle and bracket for $80, shipping included to the lower 48. If you just want the bottle, I'll sell it for $60.
The bottle is still in pretty darn good shape, only a few light scuffs that you have to look close to see. I only filled it about 4-5 times. I'm running 285/75/16s, and it allowed me to air up about 10 tires from 20 PSI down (easily two complete vehicle air-ups). The bottle was manufactured in January of '06, which means you've still got another 3 and half years to go before it's due for pressure testing.
Will be shipping via UPS from Eugene, Oregon. Paypal preferred. Will be posting on thenewx.org and clubfrontier.org. Will take first PM or post from first serious buyer.
Let me know if you have any questions. Thanks!