Discussion Starter
•
#1
•
Sliders are going to be my next big purchase once my lift is finished. I'm in a big toss up though as to which to go with. There are a lot of pros and cons that I can think of on my own, but I'm hoping that you all can shed maybe a little more perspective on the whole matter.
So the big question is... which ones?
The pros of going with Shrockworks TO ME AS OF RIGHT NOW would be:
- They are used by everyone. To me that says a lot about a product. When it comes to something that is going to protect the wellbeing of my truck it's not bad to go with what everyone else is because that shows that they are just a good product. It ain't no decal, in other words.
- Because so many are using them obtaining hints and tips for installation and other resources are easy to come by.
- They look tougher.
The cons of Shrockworks:
- The wait. I think we all know this. I understand that we should all keep our patience with such a company who makes the parts that no one else does at times, but to me having to wait 5 weeks or longer after you order an item is unacceptable. This is the BIGGEST reason I'm considering Calmini
As for the pros and cons of Calmini. I don't know any really. They are a touch cheaper. I've never heard of a timing complaint from them. It seems that this forum is loyal to Shrockworks (which is fine and I respect that), but because of that the access to information of the alternative is realitively hard to come by.
Thanks in advance.
Calmini's sliders: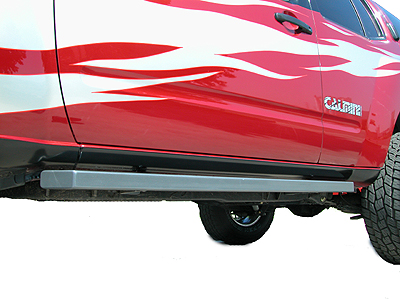 Shrockworks' sliders: