Username:
Slasa (call me Slas)
Year:
2013
Make:
Nissan
Model:
Xterra
Trim:
Pro4X 6-speed manual transmission
Color:
Night Armor
Mods
Suspension:
NissTec Extended Travel Ultimate kit (achieved 3"+ of lift over stock)
Camberg Titan UCA's
NissTec extended axle shafts, tie rod ends
Moog Titan LCA's
1.5" rear wheel spacers
Installed extra leafs in rear pack
Installed 1" coilover spacer
NissTec adjustable shackles


Armor:
Shrockworks front bumper w/ rad skid (Prius Plow)

ChefNate rear bumper w/ tire & HiLift carrier
NXRocks skid plates - full set
Hefty sliders
Ballistic Fab diff cover


Performance:
Volant CAI (non-powercore)
Bully Dog GT tuner


Interior:
Nissan OEM/Yakima internal bike rack
Raingler mini roof net, barrier net and handles


Exterior:
Nitto Trail Grappler M/T 285/75R16's
InSain Fab "Shadow" aluminum roof rack
Gobi ladder

Stubby antenna
Electrical:
Light Warehouse 40" LED light bar on roof rack
Totron 20" LED on front bumper
OTRATTW Zombie Lights switch
CB: Cobra 75 WX ST with 4' Firestik and side bumper mount


Misc:
Removed rear sway bar
Blacked out grille (swapped in from my '05)
Smitty 10lb Power tank
NATO gas cans


Horsepower/Speed Enhancements:

Prius Plow sticker in mirrored font on the bumper bull bar. I want to make sure they read it in their rearview mirror.
Mandalorian logos
Various adhesive HP boosters

Comments:
I traded in the 2005 S in August 2013 for a brand new 2013 Pro4X with manual transmission. I had heavily modded the '05 but was concerned about putting more money into it with its age. After weighing options for regearing, air lockers, etc - the money was better spent on a nice down payment for the new truck with the e-locker, 3.69 gears, manual tranny, creature comforts and newness! I brought over my Shrock front bumper, Chef Nate rear bumper, NXRocks skids, Gobi Stealth roof rack, Volant CAI, BullyDog tuner and Cobra 75XL CB plus added the NissTec suspension and Nitto Trail Grapplers to go big. I had hoped to not need to BL this truck and I got what I wished for. I barely fit in the garage (<0.5" of clearance). I am now 0.5" taller than the original Prius Plow without a BL!
I have had some run-in's with Prius' so I named the '05 the Prius Plow. In honor of her and to carry on the Prius-hating tradition, the new truck is officially dubbed Prius Plow 2!


UPDATE 7/26/14: Prius Plow 2.5

Tipped over the truck May 23rd at GoneMoab. Finally got back the X from the body shop and installed an InSain Fab aluminum roof rack with 40" LED light bar today!
August '14: Titan swapped!


Upcoming mods:
Snorkel
Titan swap??? DONE! 8/23/14
Side mounted machine guns???
???
Diff breather


Photos: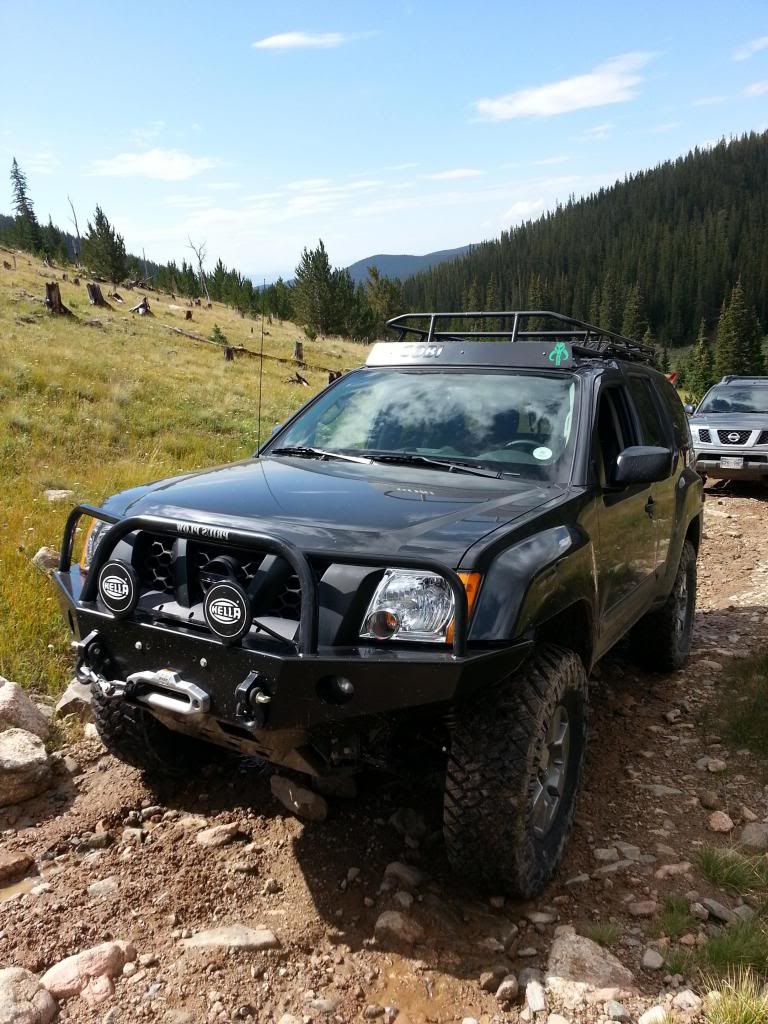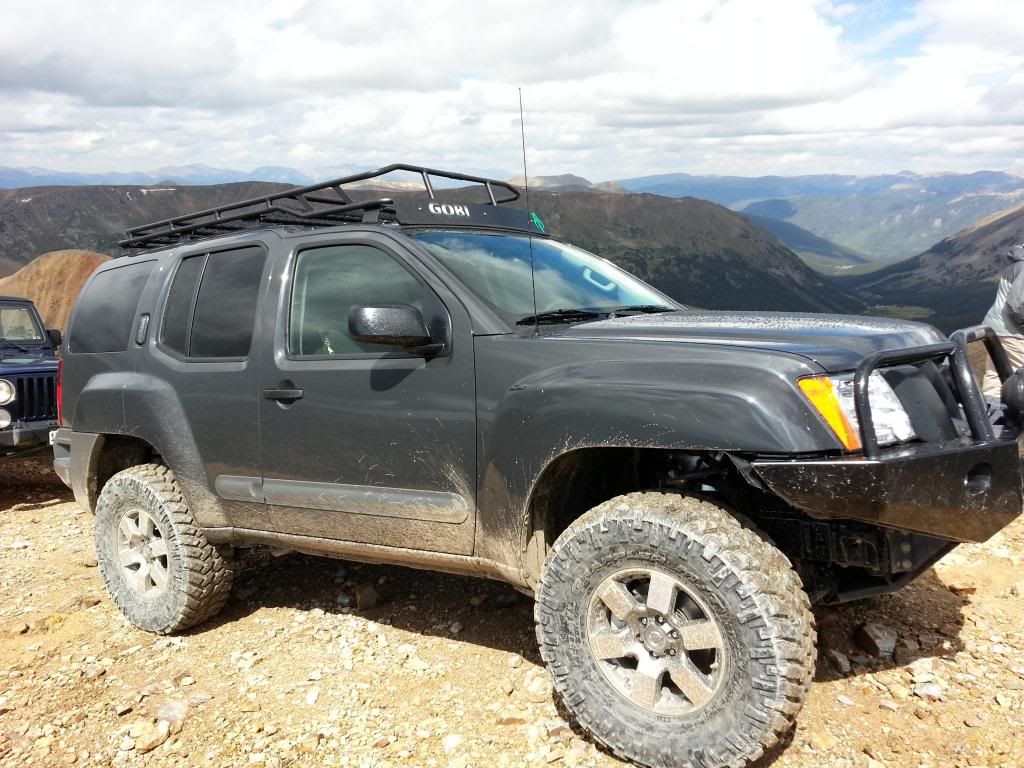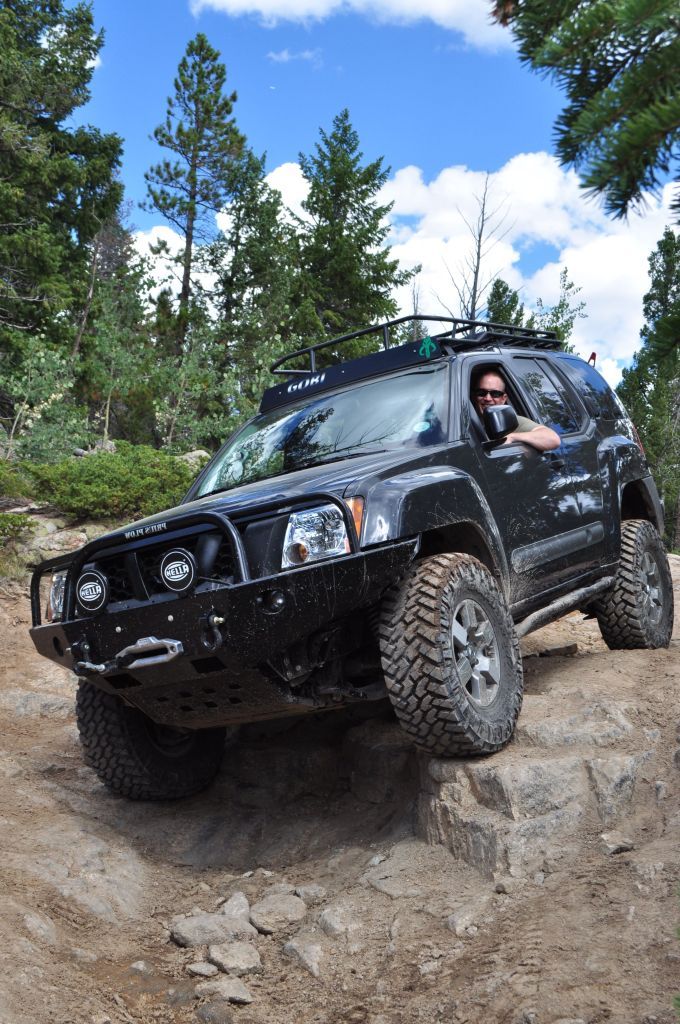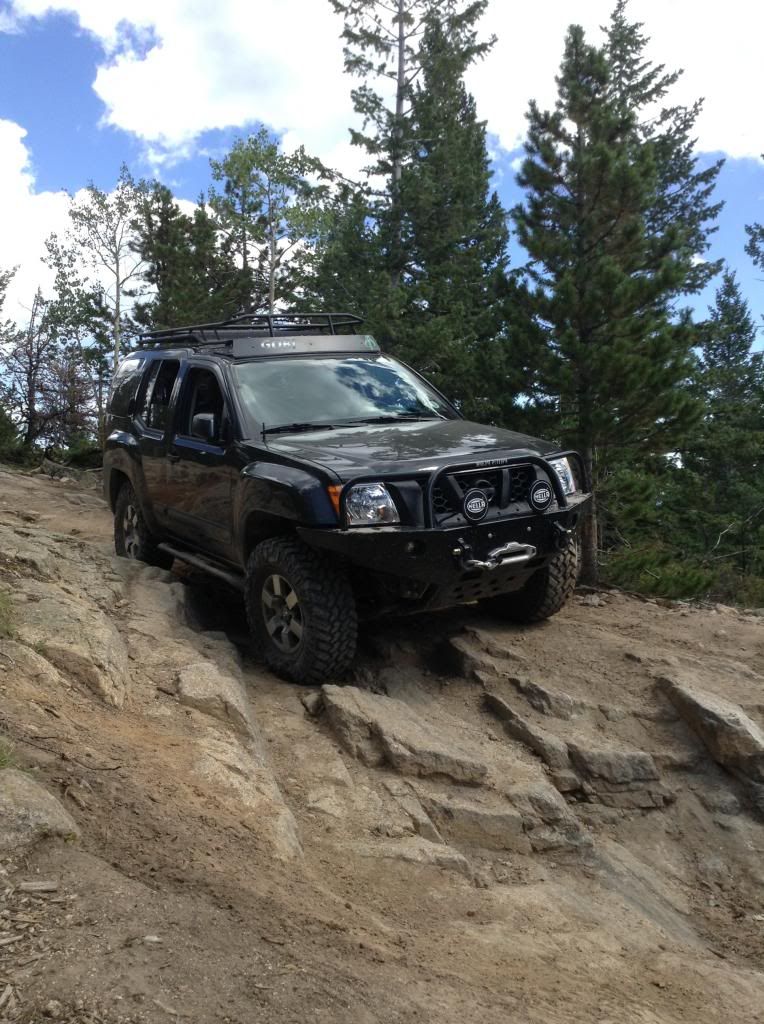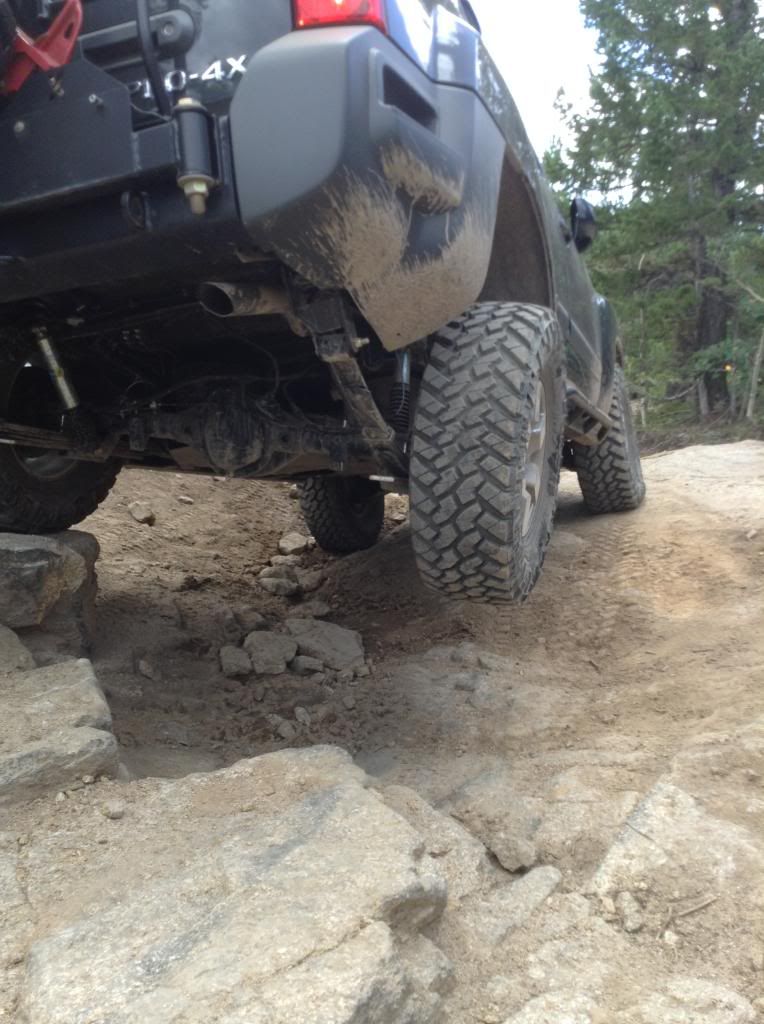 All better