Discussion Starter
•
#1
•
First, I wanted to install solar panel on the roof so I was thinking about making custom aluminium rack with aluminium angles, bars, and bolts.Then, I realized that it will cost me more than $200. I also thought about placed steel roof rack which requires top of the roof rail. So it looks like literally placed basket on the roof. I really do not like that idea. Steel rack is tough, but I do not want to get rust. So I was searching and searching. I finally found the aluminium rack which fits between xterra's roof rail. Best part is $80! it is 31 width X 50 length X 5 inch tall. My X is 32.5 inch width, 53 inch length and around 5 inch tall (between base of the roof to top of the rail). so this rack fits in pretty good.
Catch is that needed some mods and around 2 inch come out or over the roof rail height (because I used roof rack bracket). Other than that, I think that $80 aluminium rack is not bad at all, I think.
I really wanted to finish up by this weekend so I just finished up without some detail modification. Possibly I could lower whole rack another 2 inch or so using bolts.
BTW, this is the rack I bought.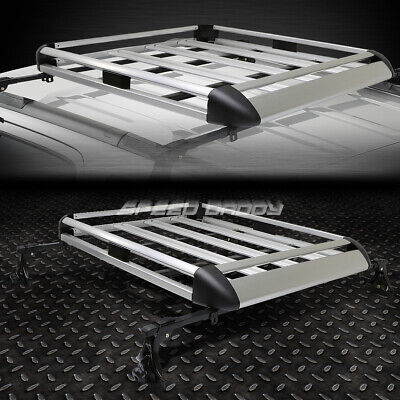 A roof rack is a set of bars secured to the roof of a motor car. A roof cargo basket goes one step further. Can Support Luggage, Ladder or Cargo's Weight up to 150 lbs. 2 x Roof Rack Bars. 50" x 31" x 5" Cargo Box.
Anyway, see pics.