Discussion Starter
·
#1
·
Hi gang;
This is my first post here. I am sure that someone here has been down this road, I hope.
Put some after mkt running boards on my plain jane (no power nuthin, 2wd, 6sp, steel wheels, really fast) 06. These boards came with a basic light kit and "universal" brackets the entire project has required considerable inspration and divine intervention but now I have hit a road block. The wire kit just has 2 wires a blk=ground and a red=hot, the instructions just say 'attach to desired hot'. But the Mrs. would like for them to come on with any door (kind of makes sense). I poked around for 4 hours with a meter, took the inside fuse box out of the dash and removed the dome lights and pulled down half of the headliner, pulled all of the switches out of the jambs. I can't find the
ONE
place where I can tie the running board lights that is common to all of the doors and will only apply power when the doors are open. These are not running lights and would melt their housings in short order. so I'll tell you like I told my first date, "where does this thing go?" :banghead:
I have wired some $20.00 lights in the holes up front and found a purple wire in the fuse box under the hood that only gets hot with the key so I dont have to worry about an inside switch that I have to remember to turn off, works out very well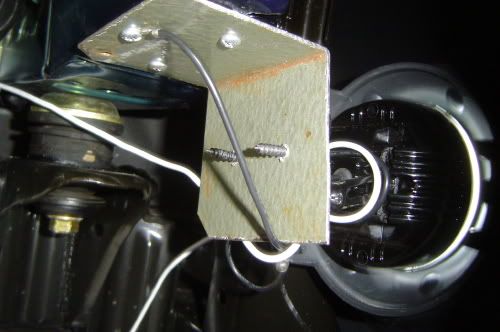 I am sure I can find that happy place but then I would have to put the truck back together. Any guidance would be greatly appreciated.
Thanks, Paul.