EDIT: Added Photos
I ordered the HID kit from Tom about a week ago, and I got them in about 4 days, great turnaround time! I just got around to installing them this afternoon.
The package came well boxed, everything protected and labeled.
The install is as easy and straight-forward as everyone else says it is, a big shout out to bpestilence for the awesome write-up, it made it go easy as pie! I did some things slightly differently, mainly I didn't paint my stock reflectors, so I didn't see it necessary to remove them, and other minor things that aren't worth mentioning. You do have to be sure to be careful about orienting them (rotating them in the housing before re-install) correctly, I was a little careless with my driver side and I am off about 1 degree of rotation, but not bad.
http://www.thenewx.org/forum/showthread.php?t=55393
As for the lights, wow. I ordered the 35W, 4300k kit, and it reminds me of my old HID's in my Maxima (better actually). I can honestly say, this is the single best thing I have done to the X in terms of functionality and safety. The difference is astounding, I can't believe I hadn't done this before now. Before, the road was lit up like I had old-school oil lamps in my housings, not it's like I have mini suns lighting my way. I really can't say enough about how great these are, by far my best purchase so far. Not the coolest mod per se, because it's hard to compete with the likes of a shrock bumper, etc, but you have to ask yourself, what do you use more? Every time you get into your vehicle at night you use your lights, which probably accounts for 40%-50% of your driving. You can see so much more of the road, and a lot further. If you're like me and drive on mountain road frequently, it'll also illuminate little (and big) critters that you'd rather not run over.
So I say again, if you don't have this conversion yet and have some spare cash, do yourself a favor and just order them and spend a few hours doing it.
That is all, carry on :headbang:
-Brian
The pics don't really do them justice, but you get the idea.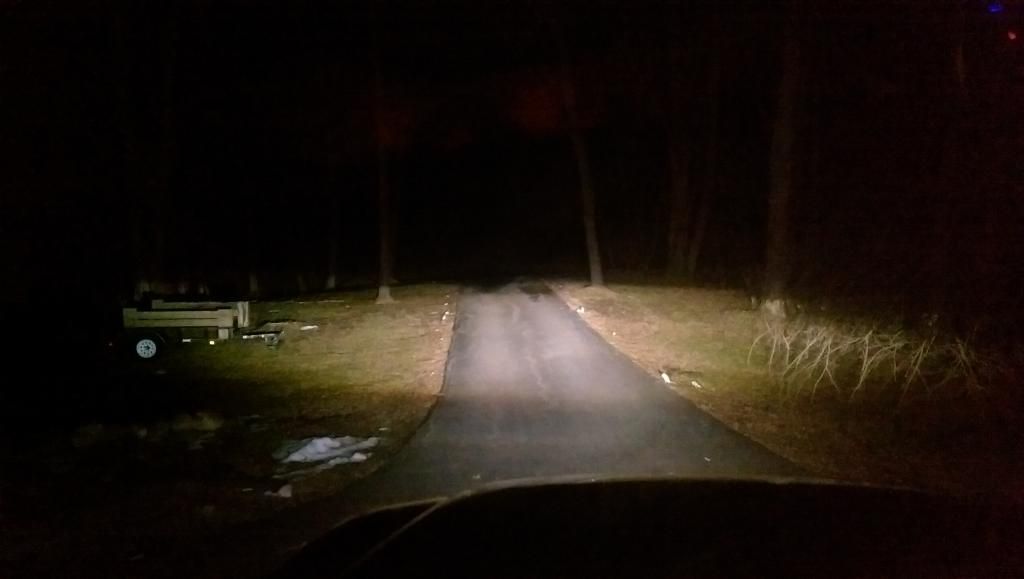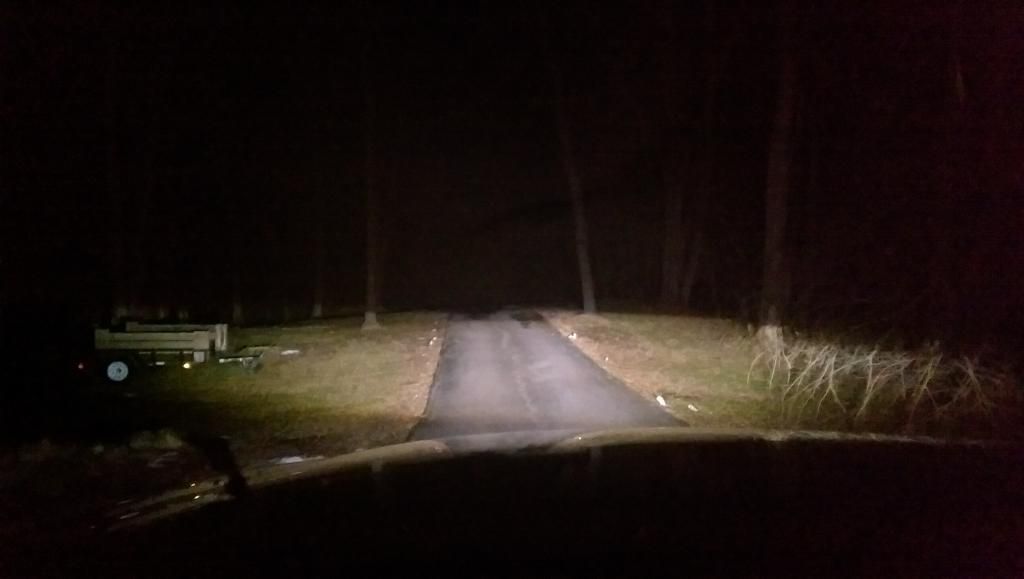 Highway at night. It's a little blurry because I had my girlfriend take the pic while I was driving, she tried to get it from my POV and could'nt see the focus: