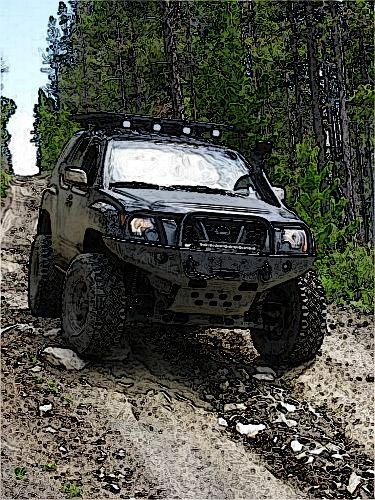 It is with deep sadness and a heavy heart that I share with you the news of Boyd's passing. It's hard to put into words the sorrow of this sudden and tragic loss. It will be felt by many.
Boyd's family has asked me to share with his 'Xterra family' that he was deeply loved, he will be immensely missed, and that he was the most loving and generous soul one could ever have known. I couldn't agree more.
Many of us initially met Boyd and became friends through our connection on this forum. He had a warm heart and a welcoming personality. He made friends easily, and was always willing to teach and share his knowledge with us. I didn't even know what an upper control arm was when I met him!
He was talented with a wrench, and an absolute wizard with a spray can of bedliner.
He was kind, and patient and always willing to give of himself. If you needed helper springs, and he had some in his garage, he would give them to you, and even help you install them. I will miss the hours we spent in his garage doing mods, undoing mods, planning future mods, and talking about other people's mods.
Mostly I will miss just hanging out with him. Drinking coffee and talking truck.
An Xterra Brother. A friend. One of the good ones. Gone too soon.
flyfish3837
Veteran
2005 Xterra lifted, locked, swapped, & geared.
SCHLENKER, Boyd James
March 18, 1975 - August 16, 2012
It is with broken hearts that we announce Boyd James Schlenker passed away unexpectedly in Okotoks, Alberta on Thursday, August 16, 2012 at the age of 37 years.
Boyd was a sincere, kind and gentle person and is lovingly remembered by his parents, Lynn and George Myette, Brent and Dyanne Schlenker; his brother, Brad; grandparents, Don and Fran Hart; Jim and Betty Schlenker; his stepsister, Claire Jackson and her family; stepbrothers, Darryl and Jason Ruff, along with many cousins, aunts, uncles, nieces, nephews and friends.
Boyd was born March 18, 1975 in Medicine Hat, where he graduated from Medicine Hat High School. He then moved to Calgary in 1993 to attend SAIT and begin a drafting career. Boyd eventually felt a desire to make a broader contribution to society and returned to Medicine Hat College were he graduated in 2001, with a diploma in Police Science.
Boyd applied to and was recruited by the Calgary City Police Service in 2003 where he served as a dedicated police officer until his death.
Boyd found great joy in the outdoors and pursued his passion of fly fishing with his two black labs Sassie and Cindy, and his friends and family. He made the 20 hour drive to chase chrome in the Skeena River many times and pursued this passion at every opportunity. Boyd was an expert fly fisherman and loved guiding in Southern Alberta and B.C.
In the past couple of years he became a keen 4x4 off-road enthusiast and had many adventures in the foothills.
Boyd will also be remembered for his love of sports, having been a hockey goaltender for most of his life and for playing in 2011 at the World Police and Firefighter Games in New York City. Over the years, Boyd also coached hockey as the assistant coach with the Medicine Hat Cubs and Cochrane AA Midgets. He loved sports and he loved music. When he was at home you would find him watching hockey or fishing programs, or playing his bass guitar.
Boyd will be greatly missed by his family and friends. A celebration of Boyd's life will be held at the Cypress Centre in Medicine Hat (2055 - 21 Avenue S.E.) on Thursday, August 23, 2012 at 2:00 p.m. with Rev. David Skidmore officiating. In lieu of flowers, as an expression of sympathy, donations may be made to the Children's Wish Foundation, 665 Spruce Way S.E., Medicine Hat, AB T1B 4L4 or to the charity of your choice.
To e-mail an expression of sympathy, please direct it to:

[email protected]

, subject heading: Boyd Schlenker or or you may visit www.gonebutnotforgotten.ca and leave a message of condolence.
Arrangements are by the PATTISON FUNERAL HOME AND CREMATORIUM 540 South Railway Street S.E., Medicine Hat, AB T1A 2V6. Please call 1-866-526-2214 for further information.
Published in The Calgary Herald from August 21 to August 22, 2012