Intro Comments:
I figured after 1,500 posts it was time to finally make a build thread. :dontknow:
Username:
NOAHVT
Make:
Nissan
Year:
2005
Model:
Xterra
Trim:
Off-Road 6MT
Color: Super Black
MODS
Suspension:
- OME 2" Coilover with 608 springs
Link
- Nisstec 1" top plate spacers
- PRG UCA's
- PRG adjustable rear shackles set on top hole
- Rear leafs bought with 10k miles, some sort of AAL already installed
- Don't even know which rear shocks I have hahaha, I think they are Bilstein 5100 2-4"
- Wheeling tires are 285/75/16 BFG KM1 tires that I got a screaming deal on. Winter tires are mismatched Goodyear - Wrangler RSA on the back (free99) and Destination LE on the front that came with the wheels.
- Wheeling wheels are OEM Off-Road wheels bedlined black. Winter wheels are 'S' model
- Removed front and rear sway bars
- Jersey Parts 2" body lift
Armor:
- Shrockworks front bumper (powdercoated grey)
- Shrockworks full skid set (currently off the vehicle getting grinded and painted)
- Shrockworks sliders (powdercoated grey w/ dual supports)
- Shrockworks rear bumper with tire carrier (powdercoated grey)
- Blue Torch Fab rear diff cover (Orange)
Lighting:
- KC 6" 100w daylighters mounted on an XOskel lightcage (floodlights on the outside, driving lights on the inside)
- Hella 9" Rallye 4000 lights on the bumper pencil beams.
- 3" Totron floodlights for the rear (not wired yet)
Engine:
- K&N Drop in filter
- Superchip tuner (I think I need to reprogram it, or I am used to it...)
- I have a magnaflow muffler that needs to be installed at some point with custom down pipes
Transmission/Drivetrain:
- Radiator bypass
- Rear diff breather mod
Interior:
- Old ass Kenwood Headunit BUT the guy before bought the lifetime subscription to XM when it was still available, so I have that going for me, which is nice.
- Handheld Cobra 75 CB Radio with console plugin.
- Upgraded interior bulbs to LED's
- ARB Tow Strap
- Upgraded longer rear hatch struts (175lbs?)
Exterior:
- Removed OEM mud flaps
- Blacked out side moulding and "Off-Road" fascia
- 4' Firestick antenna
- Shackes on front bumper & rear bumper
PHOTOS
This is where it all started back in March of 2010: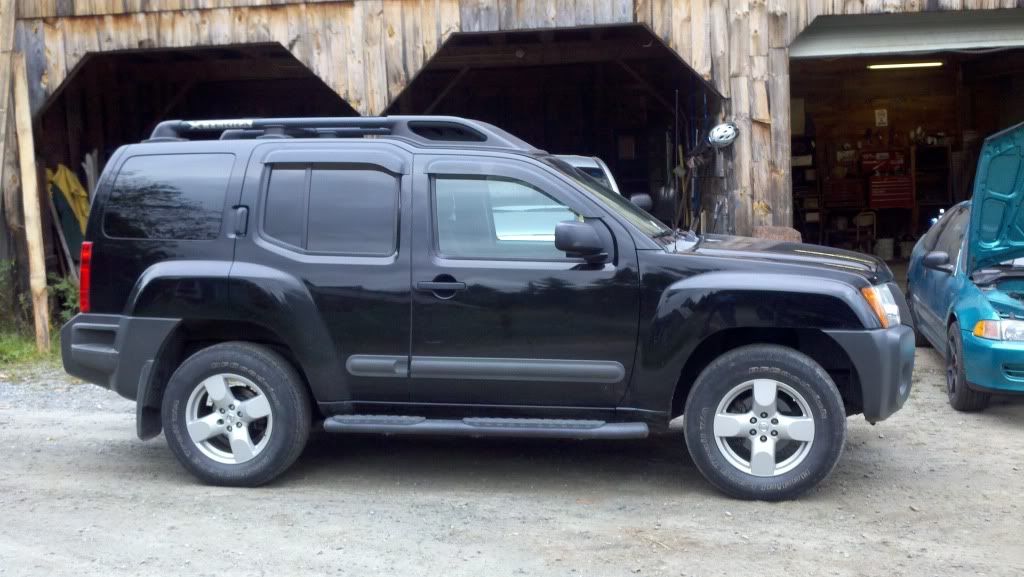 First vehicle I had ever bought on my own. I knew I wanted a 2nd Gen Xterra but didn't know much other than that. Looked at a couple, this one had 88K but was in much better overall condition so I brought it home 2005 S model (don't mind the SE wheels), found this site and got addicted...
First things first, needed new tires, so I ordered 285/75/16 Treadwright Warden's, removed the mudflaps and step rails, and obviously started blacking things out:
Drove it like this for awhile until a friend from CT who had an X with a Shrock front told me he was selling his truck, and I needed to drive to CT and switch bumpers with him because the dealer he was trading his truck into wanted it as stock as possible. I made record time to CT :bounce:
He threw in the 9" Hella's for free.
For awhile I was watching the for sale section of this site literally daily to get some deals armor etc. Got Shrock Sliders, and a couple skid plates along the way with a 2" lift (there was a time I thought this picture made my truck look HUUUGGE hahahaha):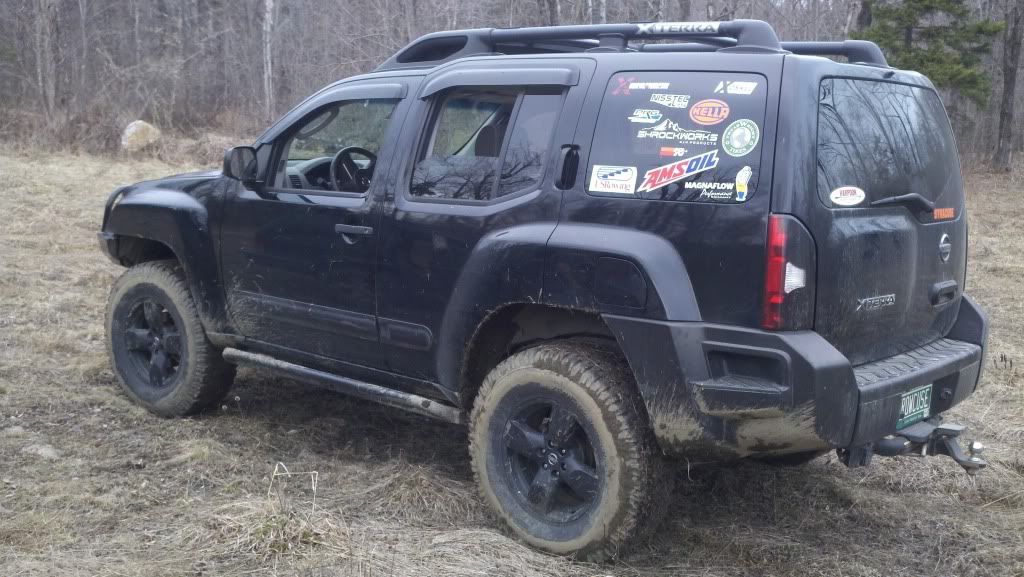 Things got Oranger:
Eventually I decided I love Xterra's and wanted to make it a super rig eventually when I got it paid off etc. I also started coming to the realization that the 'S' platform was not the most conducive to my eventual goals, so I was thinking about trading into an offroad model before I went too crazy.
One afternoon I stumbled upon this thread:
Here
The truck was originally in San Diego with 35K miles, never wheeled for $19K. Had every Shrock component you could buy for it (no diff guard). Well, now the guy is in Lexington, KY, the truck has 45K miles and he dropped the price to $13,000. Well I quickly started PMing back and forth about feasibility of me flying down to KY to buy it from him. He was hesitant at first, as was I, but he seemed honest and I sent him some money to hold it for a month for me, so I flew down to Lexington on a Thursday, he picked me up from my hotel the next morning, and drove her home!
If you are ever in West Virginia in late October, take a drive along Route 33/55/48 from I-89 to I-81. Absolutely some of the most beautiful terrain I have ever seen. Especially with the leaves changing.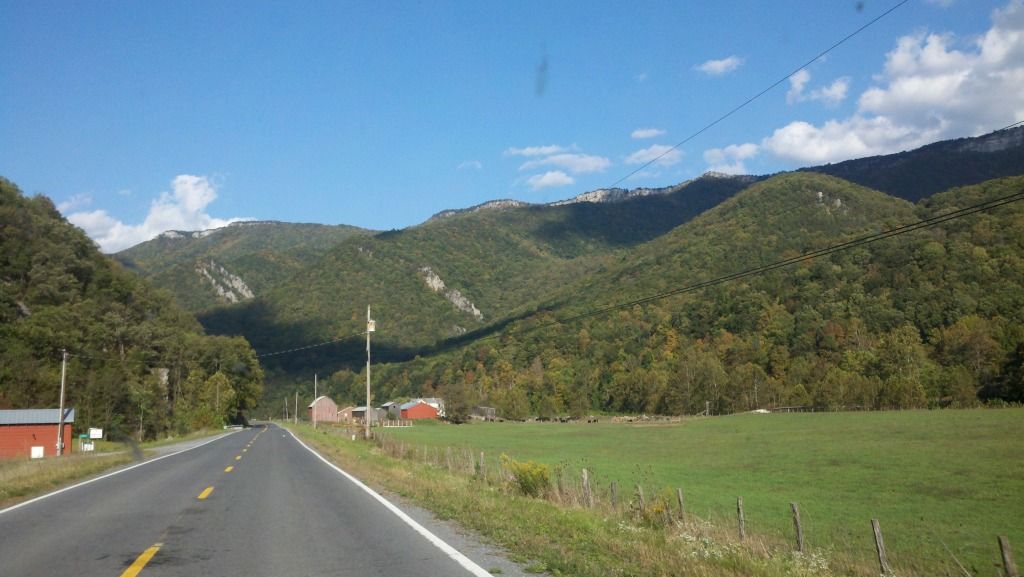 Got it home, did some posing: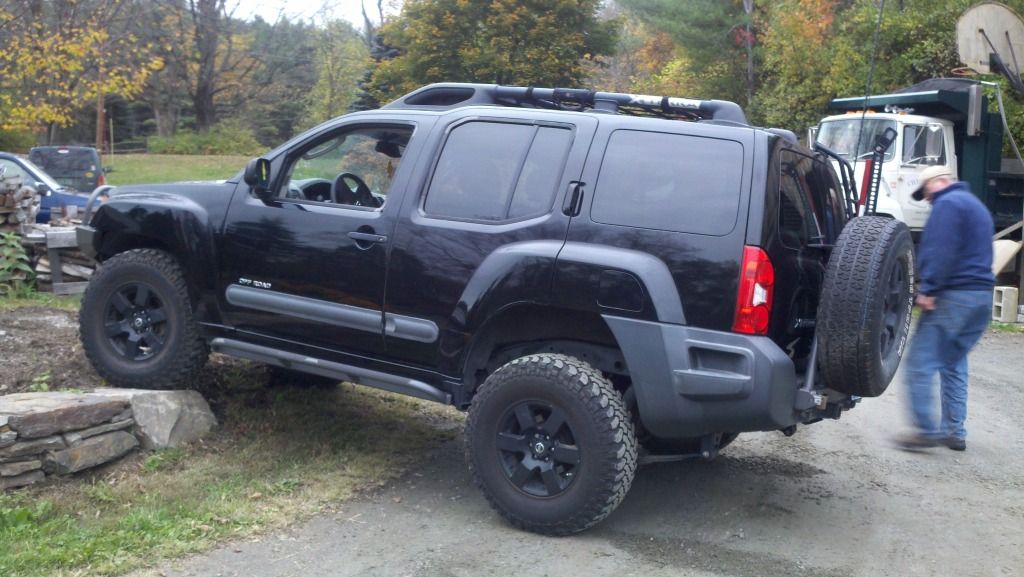 At this point I had 2 Xterra's because I was selling things off the original, moving suspension over to the new one:
I got my first baby back to stockish and sold her:
Now, onto my current love... Black Betty