Discussion Starter
·
#1
·
Finally! I bought all of the parts back in October, and since then I have been waiting on Pro Comp to get their ass in gear and ship my 7089s...notice however, that these are not 7089s. More on that later.
First I installed PRG 3" coil spacers for the front suspension lift. The PRG spacers really are top notch, and Greg is a very cool guy to do business with. I had trouble getting the spindle to separate from the ball joint; I read the instrustions, and they note to hit the ball "cup" in a front to rear direction. I thought, "nah, that's gotta be wrong" so I hit upward on the control arm for about 30 minutes before calling PRG. Greg answered that call himself, and said that I was definetly hitting the wrong direction. After trying it his way, it took 1 hit, literally. These were a very easy install if you are the type who follows directions. Personally, I'm an *******. If anyone needs, I took pictures during this install.
Next I installed 2.5" lift single leaf add-a-leafs for the rear suspension lift. AC has yet to let me down in either shipping or customer service, but others have reported trouble with them. These did not come with any instructions at all, but AALs are pretty straight forward, albeit a pain in the ass. I think that if I had a helper these would have been easier, but even still I had them on in about 2.5 hours at night, using task lights. Hindsight being 20-20, I should have ordered the deavers that PRG sells, but this isn't my wheeling rig. I also have some install pictures of these if anyone needs any.
Last I installed the AC 3" body lift. I really had intended to let a shop install my body lift, but the closest shop quoted me $475 labor. For that kind of coin I can do it myself. The kit did include 4 pages of 85 step by step instructions, but they left a lot to be desired. The reference near 60 installation pictures, but my instructions did not include any pictures. Seemed like a bad joke each time I read "refer to illustration ##". Despite the lack of pictures, or a helper, I installed this lift over a Saturday and Sunday. The worst part was lowering the radiator. I highly recommend two people tackling this install. I would jack the truck a little, then walk all around it checking to make sure nothing was snagging, then lift some more. PITA. There is also some cutting and grinding that has to be done to bumper brackets. I'm a dick, so I didn't take any pictures of this install (and I really needed to finish it up by Sunday night).
Finally, I bolted on a set of new wheels and rubber. I originally purchased Pro Comp 7089s, but found out after ordering that they were on national backorder. I waited over three months for them to ship from overseas (probably China). When I finally got word that they had shipped, I asked for a tracking number. One could not be provided right away. Another call a day later and I find out that they LOST my wheels. F&CK ME! I cancelled the order and planned to pick up some adapters and some off the shelf Cragar rims from Summit. I lucked out though when I found a set I like even better on eBay, of all places. I bought a set of American Racing Fuel 8s (series 321). These are 17x9 with a 4.5 inch backspace and they fit (barely) with no spacers. I might be able to fit a folded $20 between the wheel and the caliper, but there is NO rubbing. The wheels are wrapped in Nitto Terra Grapplers 295/70/r17. I do have some rubbing when flexed at full lock, but I haven't done the melt mod yet.
So, enough yapping, here are a few before and after shots. Pardon the mess, I had just finished today.
Before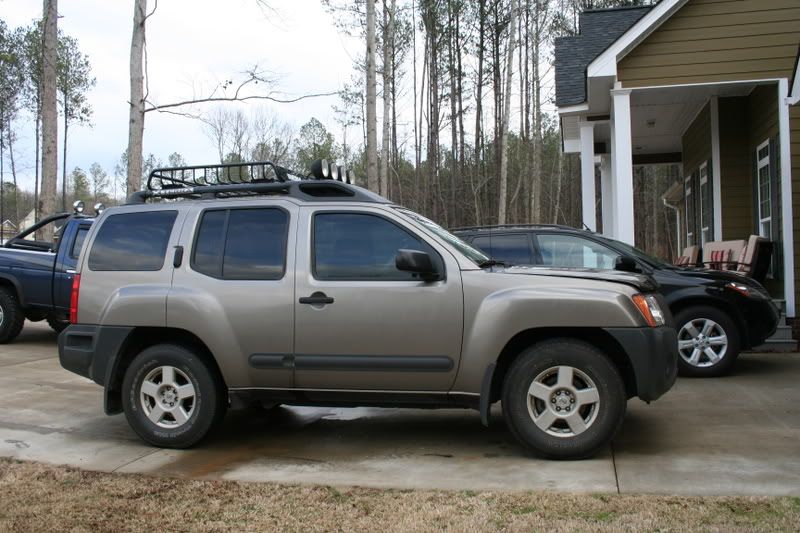 After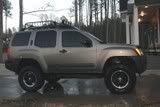 I'm pleased overall...it does ride stiffer, and the steering feels a lot different. I still have to get it aligned tomorrow, but for the most part I'm inished up for a while.