Intro Comments: Built, Not Bought
I don't know what Nissan is my favorite but I love my X. I loved my 350Z and I can't wait to own a GTR someday, but this X is going to be around a LONG TIME!!!
September 2014 TOTM Winner
Photo By: Dan Taber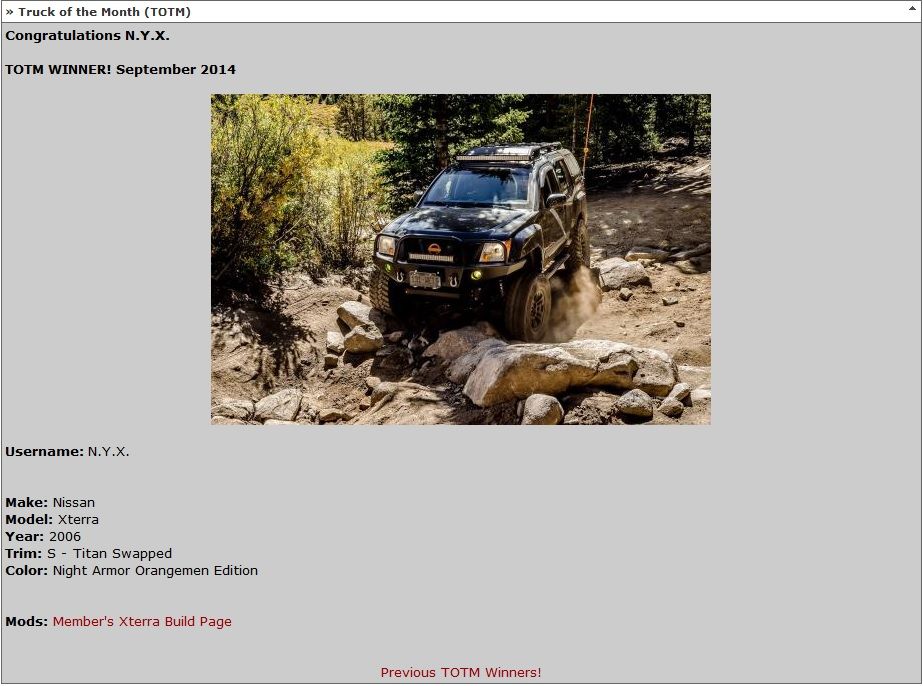 Toyo Tires 2014 Carve Your Adventure Photo Winner
TreadWright Week 3 dogs of Off Roading Photo Winner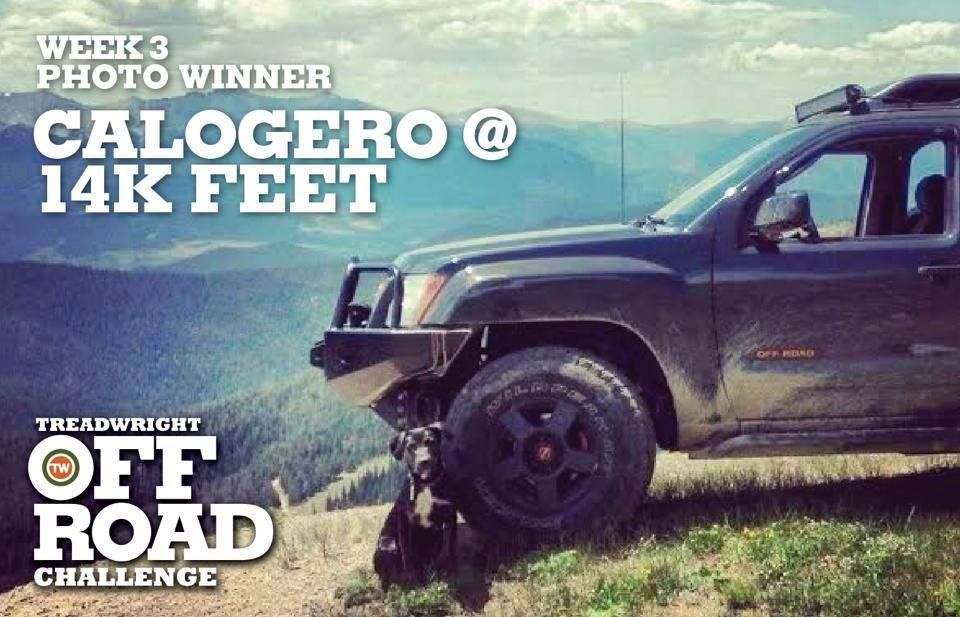 As She Sits 8/29/2015: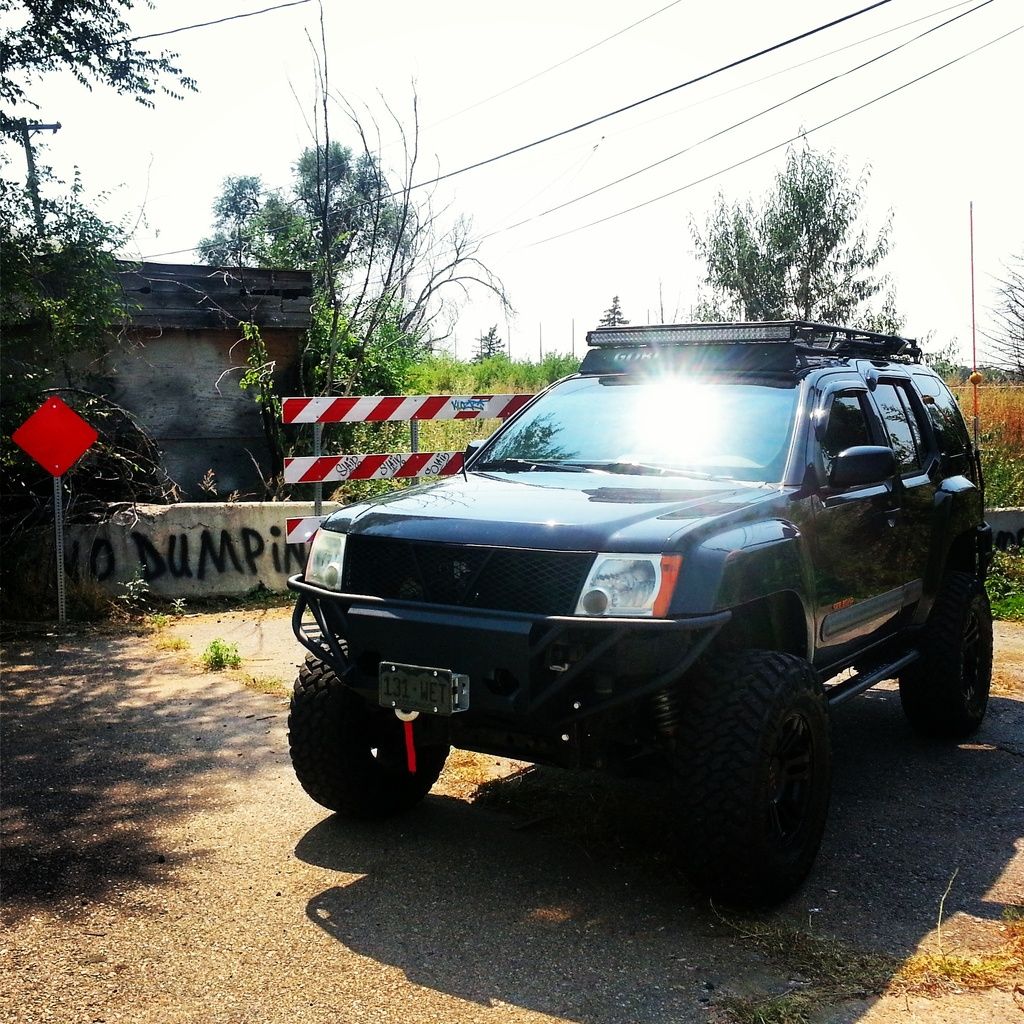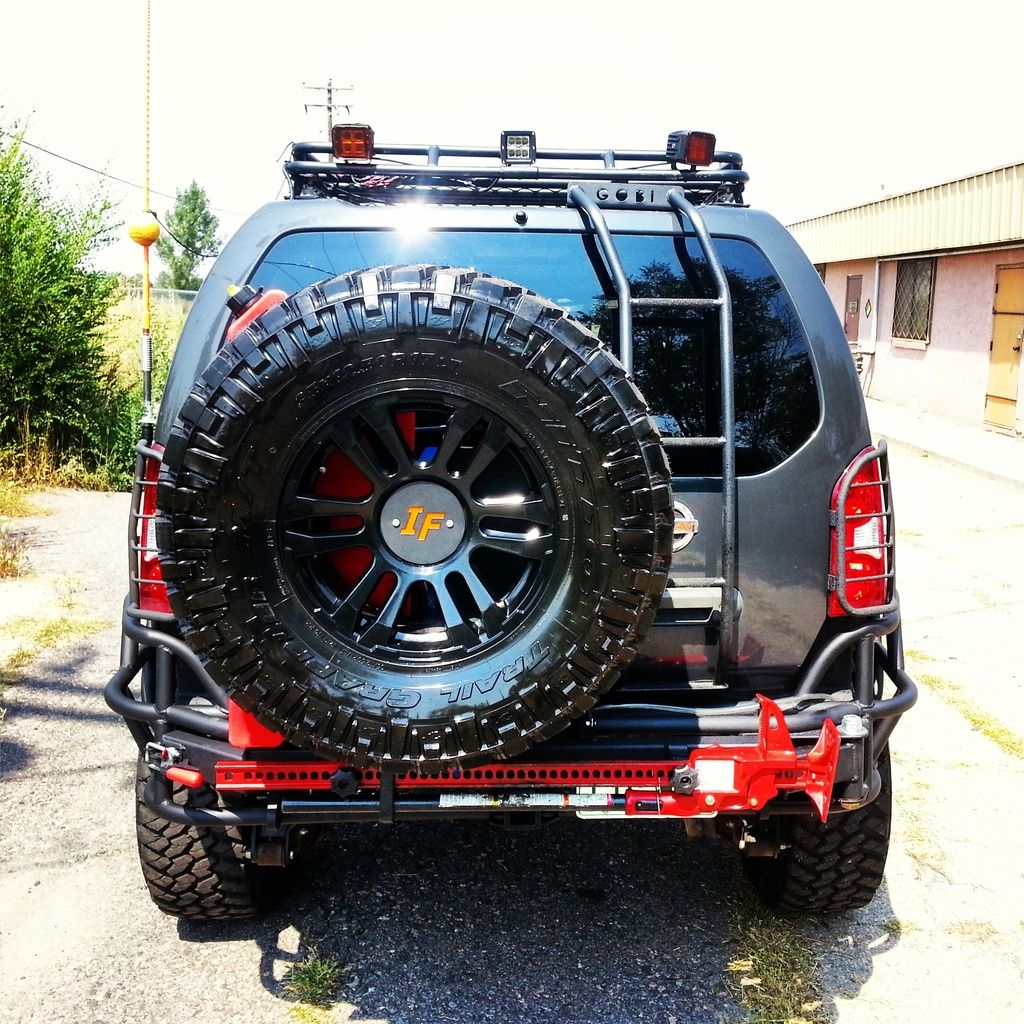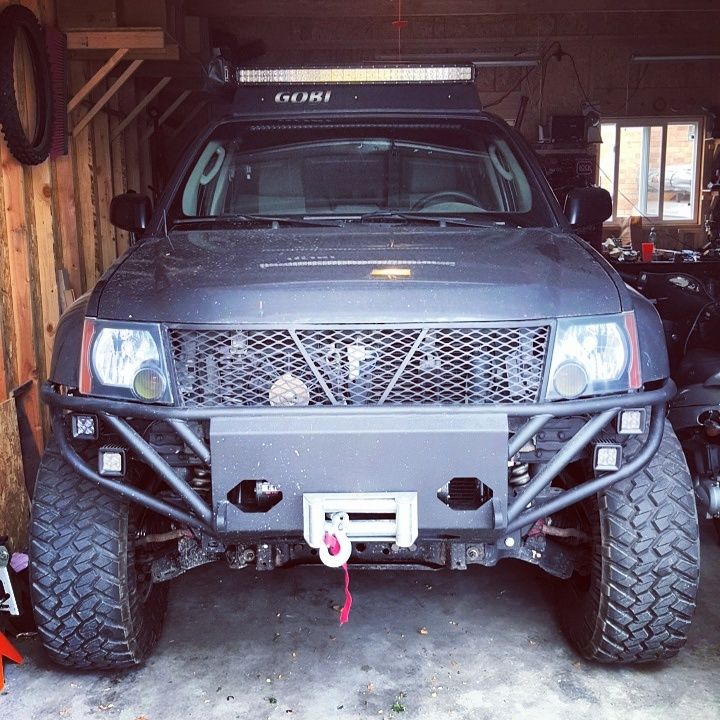 ​
Username:
N.Y.X.
Make: Nissan
Year: 2006
Model: Xterra
Trim: S

*
Color:

Night Armor
Miles: 107K miles as of 9/14/15
*

Off Road Established 2013/Titan Swapped 2014
MODS
Interior:
Replaced Rear Hatch Springs w/175lb McMaster-Carr's
Xterra All Weather Mats
Raingler RSXN Large Net
Raingler RIXN Large Ceiling Net
Raingler RMN Cargo Net
Raingler Upper Half Divider
Raingler Seat Headrest Handle
Custom CB and Holster Mount
GPS Dock with Bully Dog Retrofit
Dual Compressor Mount

Armor:
Custom Front Tube/Plate bumper
Custom Rear Tube/Plate Wrap Around Bumper
HeftyFab Engine, Transmission, T.C. and Gas Tank Skids
HeftyFab Sliders Powder coated Black w/ Integrated Step
Ballistic Fabricators Rear Diff Cover
Rear Taillight Guards
PRG Titan Flip Kit w/ Bash Plates
Custom Rear Shock Skids

Exterior:
AVS Ventshades
Burnt Orange Emblems and Calipers
Front Matching Tint
Trico 16-B Rear Wiper w/ Stronger Spring
OEM 7 Pin Harness installed in Bumper
Removed Front and Rear Sway Bar
Gobi Stealth Rack w/ LED Retro Fit
Gobi Ladder
Ironman 4X4 Awning

Performance:
Bullydog GT Gas
RAM Bullydog Suction Mount
Airflow Snorkel
Black XTP Intake Manifold Spacer
Magnaflow 2 into 1 muffler
CSF-100% Aluminum Radiator
4.10 Revolution/Superior Gears

Suspension/Lift/Wheels:
5 - Nitto Trail Grappler M/T: 35X12.50R17E2
5 - Black MB TKO: 17X8.5, 12 Offset, 6x114.3
Nisstec Rear Shackles
Deaver Xterra Frankenpack with Front Toyota '85 Pickup Procomp Leafs
Nissan Online Parts 2" Body Lift
Bilstein 33-185552 Rear Shocks; Ext (in): 25.93 / Col (in): 15.91 = Travel 10.02 (in)
On Board Air:
Viair 380C x 2
Viair 2.5 gal. Tank
ARB Tire Deflator
Ingersoll Rand Regulator Filter
10lb Powertank

Titan Swap at 104K miles:
New OEM M205, 3.36 Front Differential
ARB Front Locker M205

S.A.W. 2.5, 14" Length, 600Lb
PRG Titan UCA's
OEM Titan LCA's
Moog Titan Inner/Outer Tie Rods
2 - 2" Rear Wheel Spacers
3 - Cardone Titan Axles
PRG Extended Front Brake Lines
Nisstec Extended Rear Brake Lines

Drivetrain Swap "S" to "Off Road" at 100K Miles:
R180, 3.36 w/ about 90K out of Off Road Frontier
M226, 3.36, E-Locker w/ about 90K out of Off Road Frontier (Blew E-Locker @103K)
2 - New ReMan'd Half-Shafts @102K miles
Royal Purple 75W-90 & 75W-140 for Diffs
29-Spline/6-Bolt Pinion flange and Replaced Pinion Seal @102K miles
ARB Locker RD149 @103K miles
Replaced both axle bearings, sleeves, seals @103K miles
Diff Breather Extension w/ Toyota Nipple and Breather
Electrical/Lighting:
Pioneer HD/CD/MP3
Yellow Top Optima @ 97K miles (Warranty replacement 7/2015)
5000K H.I.D. Headlight Kit (REPLACED- Had so many issues with these HID's I replaced them with SilverStar Ultra II's.)
Wired Side Markers w/Turn Signals
TOTRON Pro Series 40" Combo Light Bar-Zombie Lights
TOTRON 3" Flood (3-Reverse; 4-Zombie Lights)-Rear and Alley Lights
Blue Sea ST Blade Fuse Box
OTRATTW Switches (Fog, Bumper Light Bar, Rear Lights, Zombie Lights, Rear Locker, Front Locker)
300 AMP In Line Breaker Switch
Cobra 75 WX ST Compact/Remote Mount CB Radio
WILSON ANTENNAS 305-830 18' Belden Coax Cable
Hot Orange 4' Firestik II w/ Orange Tennis Ball
Firestik Door Jamb Mount
Firestik SS HD Spring
Firestik K1A Disconnect
Derale 16309 9" Dyno-Cool Transmission Fan
Torqflo Transmission Cooler
Recovery/Trail Tools:
5 - 5/8's Crosby D-Links
48" Hi-Lift
2 - Warn 29899 -
3"x30' - Premium Recovery Straps
ENGO EPF10000 Winch w/ Wireless Remote
ENGO 8-Ton Grease-able Snatch Block
ENGO Tree Saver 10'x3" 26,500lbs
Lotus Hi-Lift Slider Adapter
Craftsman 153PC Universal MTS Set
Craftsman 58PC Max Axess Set
Maintenance:
Mobil1 5W-30
Front Shaft U-Joints @70K miles
In-Cabin Filters @96K miles
NGKLaser Platinum Spark Plug (PLFR5A-11) @97K miles
2nd Tranny Cooler w/Radiator bypass @70K miles
Front Rotors @70K miles
Front Premium Ceramic Brake Pads @98K miles
Rear Premium Ceramic Brake Pads @98K miles
Front TC Output Seal @97K miles
Rear TC Output Seal @103K miles
TC Drain and Re-Fill w/Nissan Matic D @97K miles
PM Tranny Flush w/Nissan Matic S @103K miles
F/R Differentials Drain and Re-Fill w/Royal Purple Severe Gear 75W-90 @97K miles
Blower Motor Resistor @90K miles
New Washers Used for every Fluid Change (except oil)
M226: Royal Purple 75W-140 @103K Miles
M205: Royal Purple 75W-90 @104K Miles
New Spherical Bearings for the PRG UCA's @ 105K Miles

Next Up: Winch (Rear), dual batteries, off road trailer...