Gearing up for my trip, spent the last few days building a cargo shelf. The idea of my design was that it would
1. Allow maximum width underneath for sleeping
2. Maximize the area above so that there's no space on the edges for things to fall down or force you to find little things to pack in there.
3. Still allow the rear seats to fold up.
4. Allow use of the under-floor storage
Here's what I came up with.
-Disclaimer: This was my first time welding and a few buddies helped me but I did most of it. So try not to laugh too hard at my welds... because they're not pretty!
All tubing is 1inch, 1/16th wall, it was $24 for 40 feet
The flat stock I believe is 3inches x 1/16th but the guy at the steel supplier gave it to me free because I was wearing my Syracuse basketball shirt and we both grew up around there :iconbiggrin:
The original design had cross members. 2, 3, 2, 3 - evenly spaced between each bar from rear to front. Didn't have time for this. Or painting. Or the expanded metal I wanted to put on it. Hopefully I can add all these things this summer.
The legs are bolted together with brackets as there's no way to get it inside the Xterra if I had welded it together :iconbiggrin: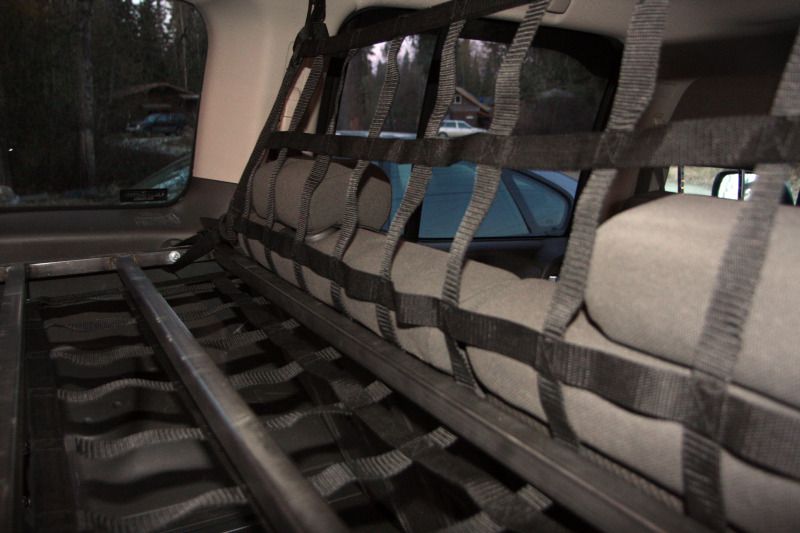 There's about 1/2 inch between the rear seat backs and the rack. It is so close the seat cushion almost overlaps it a little.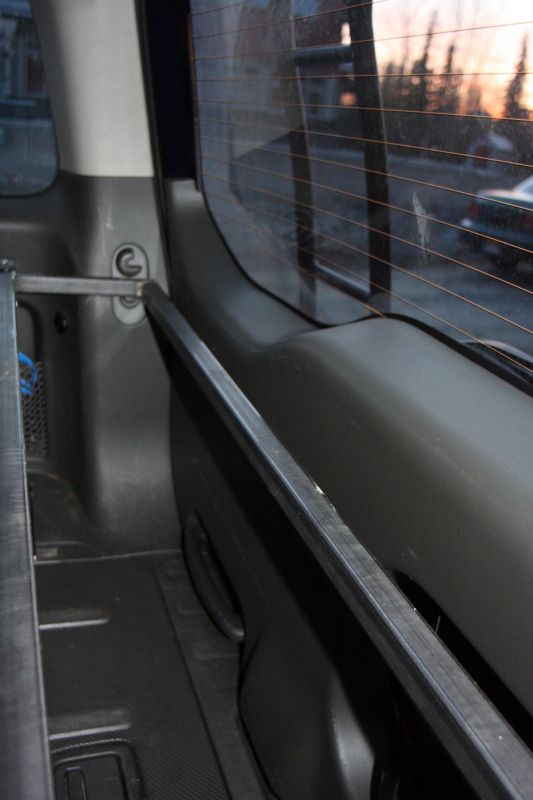 There's about 1 inch between the tailgate and rack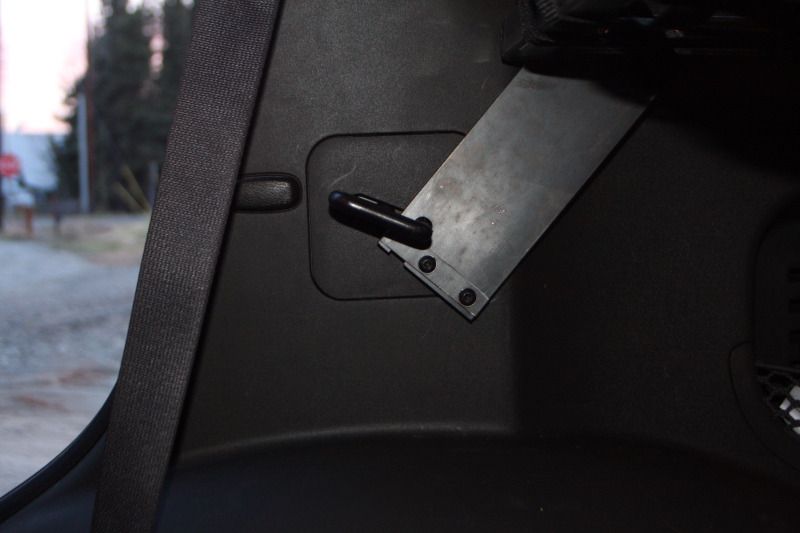 Here are the mounts. I had a buddy help me with these. I believe the notches are 7/16th but I'm really not sure.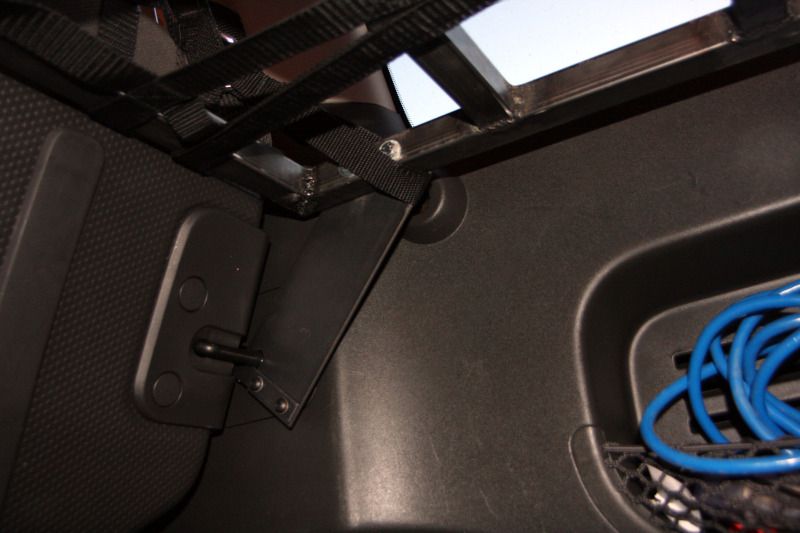 Drilled and tapped the screw holes for the piece that makes sure it can't lift off.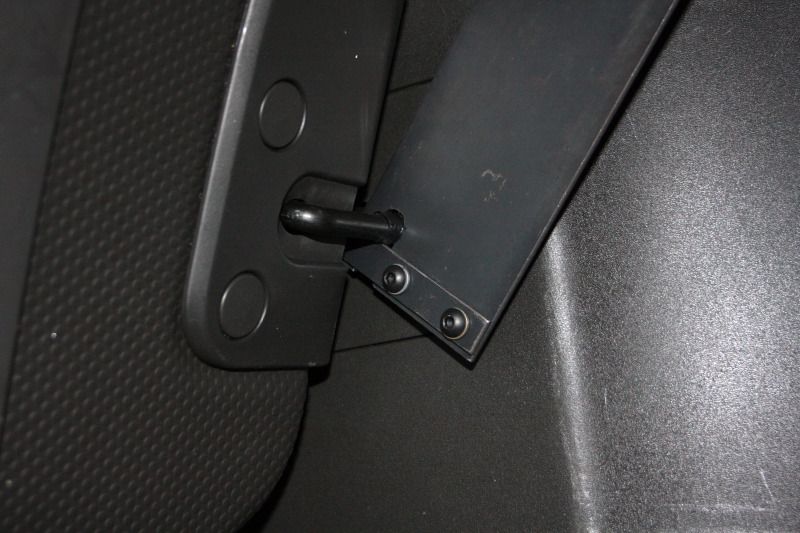 The notches are slightly large and I used some electrical tape to make it a snug fit. This was my plan from the start and it worked great.
I posted how I locked the feet into the tracks in this post
http://www.thenewx.org/forum/showpost.php?p=853373&postcount=4
This is only temporary until I make some nicer ones out of aluminum like the ones suggested in that thread.
I bought the raingler net off a member here thinking it was the r90 upper half... back in December and after finally taking it out and mounting it up I'm realizing it's actually the full divider I think?? So I made due and just looped it under, no big deal.
I finished it up this morning and it has already got some use moving my apartment into storage. No squeaks or anything but there is a tiny thumping when going over really hard bumps. It sounds like the rear feet lifting up a little. It doesn't do it when there's weight on though. Now to pack it up for our
two week roadtrip
!
What do you guys think??
UPDATE 8/16/12:
Finally got around to prepping them for paint, got some expanded metal and cut it to fit and mounted it back up getting ready for my return trip.
During prep: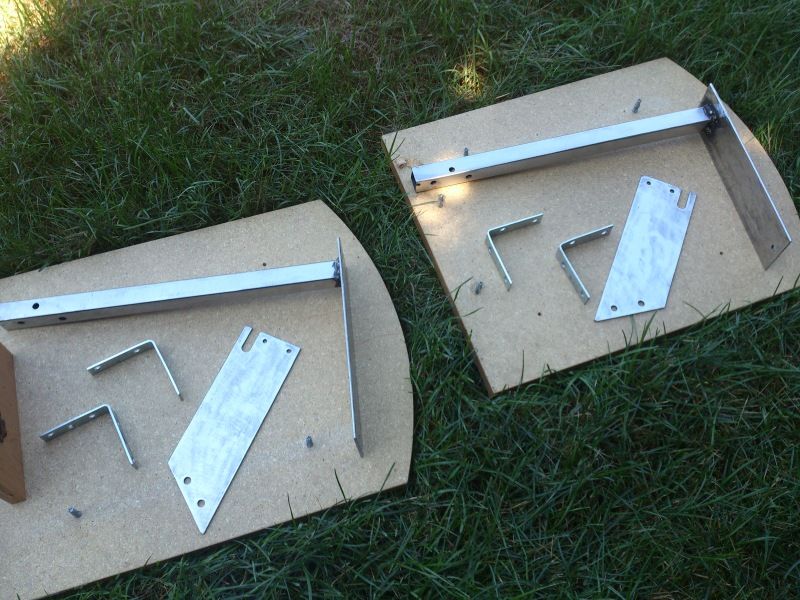 Tapped some M6 x 1.00 holes
All done: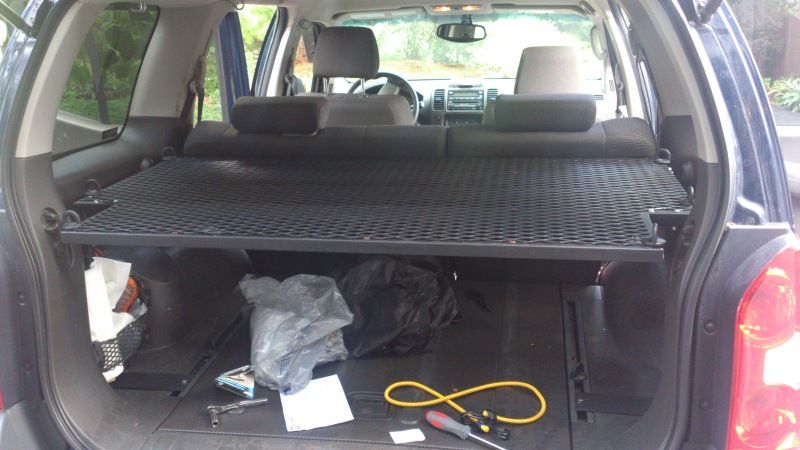 With tire and raingler net (need to order some footman loops and fix my net)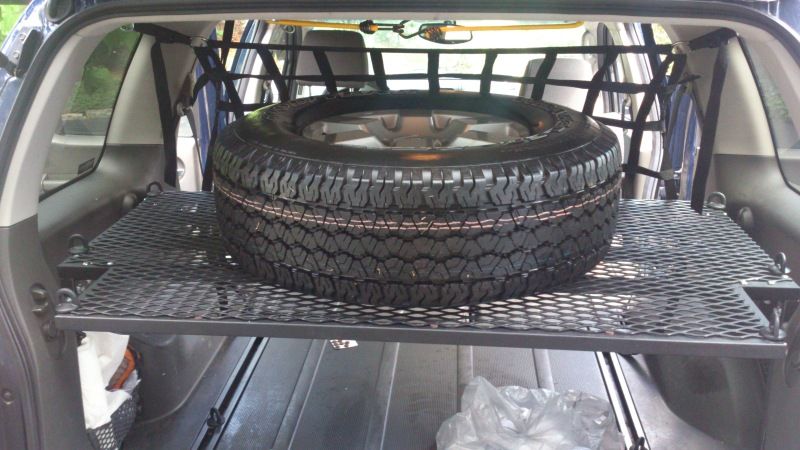 Plans:
Sorry it's a little crude but it should tell you everything you need.
I will measure the legs later but I think I used 16" and the flat stock for the feet was 3" x 1/8" x 9.5"
The front mounts were also made from 3" x 1/8" but were made by holding the rack in place and eye-balling it.
The legs can't be welded on or I don't think it would fit. It might work if they were welded closer to the center but I didn't want to do that.
The way I get the shelf in is I have to put the bottom right two corners (in the schem above) into the recess where the power outlet is, then the top left corner barely clears the upper corner. Once it's in I rest it on the legs and put all the bolts in. Helps to have someone hold it but I did it myself yesterday in about 20 min.