The goal of this truck is to do it all, camping, wheeling, and daily duties. None of which can significantly impact the others usage therefore I tired to take the middle ground on all tasks. This has turned out to be a great truck and does everything I ask of it, of course I keep asking for more in each category. So it will never be "done" so to speak, think of Zeno's paradox
This is the sequel build of my truck as my last was totaled in a rear end collision(
http://www.clubfrontier.org/forums/f103/glamisdude72000s-build-thread-76827/
). So far this truck has been a substantial upgrade to the last one, having gained half the amount of miles, 2 model years newer, and 4x4 with a locker. This is the story of its progress, enjoy
Username: Glamisdude72000 (Chris)
Year: 2007
Make: Nissan
Model: Frontier
Trim: KC Nismo 4X
Color: Avalanche White
Current Pic:
Mods:
Lower Bumper Valence and Mud Flaps Removed
Blue Sea 6 connection fuse block with ground bus under hood, battery terminal with voltage readout
Rear Diff Breather Extension
Anytime E locker Mod
Fog light Bypass
Trans cooler bypass
Cab Interior:
Magellan Touchscreen Nav
50w Inverter
Cobra 18wx ST II CB
LED dome lights
Stereo:
Kenwood Excelon KDC- x794
Alpine Type R 6 x9 coax. (front, amped)
Old school Infinity Reference 6.5 coax paper cones (Rear)
Polk db 1" Tweeters in factory dash location (amped)
Alpine Type R 12" at 2 ohms in 1 cu sealed box
Kenwood KAC-8105D, 500w rms (sub)
Hifonics Zeus zxi 4406, 55w rms per/ch (FR Doors, tweeters)
Axxess ASWC steering wheel control adaptor
Dual amplifier 2 AWG wiring kit with power and ground distribution blocks
Switched remote turn ons for amps when power consumption matters
Shell Interior:
Carpeted custom sleeping platform with storage
4" memory foam mattress
Hand made curtains
Logitech THX speakers with bullet tweeters (switched, deck power)
Blue Sea 12 connection fuse block with ground bus
Switch panel for shell accessories
200w Inverter
Tail gate seal kit
Dust proofed
Exterior:
Paint matched Century Ultra shell (Leer clone) with carpet kit, front boot, and pass. side windoor
55w HID Hella 550's in bumper mouth
55w Halogen back up lights on rack
Dual 20" 15w Samsung LED light bars (camp lighting)
Firestik II 4' CB antenna
Custom made roof rack powdercoated wrinkle coat black with 4 55w KC 57 series lights (2 driving, 2 spot)
U Haul Receiver
Nismo4X badge
Drivetrain:
Auto, 4x4 with rear e locker

Suspension:
MD TJM Extended Travel Coilovers
PRG Upper Control Arms
4 banger Sway Bar
Alignment cams
Bilstien 5125's
OME Dakar HD Leafs
Lift Height:
Overall:
Front: 2.5"
Rear: 3.5"
Ground to Fender
Front: 37.5"
Rear: 39.5"
Wheels and Tires:
Pro 4x Machined faced 6 spokes
Cooper Discoverer ATP's 265/75R16 currently have 25k miles on them
Armor:
Stock Nismo Skids
Performance:
K & N Drop in
Deck plate mod
Optima Red Top
Gear and Other:
Tow strap/ D ring shackles, Jumper cables, folding shovel, extra bolts, etc
Viair 70P Compressor
Mini hand picked tool kit
Joe Hauler (motorcycle receiver carrier)
Receiver mounted 4 bike carrier
Snow Chains
Cooking supplies (stove, bbq, pots and pans)
California USFS Annual Adventure Pass
In Progress:
Solar shower
Curtain Redesign
In the Foreseeable Future
Hitch Plug Relocation
Window Tint on fronts
Custom shell support cage
Custom Swingout Rear bumper (little ways down the road)
Pics:
On the way home from the Dealership in Vegas (Stock):
After Lift:
How she sits today:
Lights:
Electrical:
Under Hood: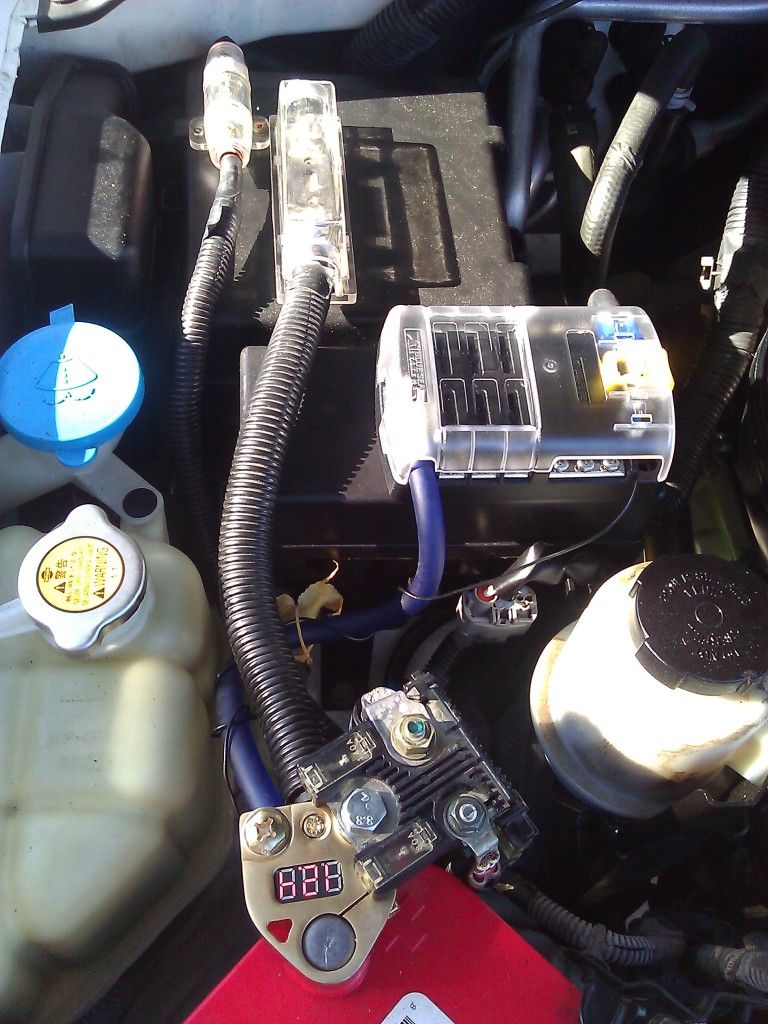 In shell: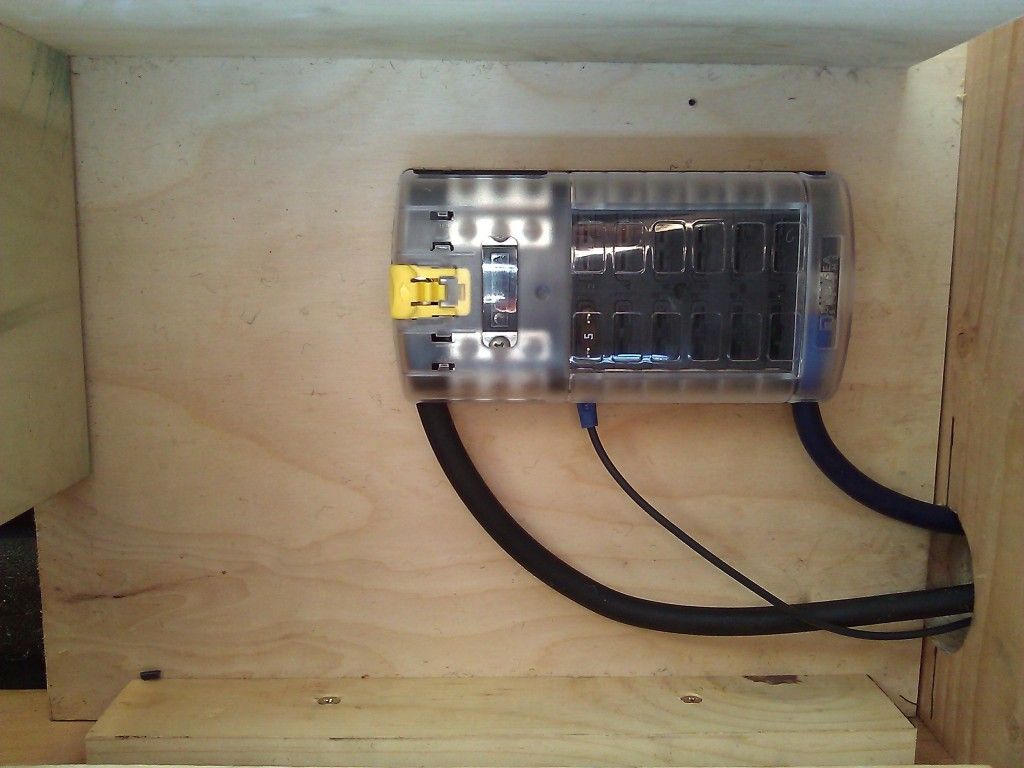 Shell: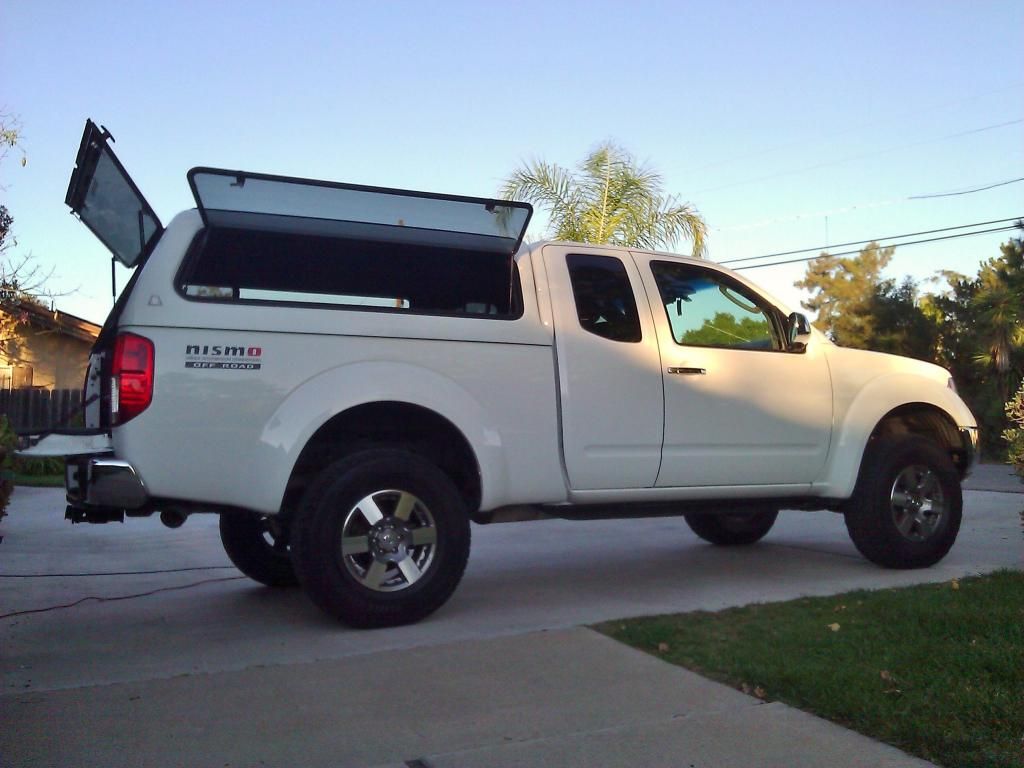 Wheeling: