* * * * * * * * * * * * * * * * * * * * * * * * * * * * * * * * * * *
Cost/Availability: CURRENTLY NOT AVAILABLE FOR PURCHASE
* * * * * * * * * * * * * * * * * * * * * * * * * * * * * * * * * * *
Is the thought of having a winch for recovery appealing, but the cost, weight, and/or styling of a full replacement bumper is not? A Factory Bumper Winch Mount for your 2nd Generation Nissan Xterra is your ideal solution!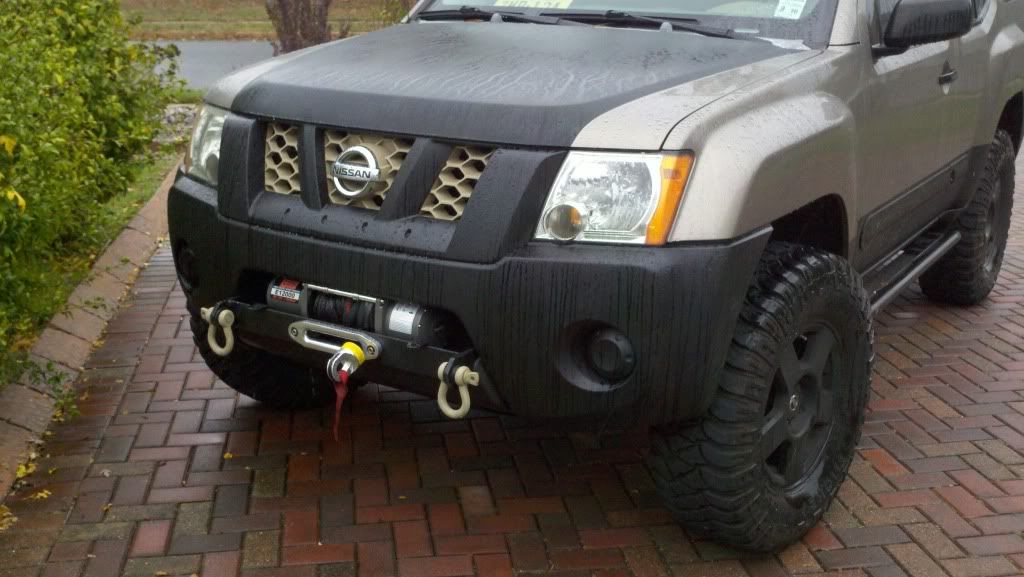 So, why a Factory Bumper Winch Mount for your Nissan Xterra?
> Cost: The winch mount is priced several hundred dollars cheaper than a full replacement bumper; in many cases, the mount is less than half the cost! This means you can potentially buy the mount AND a winch for the same or even less than the cost of just a new bumper.
> Weight: Weighing roughly 60-65 lbs, the winch mount weighs less than half the weight of any current aftermarket bumper options. Deduct the factory parts (stock bumper, 26 lbs, and tow hook, 4 lbs) and your net gain is a mere 30-35 lbs lbs – about the same weight as a few gallons of milk. Choosing a winch with a synthetic line can result in an overall net gain of at or under 100 lbs!
> Style: While it is not for everybody, some folks actually like the stock factory bumper and styling. This mount retains the factory look while adding a low profile winch, better front recovery points, and room for a pair of aftermarket lights. Additionally, I personally have never run into any approach angle/clearance problems with the stock bumper, and factory angles are not compromised with this mount.
Fitment:
There are two distinct models; PLEASE SPECIFY WHEN ORDERING.
(2005-2008 model shown in foreground, 2009+ model with narrower winch tray shown in background.)
The original 2005-2008 stock/factory bumper winch mount fits the model year 2005, 2006, 2007, and 2008 Nissan Xterra and features a slightly wider winch tray.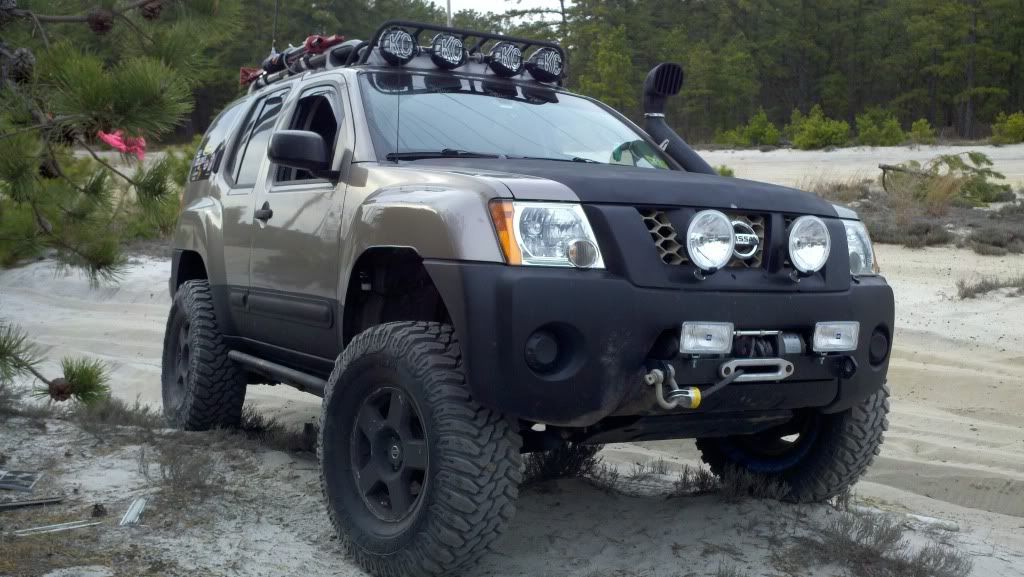 The 2009+ stock/factory bumper winch mount fits the model year 2009, 2010, 2011, 2012, 2013, and 2014 Nissan Xterra and incorporates two plated, welded spacer tubes and a narrower winch tray to accommodate the redesigned, slightly narrower bumper "mouth" opening found on the late model "Gen 2.5" Xterras.
This winch mount is NOT intended for use with a body lift. You can expect interference at the bumper "wings" and lower portions of the mount. Any custom modifications to make it fit are on you.
Design essentials:
> Heavy duty 1/4" steel construction.
> Bolt-on installation through factory-threaded holes, 4 bolts per side. New hardware provided.
> Steel angle is used extensively throughout to allow components to "stack" onto one another, providing a greater weld area and, thus, tremendously greater strength. I firmly believe this is the strongest way to mount a winch onto your Xterra.
Design highlights:
> Plastic factory bumper "fascia" trimming is easy and minimal, resulting in a clean, factory look.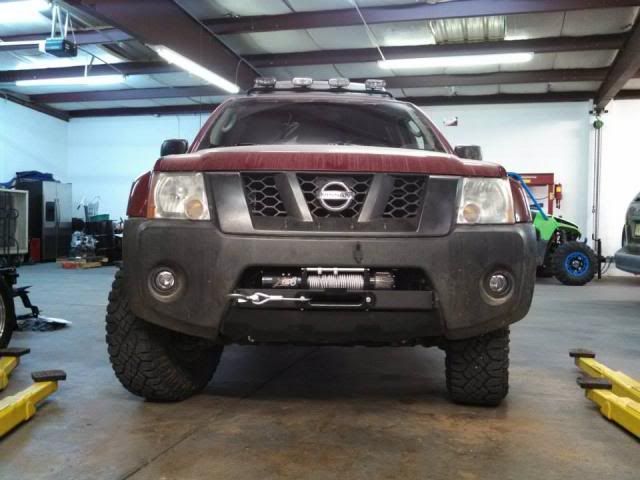 > 3" x 2" rectangular steel "bumper wings" extend the overall width of the mount to more closely match the factory steel bumper coverage.
> 1/2" thick shackle/d-ring mounts extend the entire depth of the winch mount and are fully welded to the frame mounts and winch tray---no wimpy surface welded pieces here!
Custom 1" thick tabs optional (+$59)…
> Tabs are included for mounting a pair of aftermarket lights.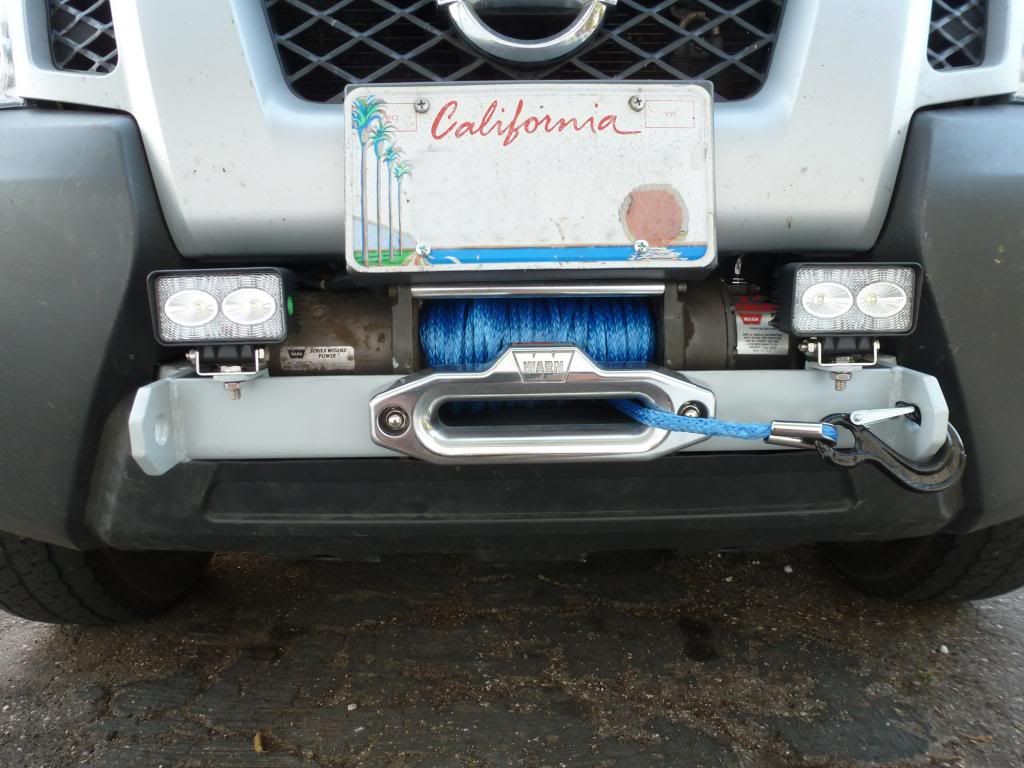 > The front mounting holes are slotted to match factory steel bumper tolerances for ease of installation.
> Lower frame brackets are provided as bolt-on pieces for installation tolerance and reduced shipping size. Note: Two new holes (not shown) for assembly bolts must be drilled in each lower bracket during installation; the guide holes are pre-drilled in the winch mount for marking new hole locations in the lower mounts and a transfer punch is provided.
> Mounting brackets are provided to accommodate the factory radiator skid plate. When you are ready to upgrade, both the Shrockworks and NXRocks radiator skid plates are fully compatible with the winch mount.
Winch Selection:
Most remote or integrated solenoid winches should fit. I've had customers install a variety of winches from Warn, Smittybilt, Engo, Harbor Freight, and others.
This mount was specifically designed around a remote solenoid winch like the Warn M8000 or Smittybilt XRC-8. Clearances are tight, so I found it was easiest to extend the power cables and mount the solenoid control pack under the hood. This additionally provides an added level of security, since the control back is no longer accessible at the exterior of the vehicle. Additional cables will be required; for instance, the Smittybilt XRC-8 requires (2) new 72" 2 gauge power leads ($18 each,
www.predator4wd.com
) and (1) new 72" solenoid-to-motor ground (I made one from 12 gauge wire, which was thicker than what was on there; Warn advised this could alternately be grounded directly to the battery). Alternately, the remote control plug can be relocated and solenoid pack stuffed somewhere near the winch, but this takes some creativity for mounting due to the tight clearances.
I have reviewed the dimensions for many integrated solenoid winches as well and believe that most should fit, though a greater degree of trimming behind the bumper and some additional work/modifications may be required due to the much taller clearance required. Specifically, there is a "front bumper supporting bracket" that will likely need to be cut off and replaced with a bent piece of flat stock. Had it not been for
Jay's (Surf & Snow's) installation
, I would not believe that an integrated solenoid winch could fit, but he proved that there was room.
Feel free to contact me with your anticipated winch selection and I will be happy to review the manufacturer's dimensions and suggest where you might run into some installation or clearance issues. Also, some winches require larger mounting holes/bolts; if I know this up front, I can accommodate this for you. Sorry, a Warn PowerPlant will NOT fit with this mount.
Product Testing, Reviews, and Testimonials:
RockyMtnX
, Factory Bumper Winch Mount & Smittybilt XRC-8 Winch Testing
http://www.thenewx.org/forum/showthread.php?t=39915
"Conclusion: The Factory Bumper Winch Mount and Smittybilt XRC-8 winch combo is a worthy recovery addition and sound platform to help save your (or someone else's) bacon along the road less traveled. :thumbup: "
SnowB0und
, "Got a chance to use the winch and mount in the snow!"
http://www.thenewx.org/forum/showthread.php?p=811540#post811540
Youtube:
Blog:
http://snowboundkt.blogspot.com/2012/01/xterra-stock-winch-mount.html
Tomrejzek
, Review: 2009+ RockyMtnX Front Winch Bumper
http://www.thenewx.org/forum/showthread.php?t=63561
"All in all I was really pleased with my buying experience from ROCKMTNX and his product is top notch. I can't recommend this product enough."
"Update-
No problems with air flow to the radiator. Went to Death Valley this weekend (127F was the official temperature). Temperature gauge did not budge and stayed at 1/3 from the bottom.
The outside air temp thermocouple is mounted by the winch."
AKXTERRA
, Review: RockyMtnX Front Winch Mount/Front Sliders/Maxterra Rear Bumper
http://www.thenewx.org/forum/showthread.php?t=57146
"All in All (Very impressed with the quality of workmanship and detail that went into the winch mount and sliders and shipping crates) … kudos to the excellent workmanship and customer service!"
Jeff_redx
, Review: RockyMtnX 2009+ Factory Bumper Winch Mount, Engo 10,000S Winch & Pull Pal
http://www.thenewx.org/forum/showthread.php?t=54248
"The entire transaction with Rocky Mtn Xcessories, Steve, was professional and went smoothly. He responded to the questions I had and kept me up to date as necessary. The mount arrived in excellent condition and was very well packaged.
Thanks to Steve for designing and building a well thought out winch mount. The installation went smoothly with just a few minor adjustments needed."
"The mount was very solid and stable during the pulling… Overall the test was a success. The mount didn't move or shift under load."
Brett
, "Happy to report another pleased customer of Steve's here."
http://www.thenewx.org/forum/showthread.php?p=1456954#post1456954
"Nothing new to say really, just reinforce prior comments about what a fine product Steve produces. He includes great instructions, he stays in communication with you about when to expect your product, and there's never really any question in your mind if/when you will receive the product. I highly recommend Steve's winch mounts."
GeoXplorer
, New RMX Front Receiver Hitch Bumper – Installed (custom front hitch version with accessories)
http://www.thenewx.org/forum/showthread.php?t=62890
"This work of art is incredibly stout and well constructed... I absolutely love it! Just what I wanted. You'll have to ask RMX yourself, but I have a feeling he'd be willing to make more of these. You'll also have to ask him what he'll charge for them. I will tell you this...Steve is a great person to work with. I'd do it again in a heartbeat."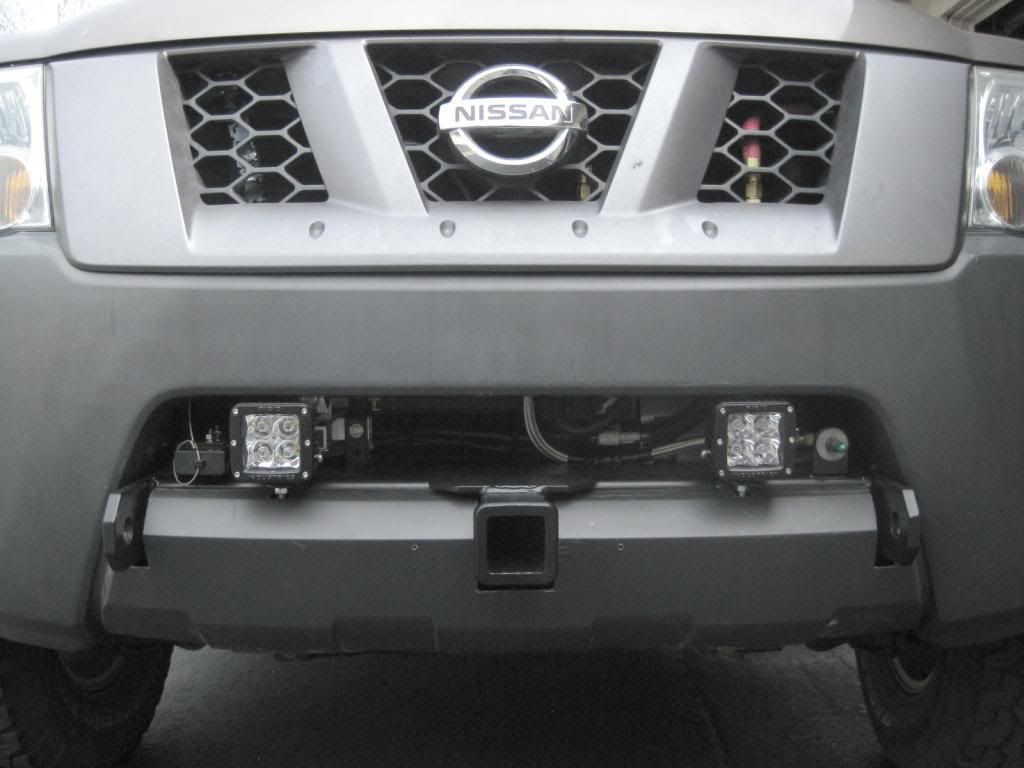 Thanks for looking!
~Steve