Discussion Starter
·
#1
·
Ok, I'm finally getting around to posting about this run I did on 3/31. We left on Friday after work and camped at the Ricardo Campground at Red Rock Canyon SP. The camping was pretty awesome at the base of a red rock cliff.
Saturday morning we packed up and drove to the trail head with gps and maps galore. I know it's not a good idea to go off-road alone, but we ended up traveling with about 6 jeeps from a local club and another couple in an older Toyota Tacoma, that we met at the trailhead. All of the jeeps were lifted with 35's+. The jeep guys were amazed that we were gonna try the trail in a stocker, cuz the last guy that went with them in a stocker, a Toyota, had to turn around and received body damage. Well I figured if it got too hard, I could just turn around, so I aired the tires down and proceeded. The jeep guys went in first and I followed the Toyota guy who said he had some experience at off-roading. The trail through the canyon was only moderately difficult in about 3 or 4 sections with mostly large rocks and narrow in some spots. Just when I thought we were free of the difficult sections we came upon the "steep rocky hill" as Charles A. Wells wrote in his trail book. Well, I thought that we either missed a turn or there was another way out because the hill was STEEP...very LOOSE...with a step on one side and a big rut in the middle. The "experienced" Toyota guy and I walked up and down the hill a bunch of times trying to decide on the best line. Oh yeah, while we were there a bunch of dirt bike guys rode up from the top and after hearing that we were gonna attempt to drive our vehicles up the hill just laughed and said "no way". Well, I wasn't about to give up...I'm too stubborn...or something. I stuck the X in 4LO, locked the diff and headed up towards the step on the right. I tried to ride up the step twice unsuccessfully. So, after a few seconds of deciding on a different line, I headed up the left side which was loose and steep, but no step. Well, I was amazed, the X just chugged right up the loose stuff and through the rut with barely any loss of traction. I was Freak'n ecstatic...and to think I almost gave up and turned around. The Toyota guy who didn't have a locker, said no way he was gonna make it up so he just turned around and left. The rest of the trail was far less eventful. We made it to Burro Schmidt's tunnel and ate lunch. After touring the tunnel and grabbing a bite to eat we headed out back towards Redrock Randsburg Road via a tame Mesquite Canyon. Once we made it to R-R road, I stopped and aired back up using my trusty $39.99 Tsunami Pep Boys Pump. I had all 4 tires pumped back up in about 20~25 minutes. The only damage received was a gouge in the passenger's side sliders and a scratch on the right rear passenger's wheel. Well, that outing has definitely got us hooked! We can't wait for our next excursion.
The Campground
One of the rocky sections
Trail gets narrow and off camber
The X in a canyon
"the hill" from the bottom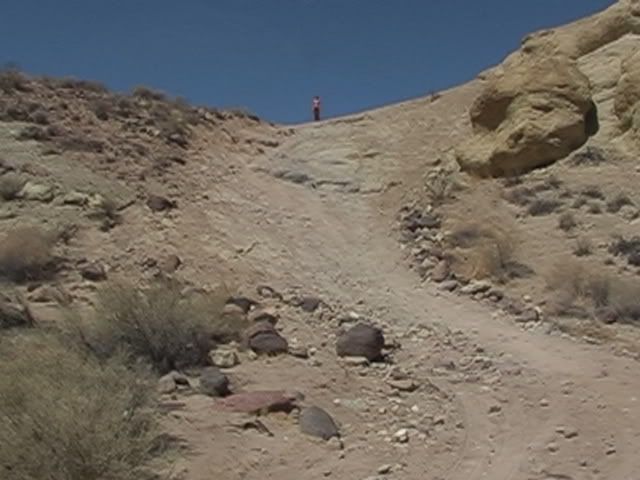 Driving up "the hill"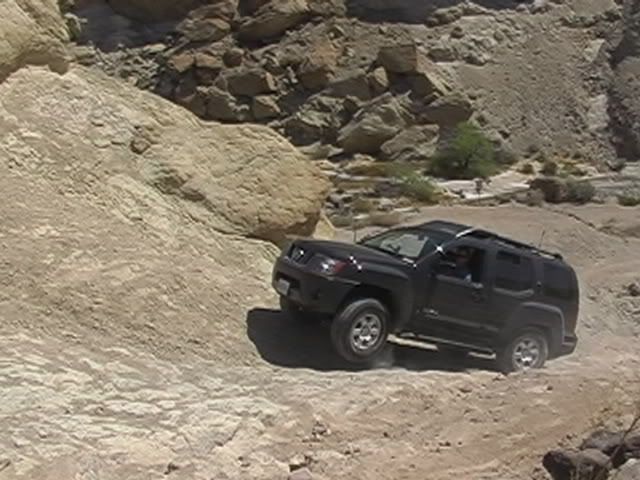 William Henry (Burro) Schmidt's tunnel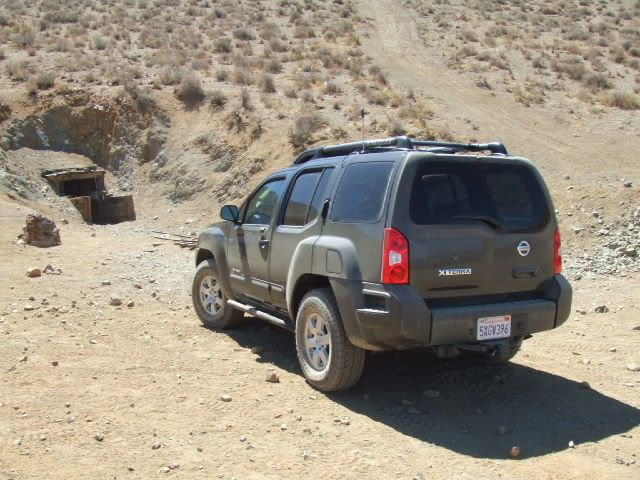 Here's a vid of the climb up the hill
VIDEO
Rob