Username: GPzGuy
Year: 2008
Make: Nissan
Model: Xterra
Trim: SE
Color: Silver Lightning
Mods: Driving Lights, 2" suspension lift, winch install
Exterior: Shrockworks front bumper, Maxterra rear bumper, AJ's Sliders, Shrockworks skids
Ummm.....
Maxterra rear bumper installed with OEM trailer wiring harness (dumped the OEM hitch)
Dephep roof rack with custom 1" crossbars mounted to carry bikes, kayaks, cargo box, ect
Hood bug deflector
Keyless entry pad
Thule Ridgeline hitchmount 4 bike carrier, Thule T2 hitchmount
Thule Hull-a-Port kayak racks
Yakima Powderhound ski rack
Alcan springs ordered with 1" lift and +350 lbs (installed with 2" Daystar shackles.)
285/70x17 BFG AT's
AJ's Offroad Armor SuperRails
Shrockworks skid plates
Lights:
Hella FF4000 driving lights on Shrock bumper
Controlled by Toyota OEM Foglight switch
Light install thread
Interior:
Nissan Technology package with iPod interface
Garmin Nuvi 1490 in modified Nissan dock
Escort 8500 x50 mounted to rear view mirror stalk
Coverking neoprene seat covers
Nissan OEM rubber floor mats
Weathertech rear cargo liner
Nissan shock sensor for factory alarm system
Suspension:
2.5 Radflos with PRG Upper Control Arms
Daystar rear shackles, Alcan springs and Bilstein 5125 shocks
Exterior:
Shrockworks front bumper with Recon 10,500 winch with blue Amsteel winchline
Maxterra rear bumper
AJ's sliders
Comments: My philosophy for my Xterra is for transporting my family and me and our toys to where we want to be. I don't currently feel the need to modify it much more than that. I spend the majority of my time on my motorcycle anyway. Hmmm... scratch that, the mod bug is kind of starting to bite....
Photos:
Brand new out on Pismo Beach (I had an anual pass and went out there about almost every day after work to paddle or walk the beach, and even drove the dunes sometimes
)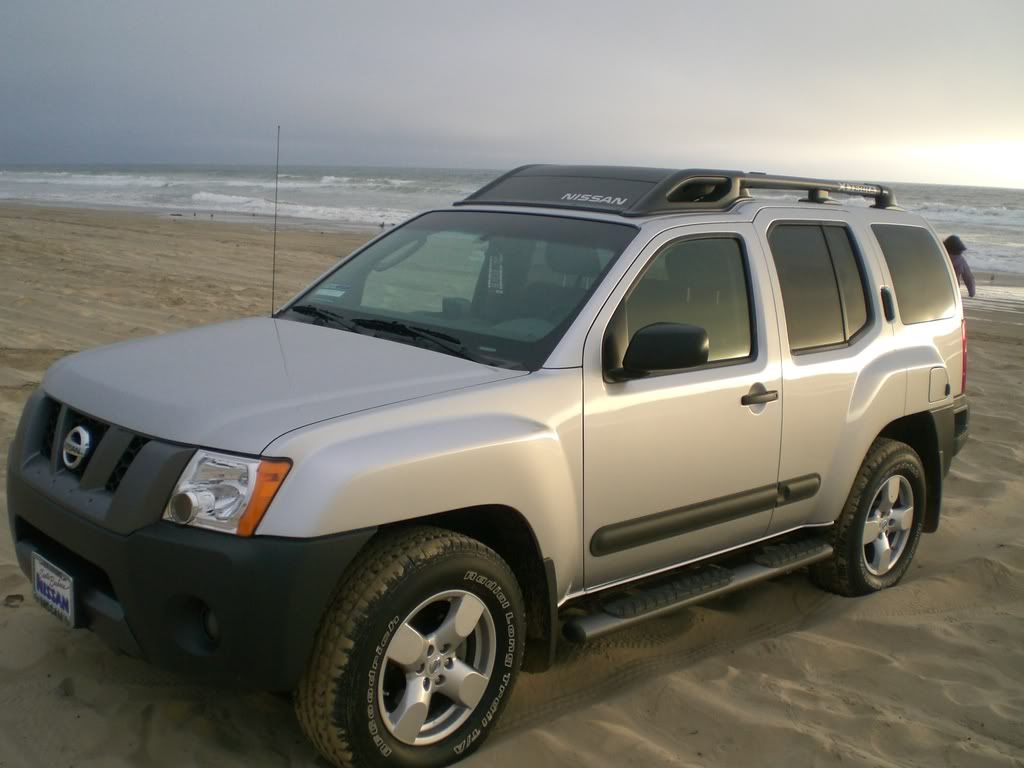 This is the Thule Ridgeline rack with my Jamis 29er:
This is my Cobra Re-Vision in my Thule Hull-a-Port rack:
And this is the same kayak strapped down to the crossbars for a short trip to Morro Bay - hence the foam pipe insulation. I had to remove the storage bin to get it to sit right. The biggest reason why I don't want to mount any lights up there.
Before the Shrock, I had Hella FF500 and Richard Cepek lights mounted:
Toyota OEM foglight switches (Since I've relocated the VDC switch and wired the Hella Ralleye 4000 city lights into the parking lights, I'm down to only 1 Toyota switch here):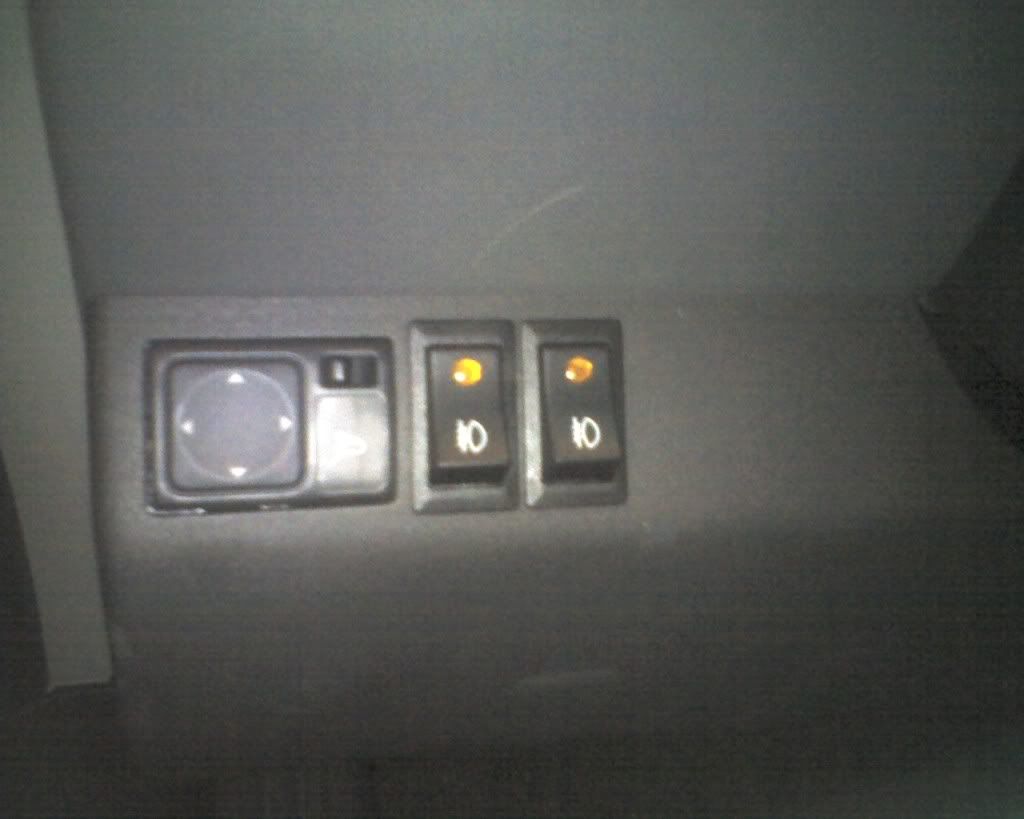 OTRATTW switches installed for E-Locker, Electric engine cooling fan, Driver's and Passenger seat heaters:
Dephep rack with custom crossbars mounted:
Hella Ralleye 4000 lights with city light bulbs illuminated:
AJ's Superrails installed:
Shrock front bumper installed with Recon winch and Hella FF4000 lights with clear covers: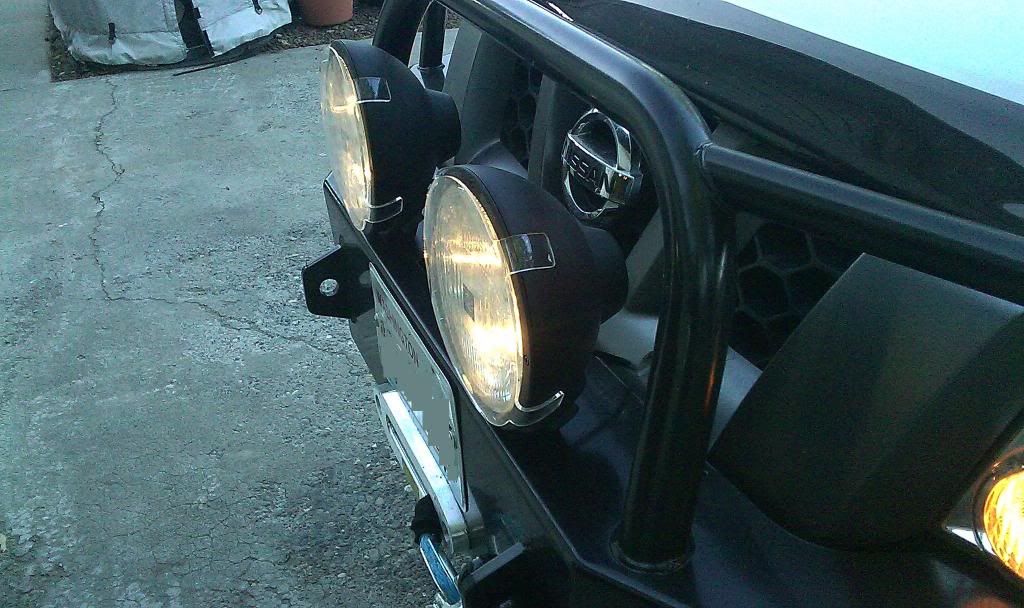 Maxterra rear bumper installed:
Maxterra bumper with BFG TA/KO 33" spare tire in the well:
BFG T/A KO's installed in (33's with melt mod):
This is me doing some of the things I live for:
Kayaking on the Columbia River this Thanksgiving (Necky Zoar Sport):
Kayak surfing at Sunset Beach, OR: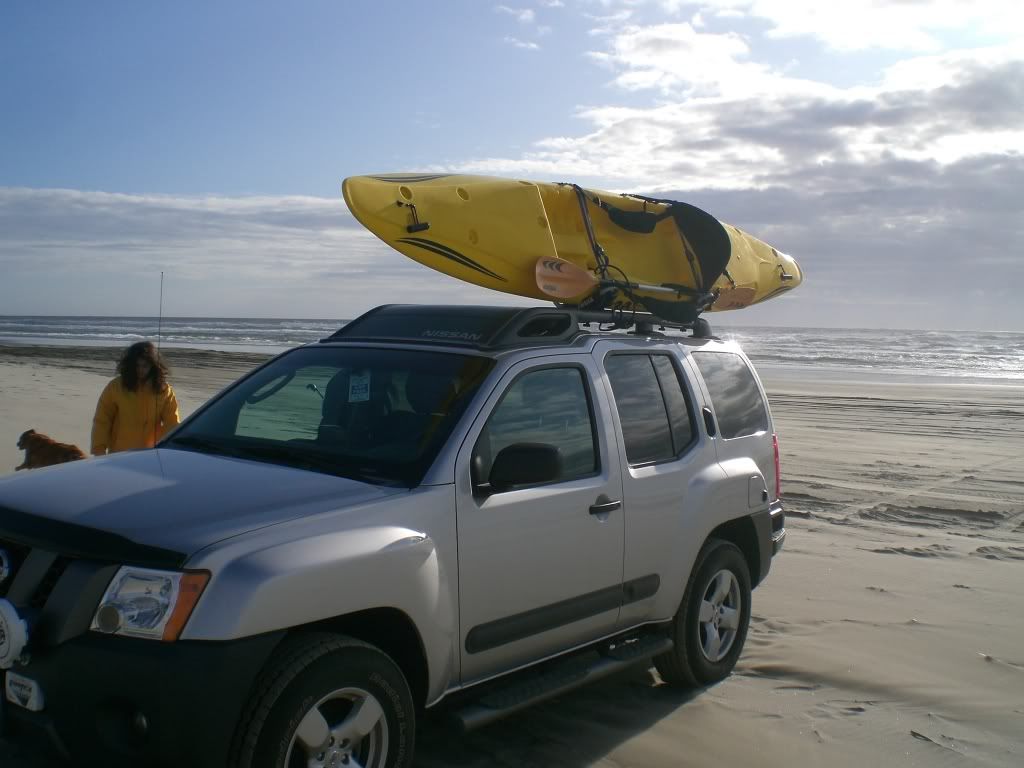 My dog intently watching a gaggle of Canada geese from nearly the same spot the previous picture was taken last spring:
Kayak surfing (lousy cell phone pic):
My other toys not pictured are a Necky Looksha composite touring kayak, 19 foot Bayliner ski boat, and a tent trailer.
And finally, where my user name comes from. 1996 Kawasaki GPz 1100 that has been
slightly
modded since this picture was taken (35 degree fall day 3 years ago).