Southco 'L' locking handle Part Number: 92-41-511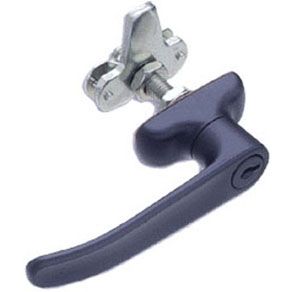 Product Description:
Southco 'L' locking handle Part Number: 92-41-511
Price:
10 - 49 = $31.90ea, 50 or more = $30.90ea
(I have checked 5 (ECPH, Allegis, Bisco, DF Sales, and XSMicro) other places and this is the best possible deal and I have not checked what McMaster Carr had to offer)
Final Cost to you:
$40
(This covers shipping to me and then shipping to you)
Delivery Charges:
Included in price
Numbers Required:
25 (GB can proceed with as few as 10)
Details:
ALL-WEST Components and Fasteners, Inc
Company Contact Details:
(
http://www.all-west.com
/
[email protected]
/ 206-762-1875)
Payment information:
Paypal (Send it to Family/Friend as a fee is charged for the other option), Cashiers Check (Once paid list will reflect with "Rec'ed", if CC I will PM you my address. Check will need to clear prior to 'Rec'ed' showing up next to your name)
Payment due date:
No later than Feb 24th
Back out date:
Feb 14th
Closing dates:
Feb 28th (I will call and order on the Feb 28th or Mar 3rd)
Delivery dates:
(updated once orders are placed)
How-to: Locking Gear Basket (Roof Bin):
http://www.thenewx.org/forum/showthread.php?t=1117
> Members Committed Already <
[table=head]No. | Screen Name | Payment | Shipped | Rec'ed
1. | Beavertonite |Rec'ed|3/6/14|
|
2. | jakedublu |Rec'ed|3/6/14|
|
3. | dtmacgregor |Rec'ed|3/6/14|
|
4. | RLackner (NWXC) |Rec'ed|3/6/14|
|
5. | Strizzo |Rec'ed|3/6/14|
|
6. | satown210 |Rec'ed|3/6/14|
|
7. | El'Zilcho |Rec'ed|3/6/14|
|
8. | NWX |Rec'ed|3/6/14|
|
9. | Quest4ADV |Rec'ed|3/6/14|
|
10. | Marla (NWXC) |Rec'ed|3/6/14|
|
11. | timkarp |Rec'ed|3/6/14|
|
12. | one4teen|Rec'ed|3/6/14|
|
13. | raised |Rec'ed|3/6/14|
|
14. | TurtsMcSlow|Rec'ed|3/6/14|
|
15. | cjs83|Rec'ed|3/6/14|
|
16. | 21SF|Rec'ed|3/6/14|
|
17. | afghanski|Rec'ed|3/6/14|
|
18. | ||||
19. | ||||
20. | ||||
[/table]
UPDATE 1 - 1/29/14:
Updated payment method, added payment due date, updated number required, and added individuals to group buy
UPDATE 2 - 2/5/14:
GB minimum met and will proceed on closing date.
UPDATE 3 - 2/11/14:
PM's sent to individuals who have already sent funds to see if they would be interested in switching to OEM style locking handle.
http://www.southco.com/en-us/92/92-41-511
UPDATE 4 - 2/12/14:
Switched from Southco locking 'T' handle to Southco locking 'L' handle. In order to get both a minimum of 10 would be needed for each and I don't believe that would happen for the 'T' handle. The GB is now solely for a Southco locking 'L' handle.
UPDATE 5 - 3/2/14:
I am going to call and order the handles. I called earlier last week to have them shipped to the store to eliminate any lag ship time from the factory. Once I order the handles I will update again. If any questions, send me a PM.
UPDATE 6 - 3/3/14:
Placed the order for locking handles. Arriving at All-West tomorrow and will be shipped to me tomorrow. I should have them in my hands on Thurs 3/6. I will have them shipped on Friday GB will be updated with that info as well.
UPDATE 7 - 3/4/14:
Handles have been paid for and shipped from All-West. I hope to have them in my hand by Thurs and out the door on Friday. GB will be updated again when I receive the bulk order of handles and updated yet again when I ship them out.
UPDATE 8 - 3/5/14:
Handles received. Packaging has commenced. Shipment set for tomorrow.
UPDATE 9 - 3/6/14:
All handles have been shipped. Most are set to be delivered by Sat 3/8, only two in Oregon will be there on Fri 3/7. If any questions please send me a PM. If you don't receive your package by Tuesday let me know and I can give you the tracking number.
UPDATE 10 - 3/10/14:
PM'ed members to ensure they have received locking handle.