Username:
Ramness
Make:
Nissan
Year:
2011
Model:
Xterra
Trim:
Pro-4X
Color:
Red Brick
DOB:
12-8-10
MODS:
Interior Mods
Laptop stand
Garmin GPS V
Lobo Shelf
Nissan rubber floor mats
Nissan rear cargo mat (sold)
Power inverter
Cargo area lighting
2 fuse blocks
LED map lights White/ Red
ScanGaugeII,
Modified Galls Street Thunder XL200 switch panel

Dash cam
Streamlight flashlight with charger
Thermometer
Removed iPod controller
RevRug mod
Hiking pole storage
Garmin Nuvi 1300LMT in Nissan dock

Hard wired phone charger
Zoombak tracking device
Remote Start with factory remote
Exterior Mods
Front windows tinted
In channel vent visors
Keyless entry keypad
Whelen air horn
100w back and side lights
Yakima Bike rack
LED warning lights front and rear
Bosch wipers
Cooper AT3 tires
Painted grill
Headlight mod in flat black
Painted rear bumper
Painted Roof Rack
Mirror turn signals
Underbody puddle lights
Southco Locking handle for gear box
Relocated XM antenna
K&N Filter
Added Off Road badges
Amber LED front markers
5W CREE LED reverse bulbs

LED license plate bulbs
Daytime running lights
Plasti-dipped badges gunmetal
Flashing center brake light
PHOTOS
:
First picture after it arrived dealer transfer from Chattanooga. 12-26-10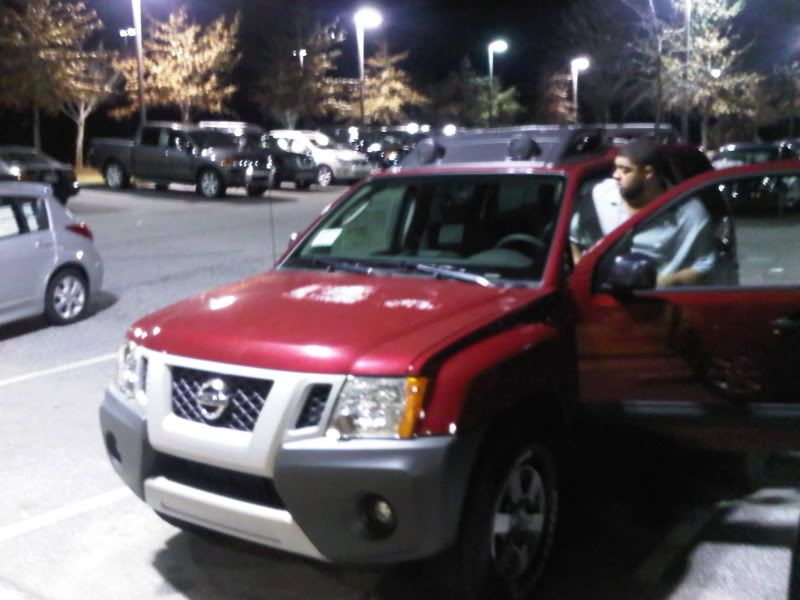 Parting Shot of my old X and Altima that I traded.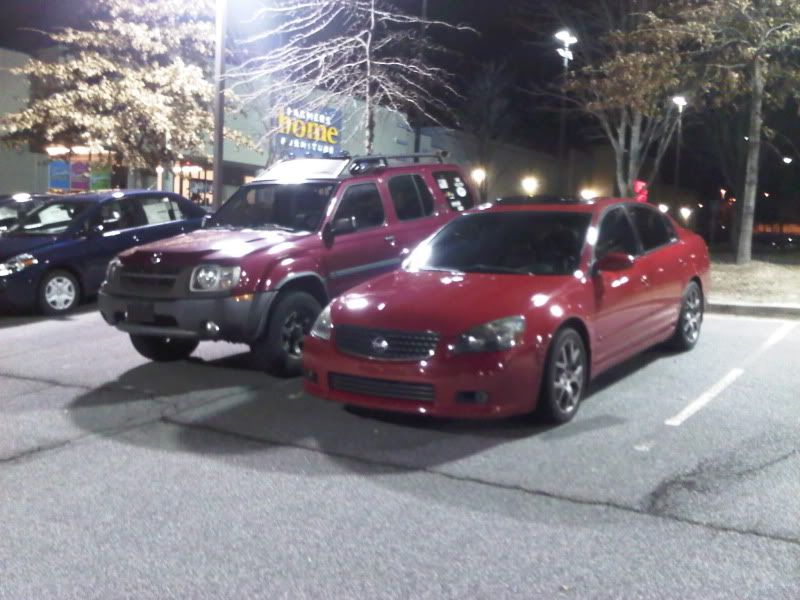 Crappy cell phone picture to send to a few people the morning after purchase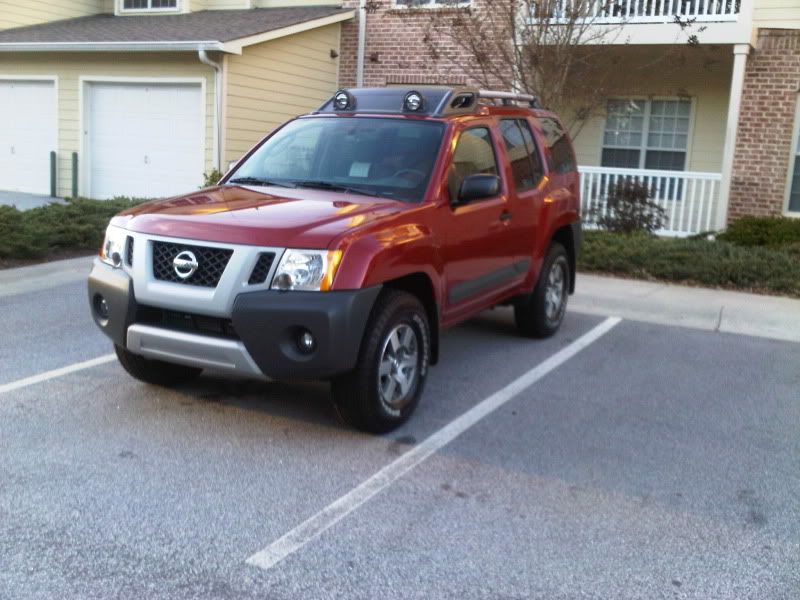 Atlanta Snow Storm 2 weeks old.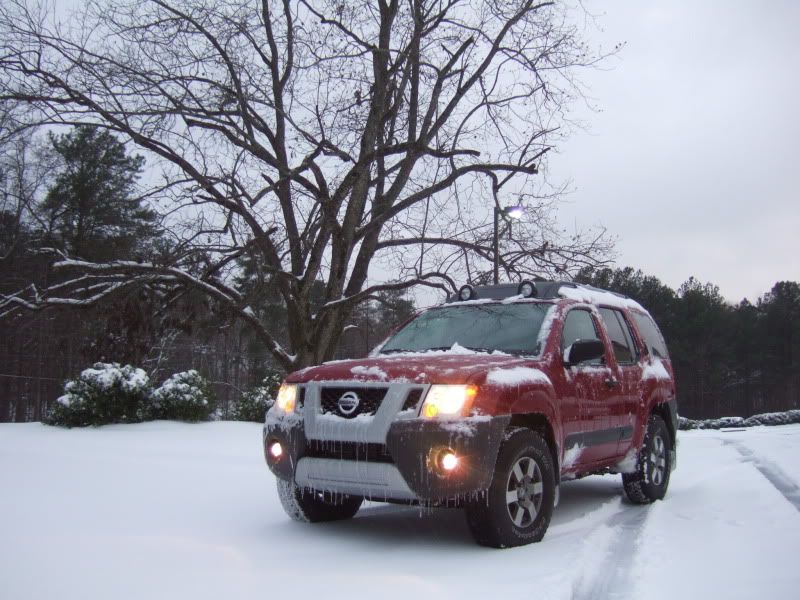 1000 miles after only 15 days. You can also see the great gas mileage I was getting in the snow. 148 miles after ¾ of a tank.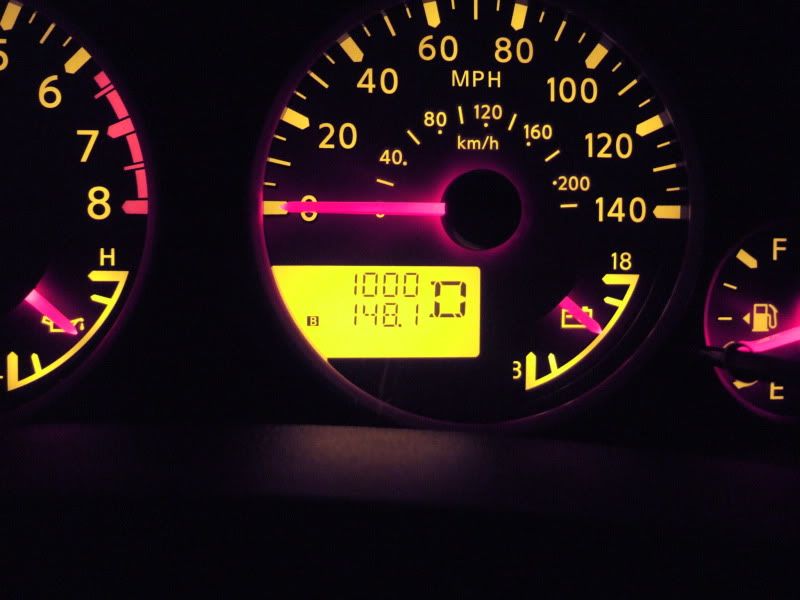 Lake Rabun Dam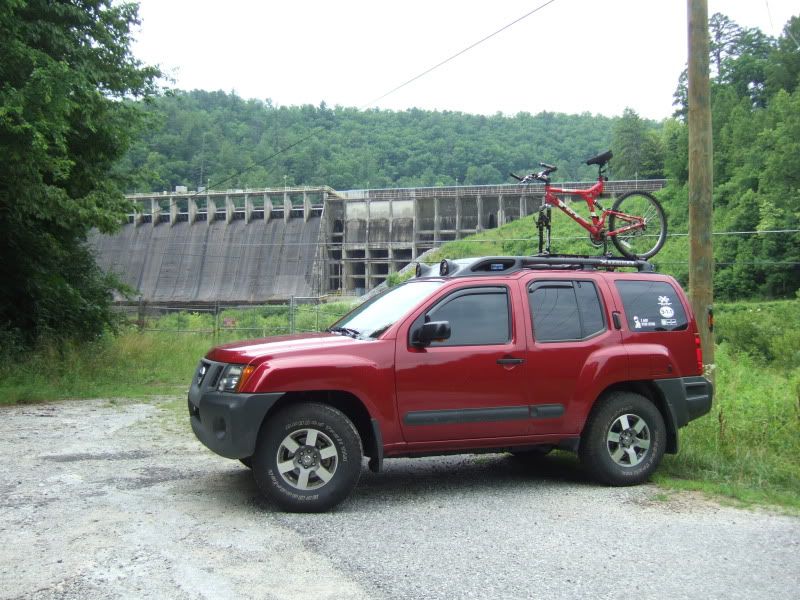 Kennesaw Ln Lake Burton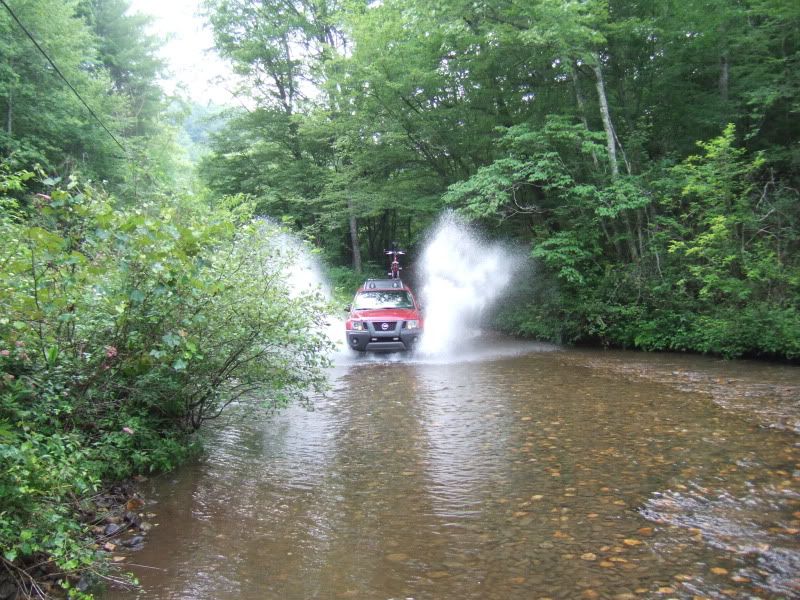 Nissan Plant Smyrna, TN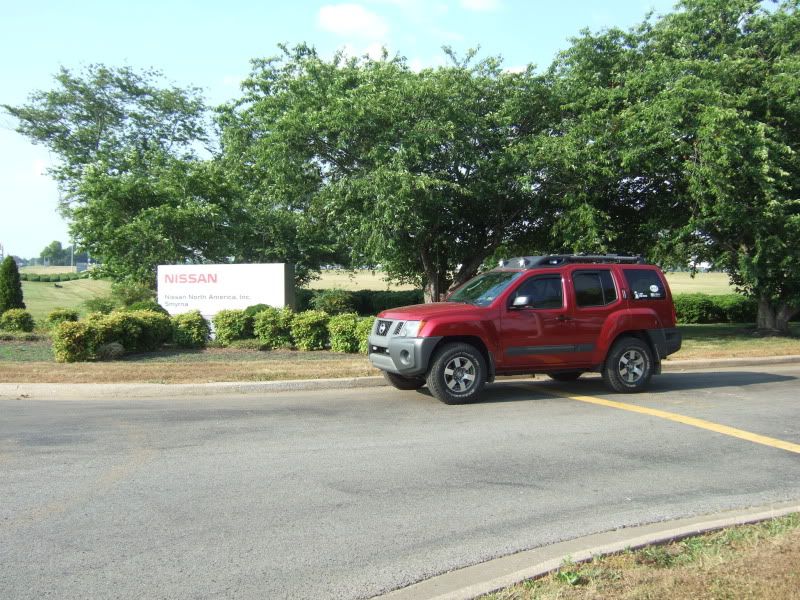 Wooly's Offroad Park NXM 2011
Wooly's Offroad Park NXM 2011 Photo by ryandavenport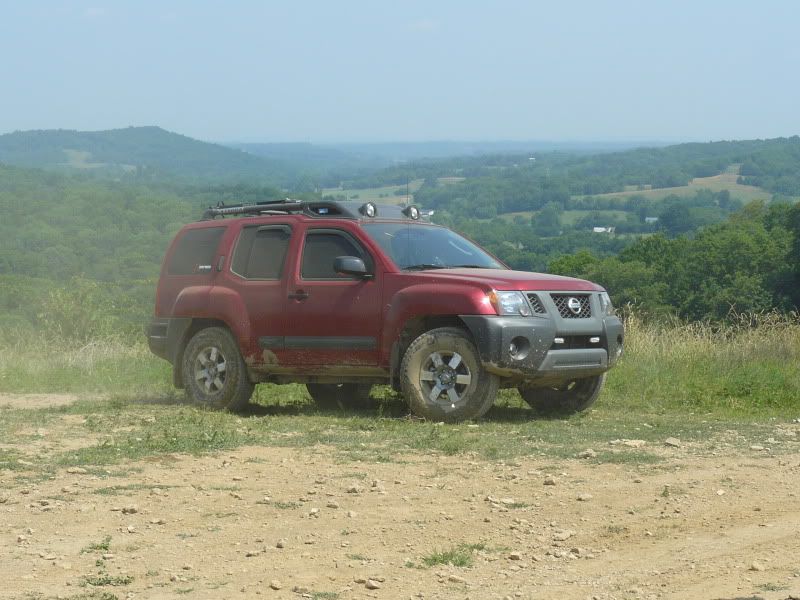 Wooly's Offroad Park NXM 2011 Photo by ryandavenport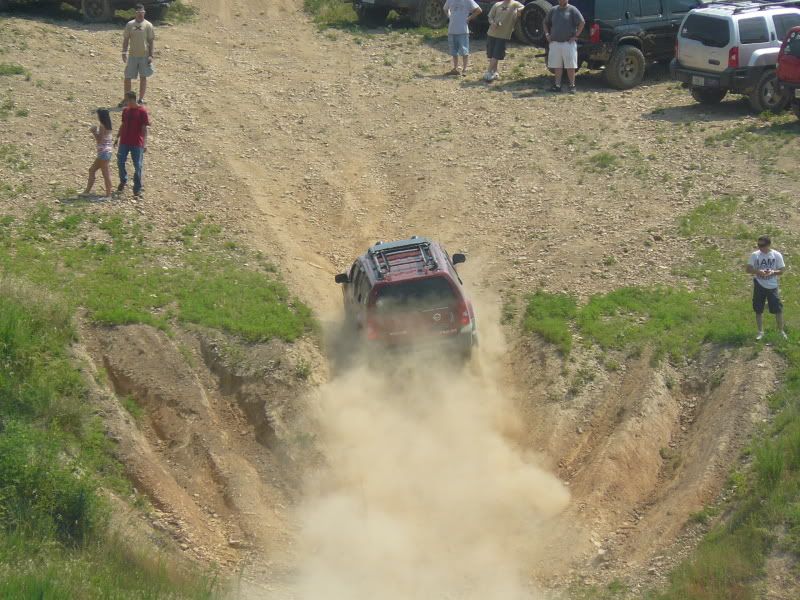 Blue Ridge Parkway NC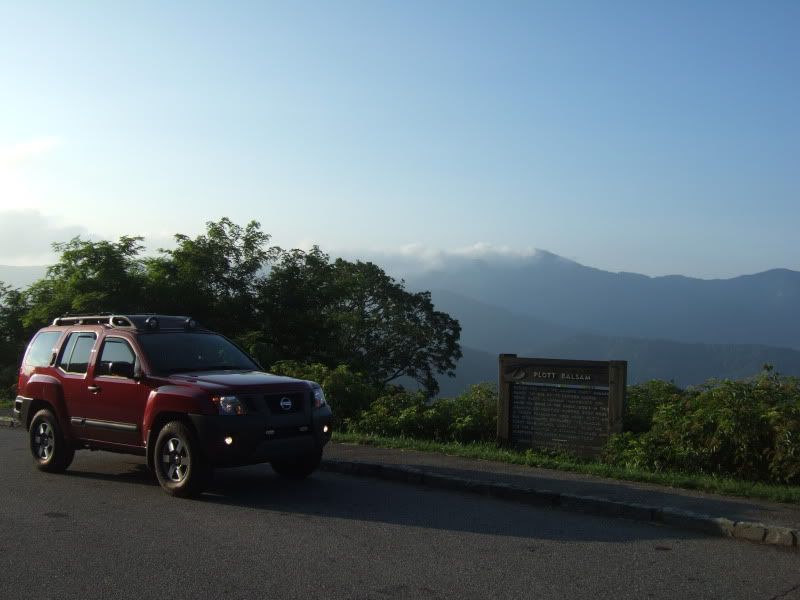 Tail of The Dragon US129 photo by Moon Shine Photo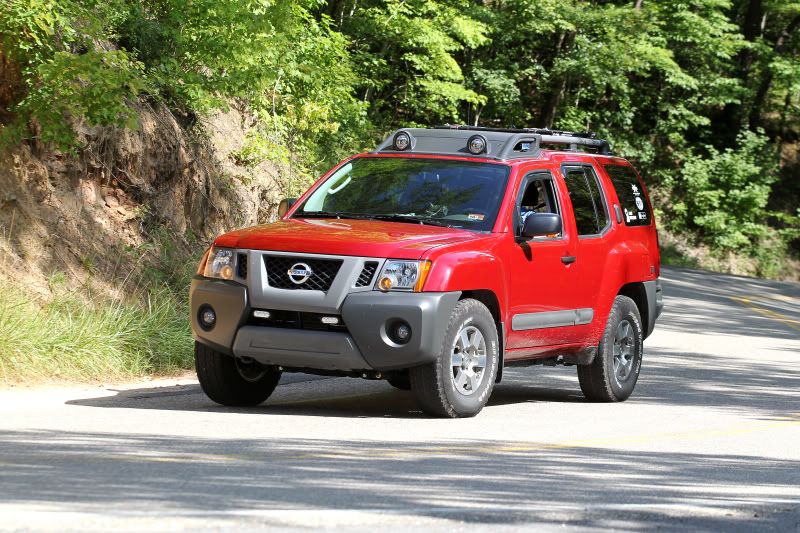 Sunset in Allentown GA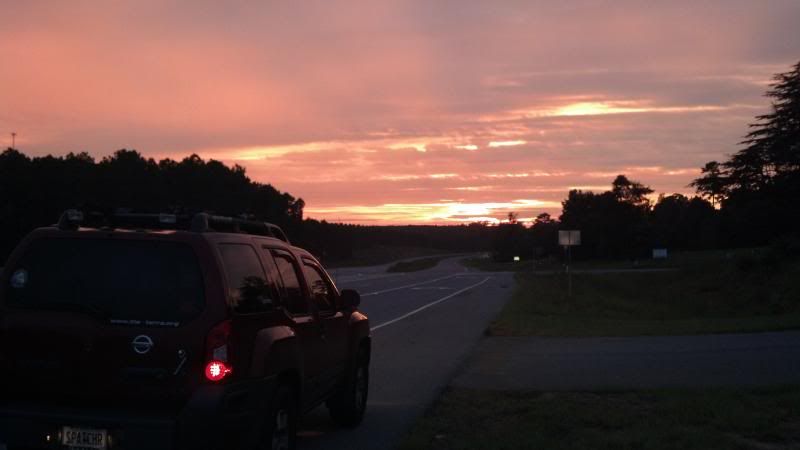 Daytona Beach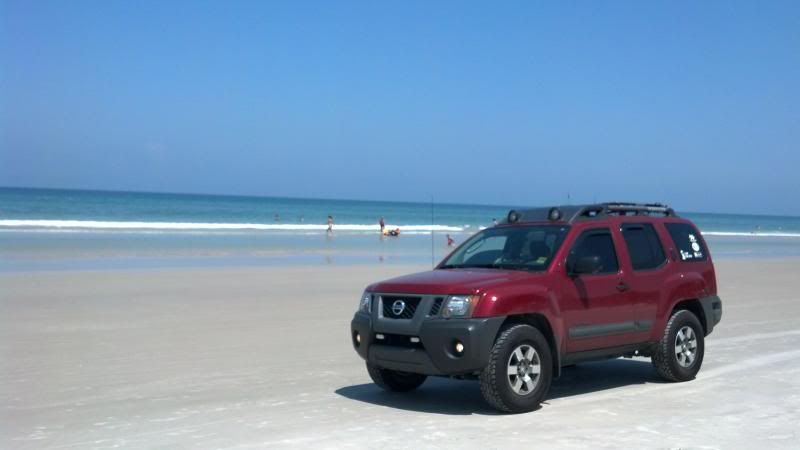 Old A1A St Augustine FL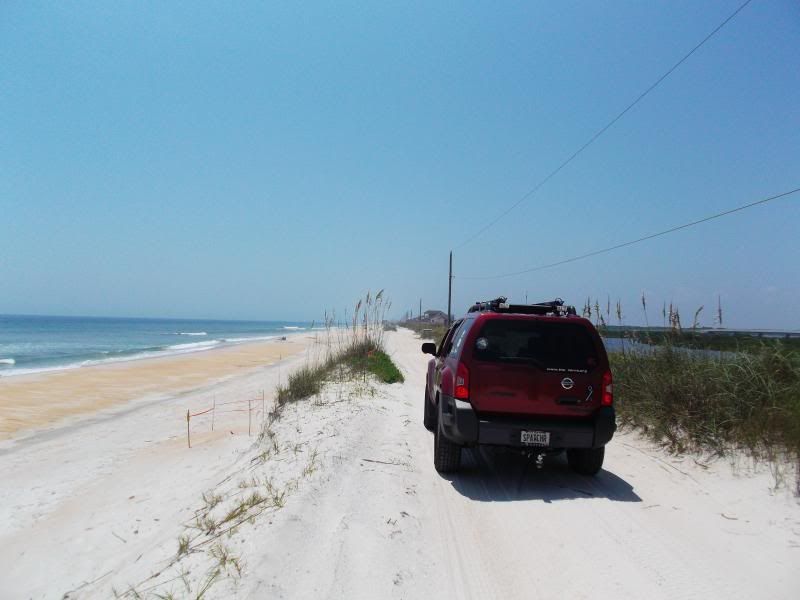 Interior Mod PHOTOS:
Interior wiring begins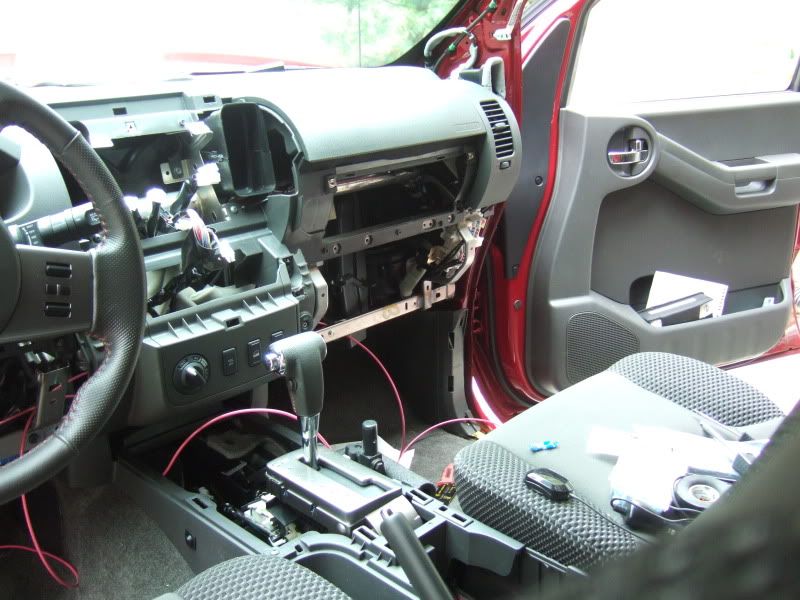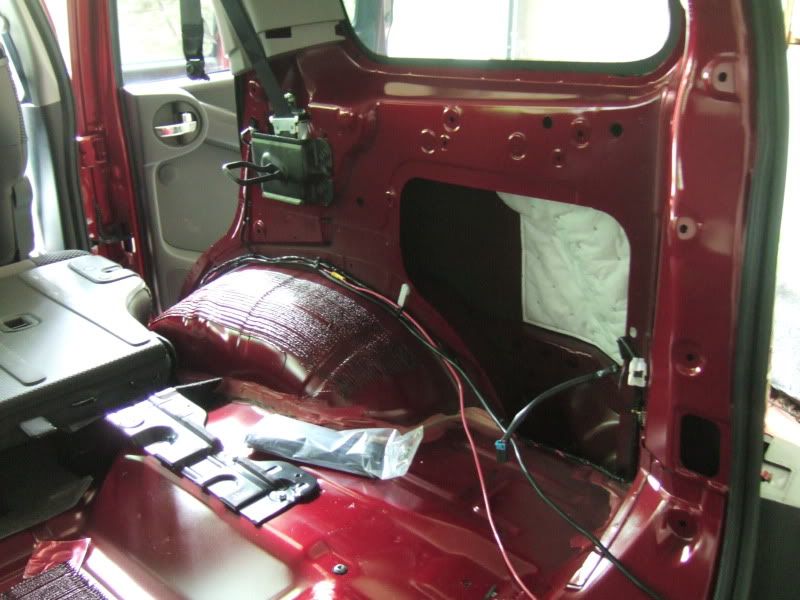 Quick disconnect plug for cargo panel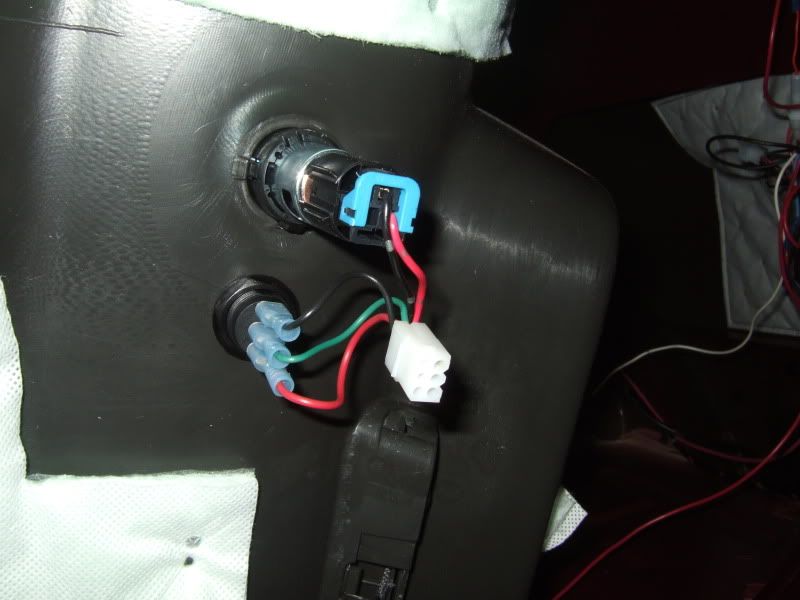 Fuse block for ignition powered accessories.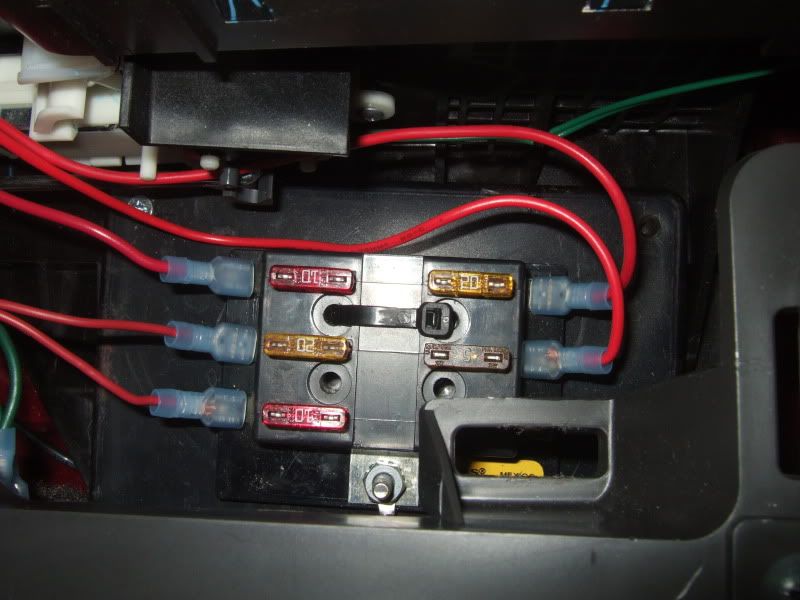 Hole in roof, scariest thing I've ever done to a vehicle.
Lobo shelf with power inverter rear warning lights and cargo lights.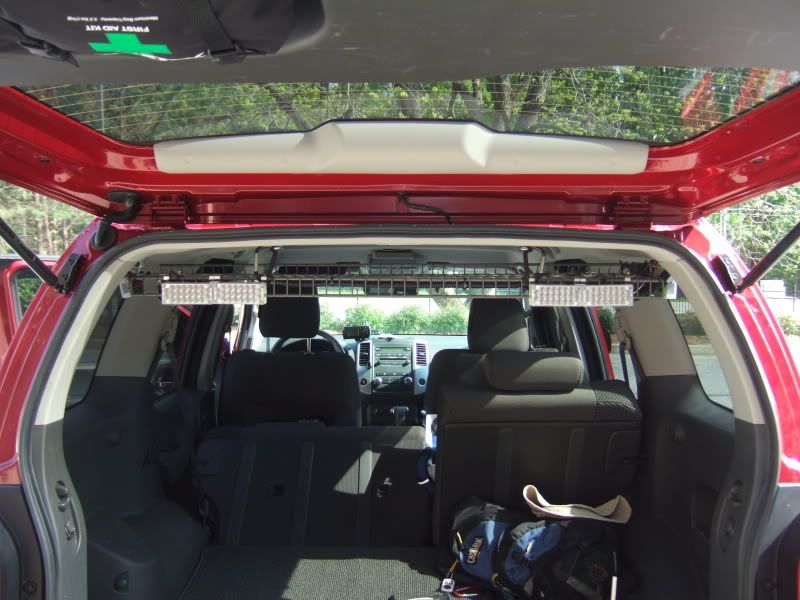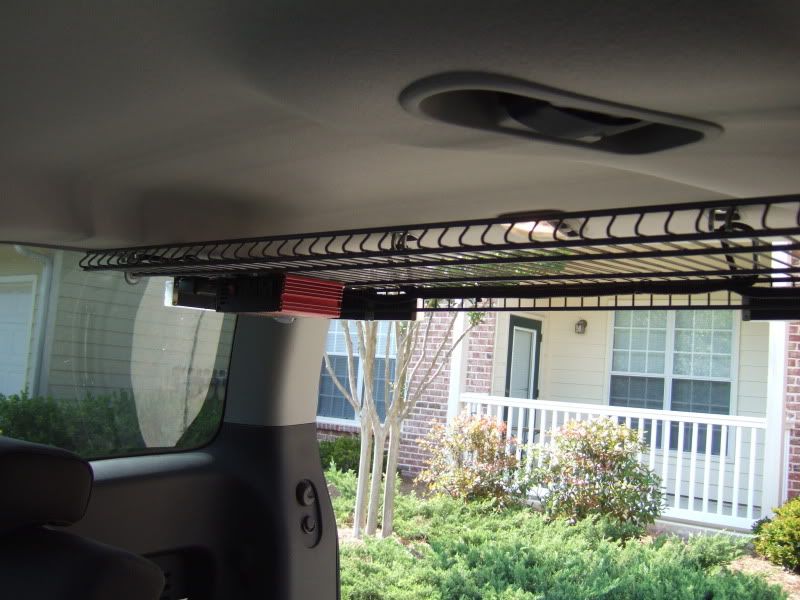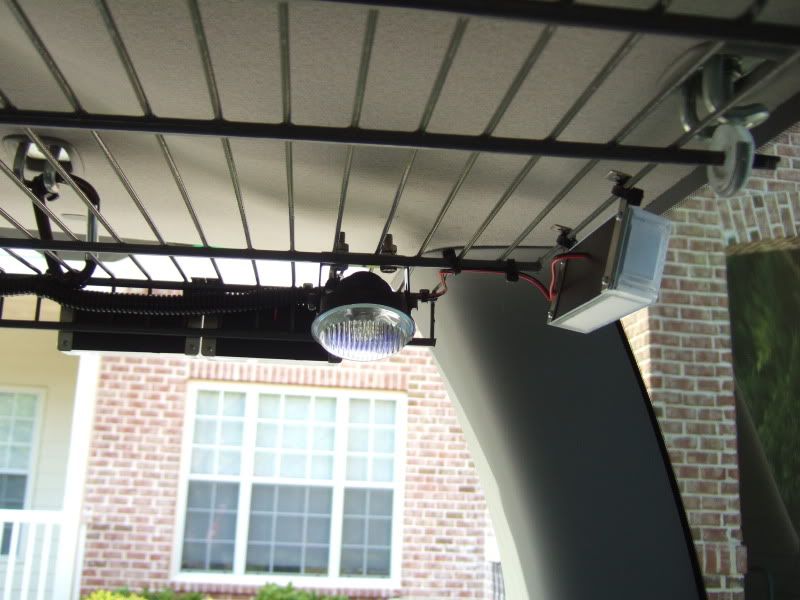 Quick disconnect plug for lobo shelf removal if needed.
Cargo Lights on at night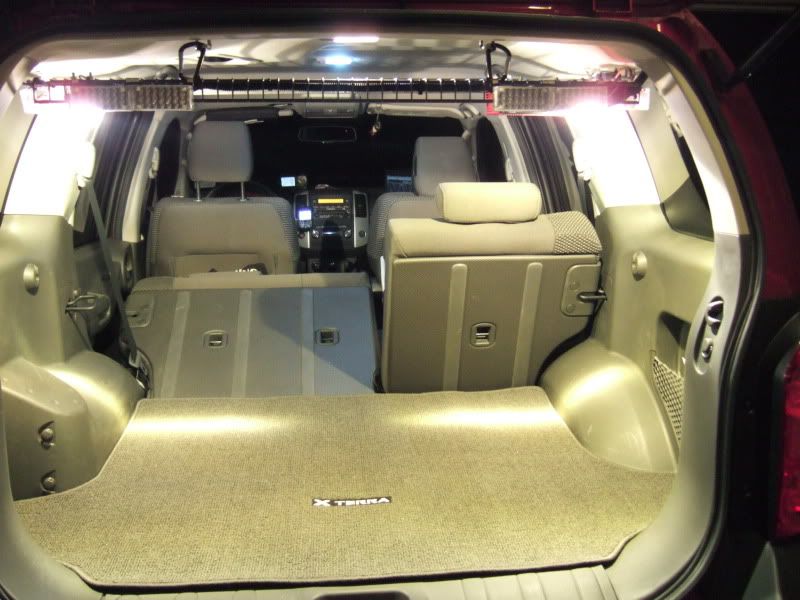 1 of 2 switches for the cargo lights, second is on dash.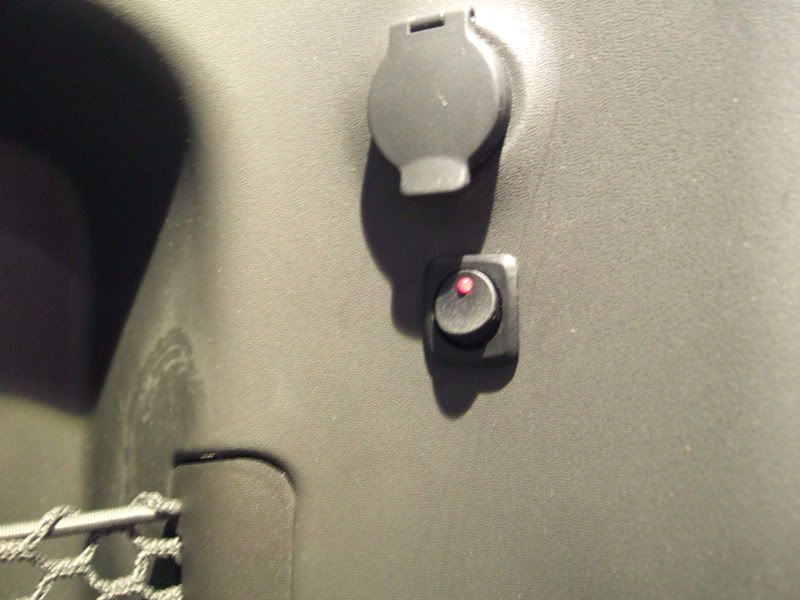 Quick Fists Hiking pole storage on bottom of Lobo shelf.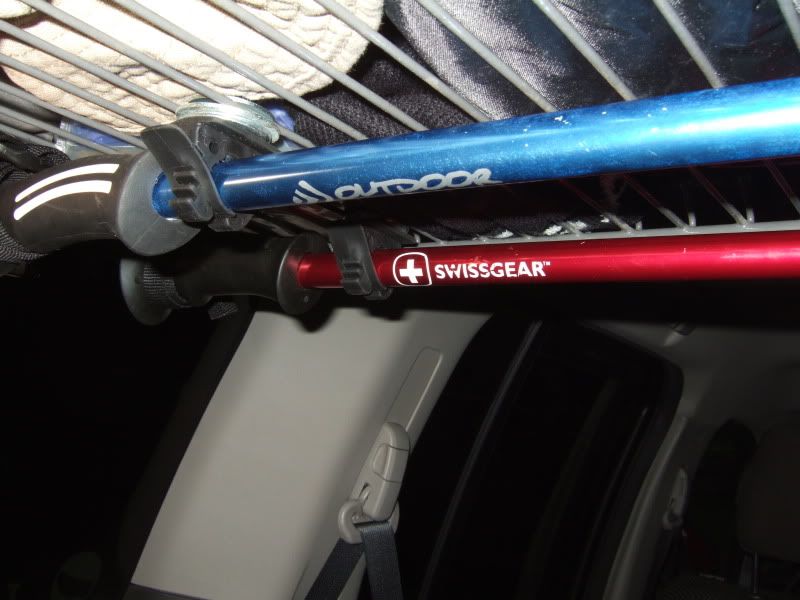 Rex-Rug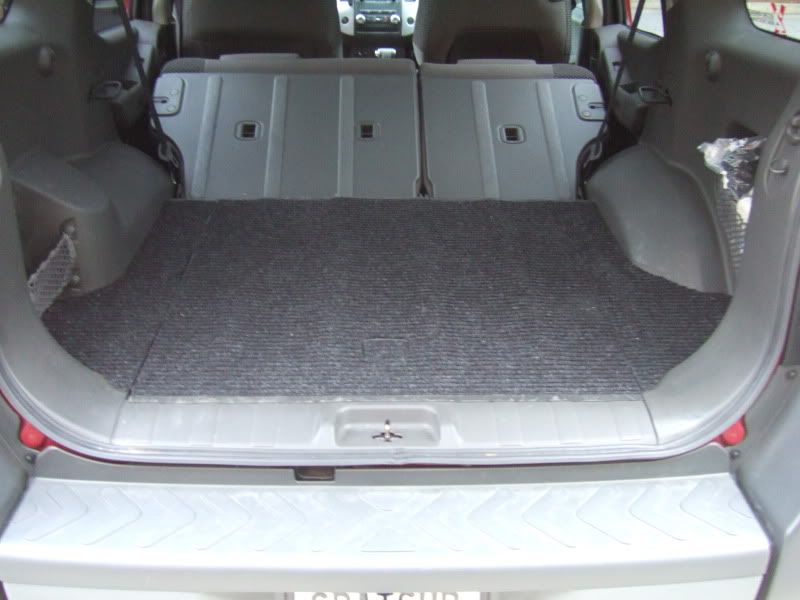 LED Map light bulbs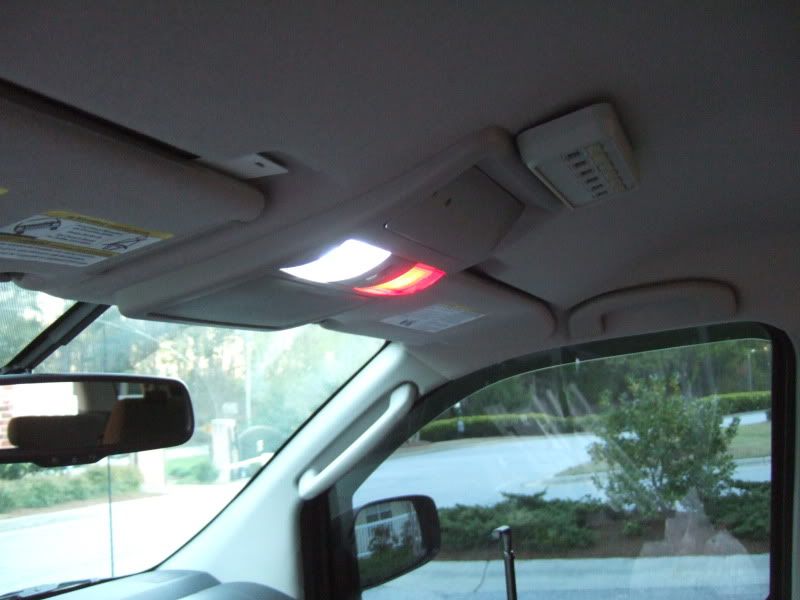 My old Garmin GPSV Might be old but works just fine and no one wants to steal it. Connected to my laptop running Garmin nRoute with City Navigator and Topo. Eventually I want to get the Nuvi housing for over the radio.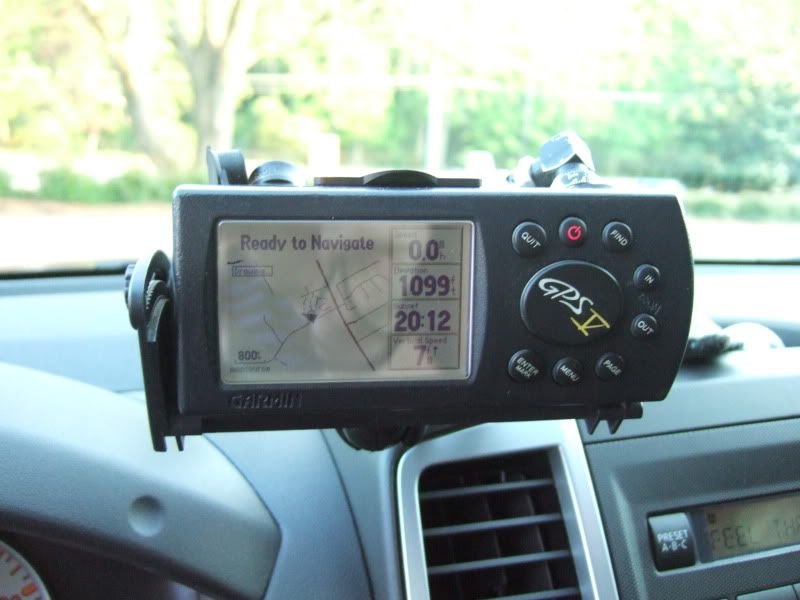 Mounted to the dash with a Ram Mount, GPS is in a standard Garmin mount with the Ram ball bolted to the bottom of it. I had it attached with strong double sided tape but once it got warm out the tape failed and it fell over. Replaced the tape for a little vibration control and put in a single screw opposite of the direction it hangs off the dash.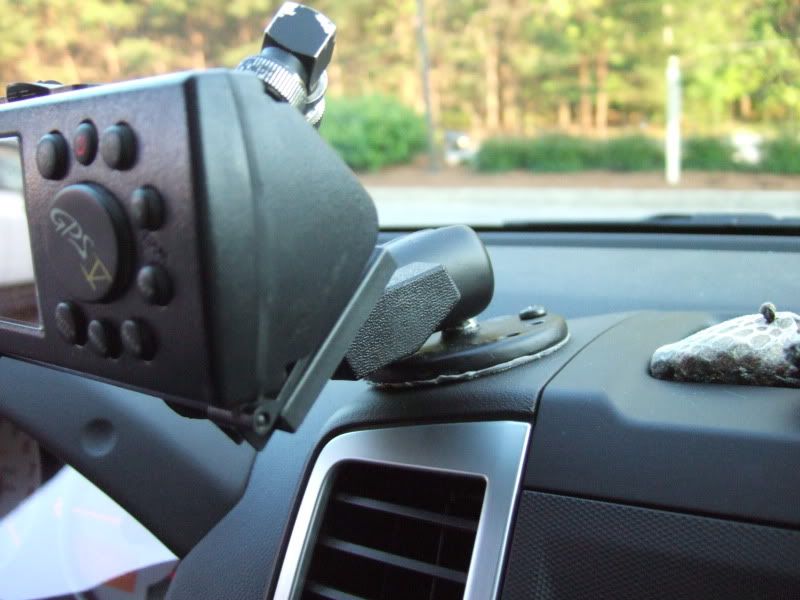 Laptop stand. Ram Mounts laptop bracket with Jotto Desk universal mount, swing arm and desk bolted to it. Foam pipe insulation wrapped around the edge to protect ankles.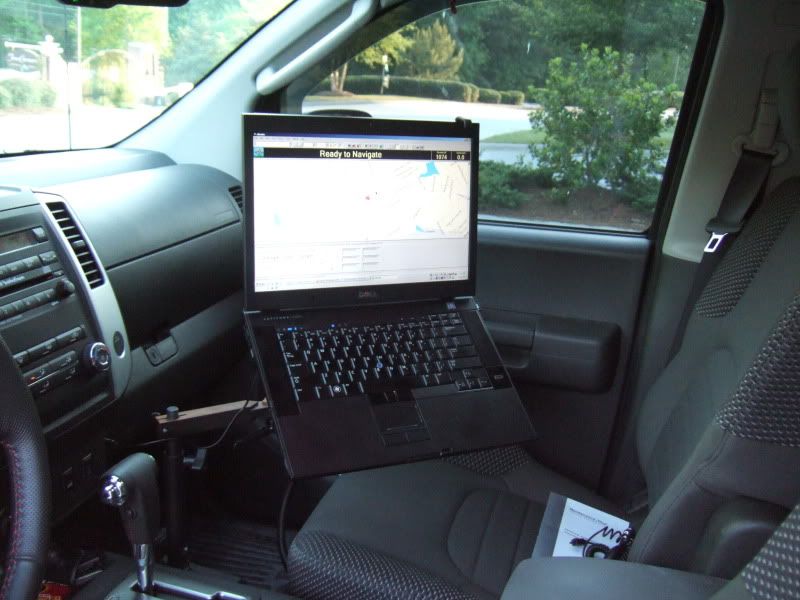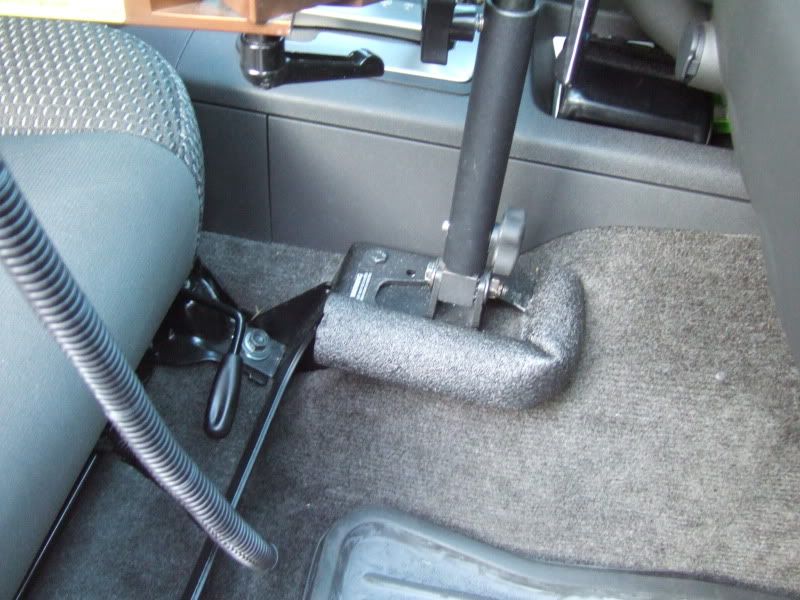 Garmin Nuvi 1300 in Nissan dash housing.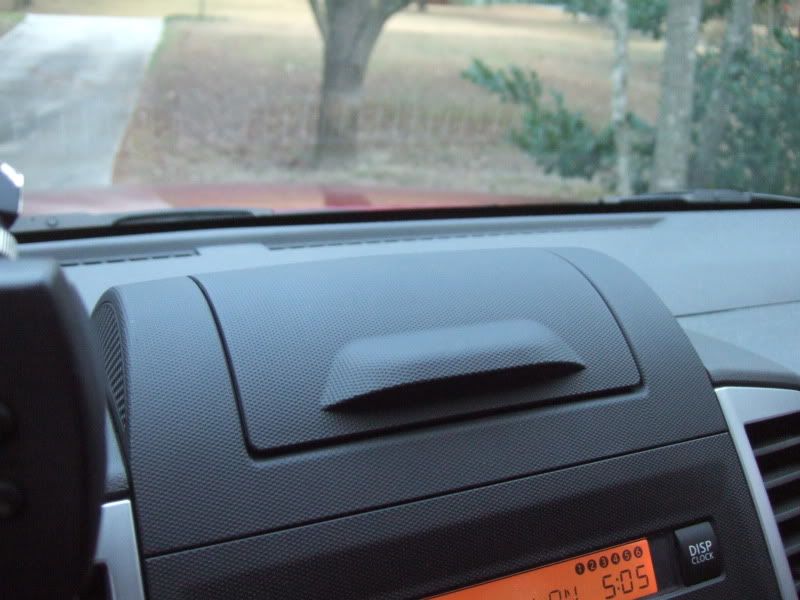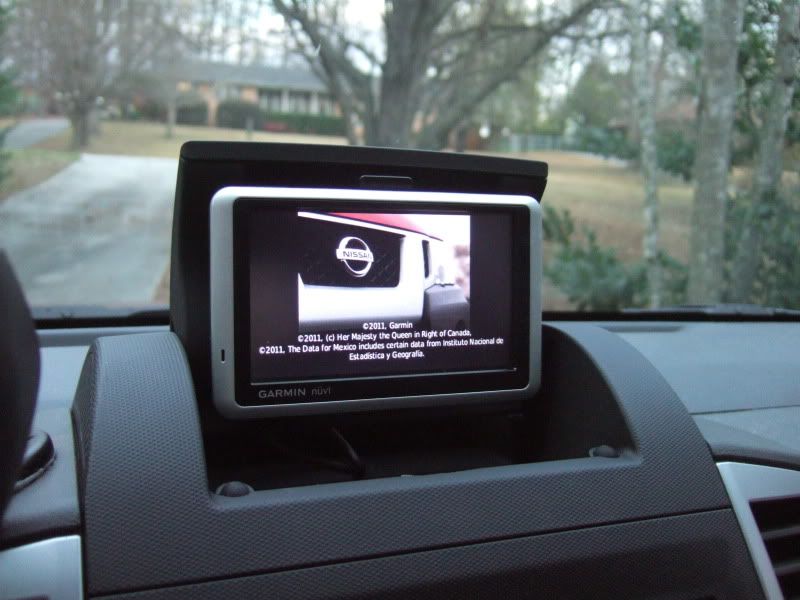 Streamlight Flashlight in charging holder.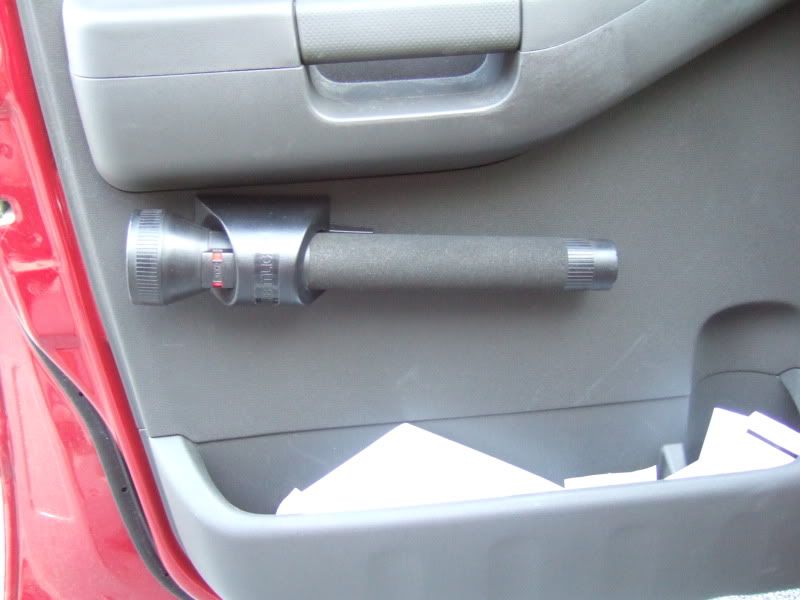 Cargo area light and power inverter switches. I made a little plate to go between the 2 to clean up the look, seems to of fallen in and is not wide enough. Time to try something else. The dremel also walked on me and chewed a bit of the panel next to the mirror switch. Not to pleased with myself on that one.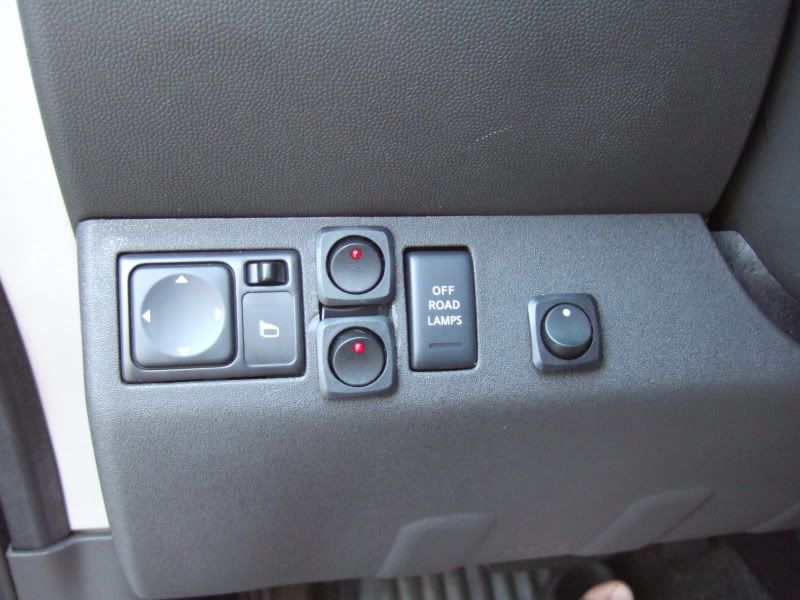 Modified and painted to match Galls Street Thunder XL200 switch box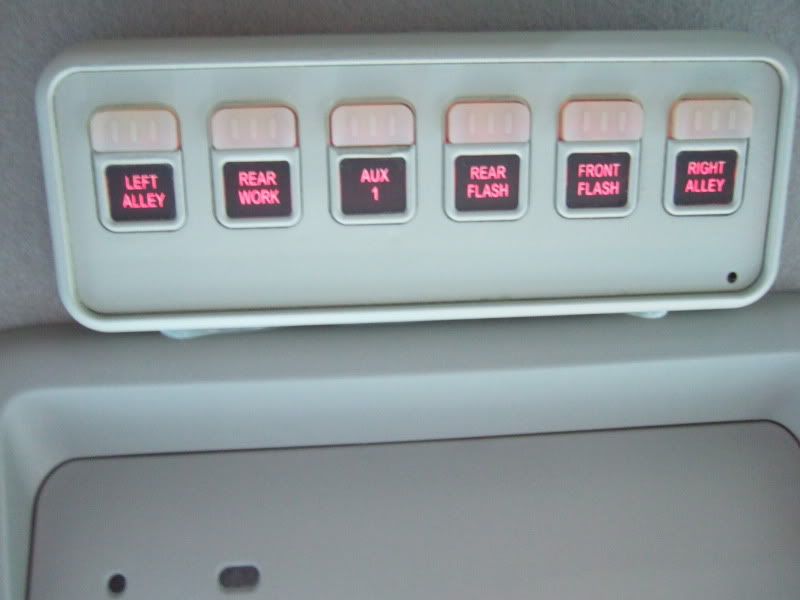 ScanGaugeII mounted on dash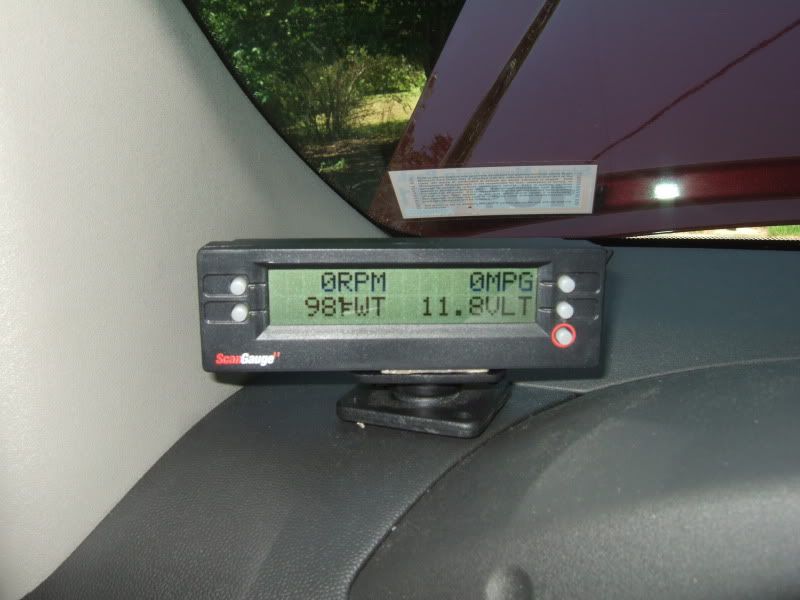 External / Internal Thermometer with battery monitor painted to match overhead console.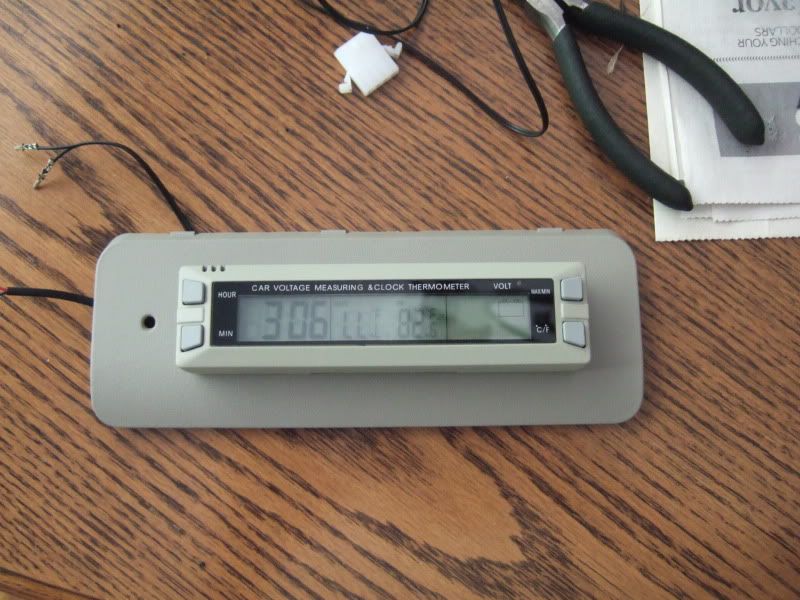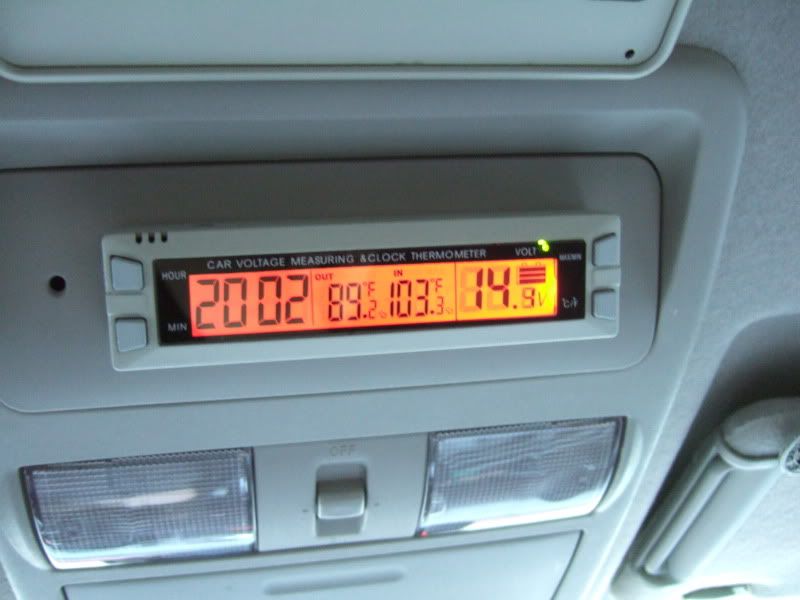 Exterior Mod PHOTOS:
Windows tinted and vent visors on.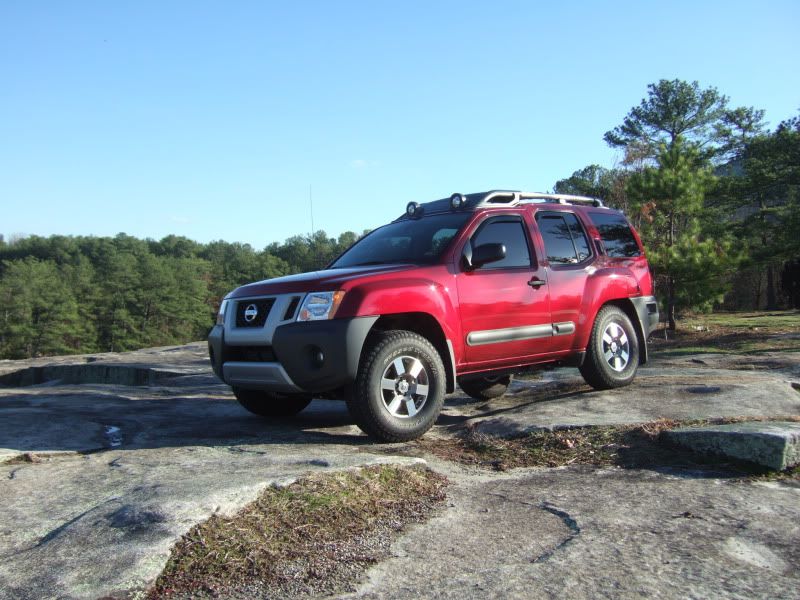 Side area lights Part 1 LED lights, bright to look at but did not put off any usable light beyond a few feet.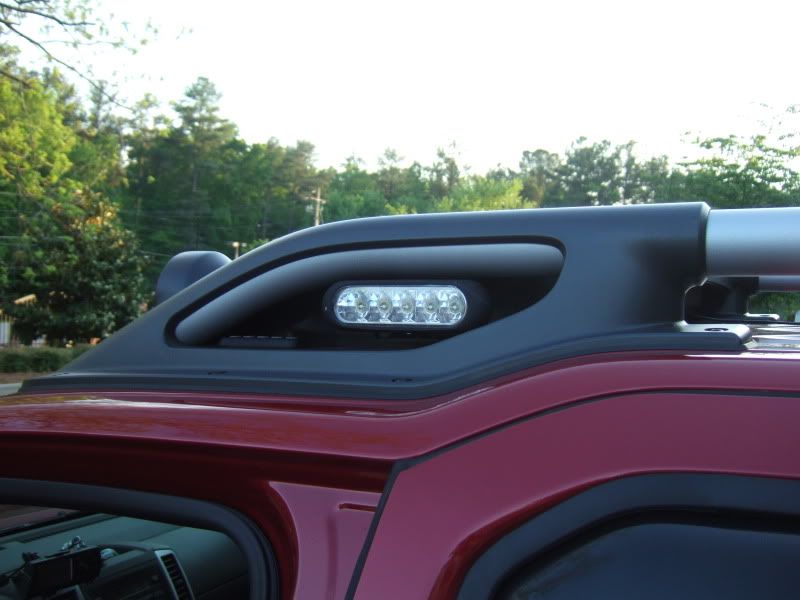 Side area lights Part 2 100w fog beam.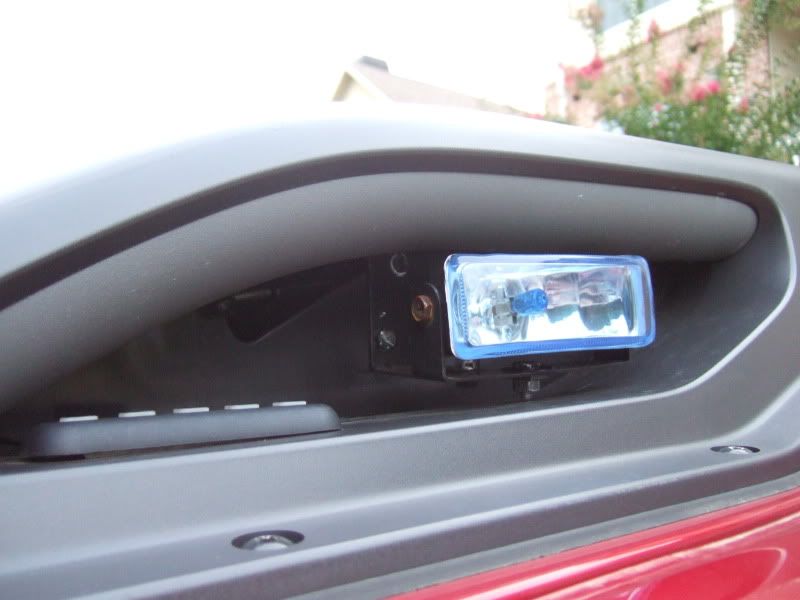 Ran wires though the roof rack for the back lights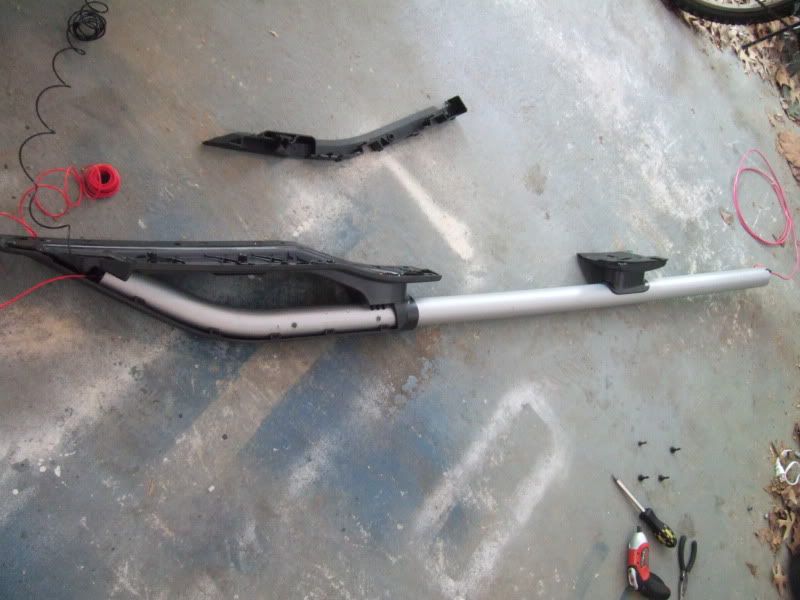 Back lights Part 1 attached to the mounting tracks on the bottom of my bike rack.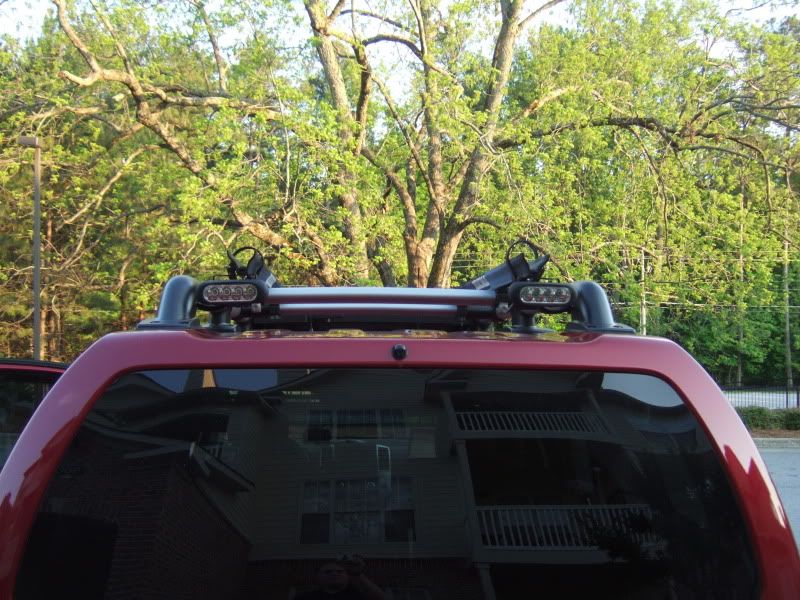 Backup lights part 2. Replaced LED backup lights with 100w lamps.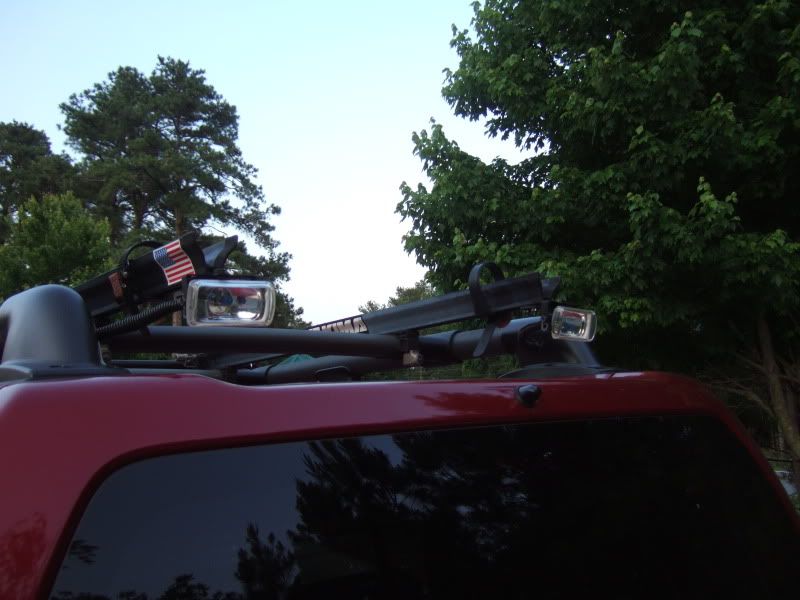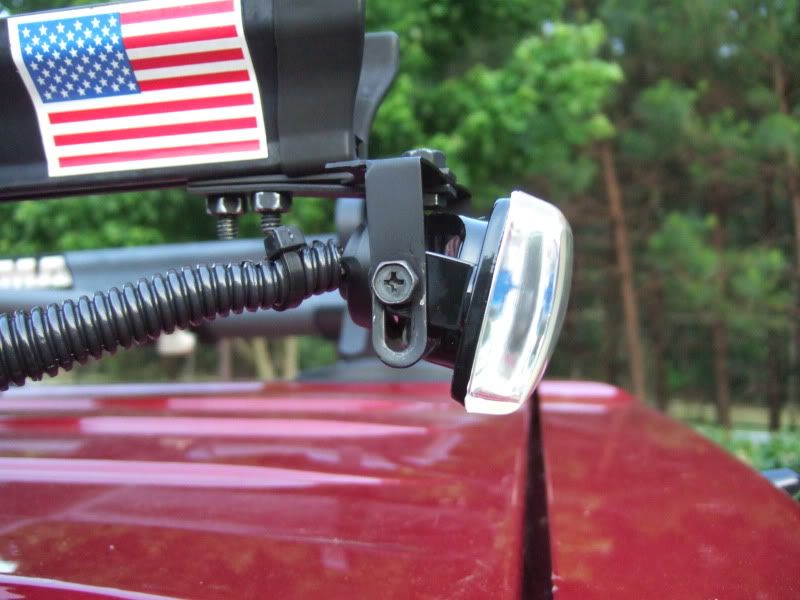 Under body step lights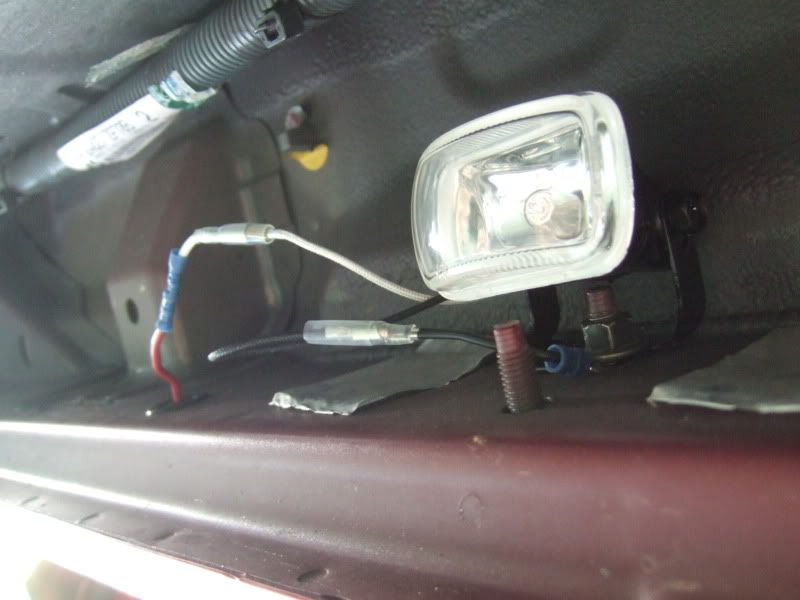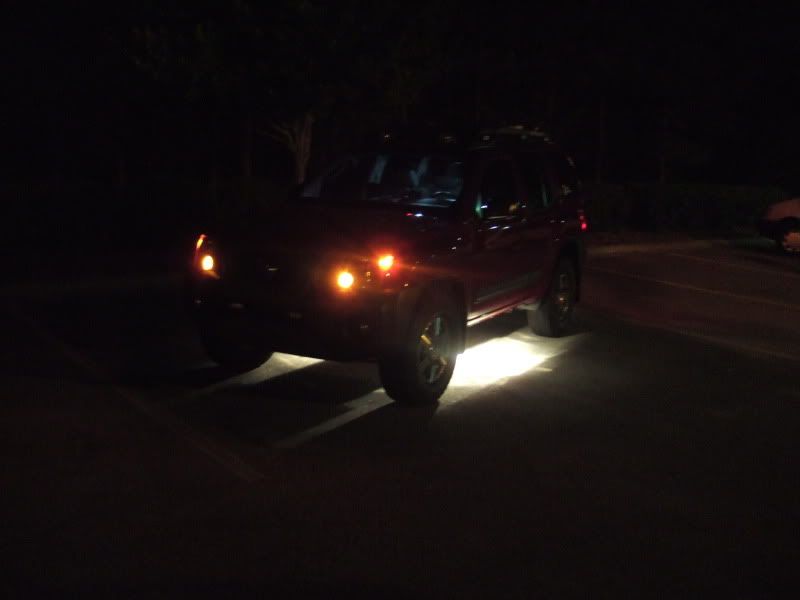 All Lights on.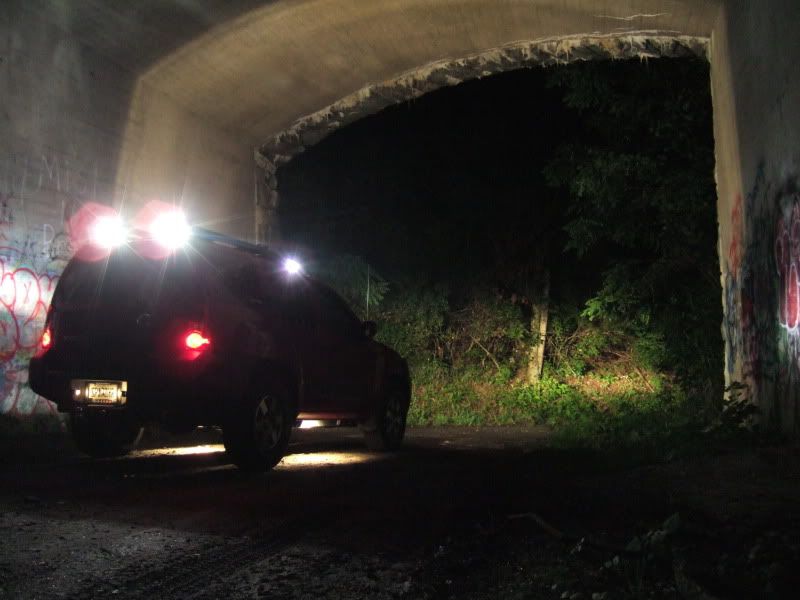 Yakima Steelheads attached to cross bars with Yakima mighty mounts. Single Yakima bar for stabilization. A little faded from being in the sun on my old truck for many years, might repaint them flat black at some point.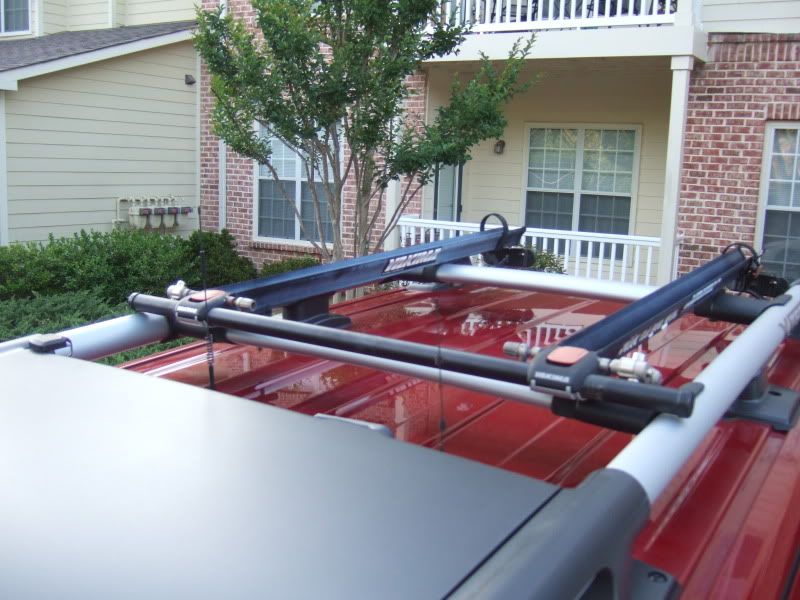 Relocated XM antenna along with GPS antenna on back of gear box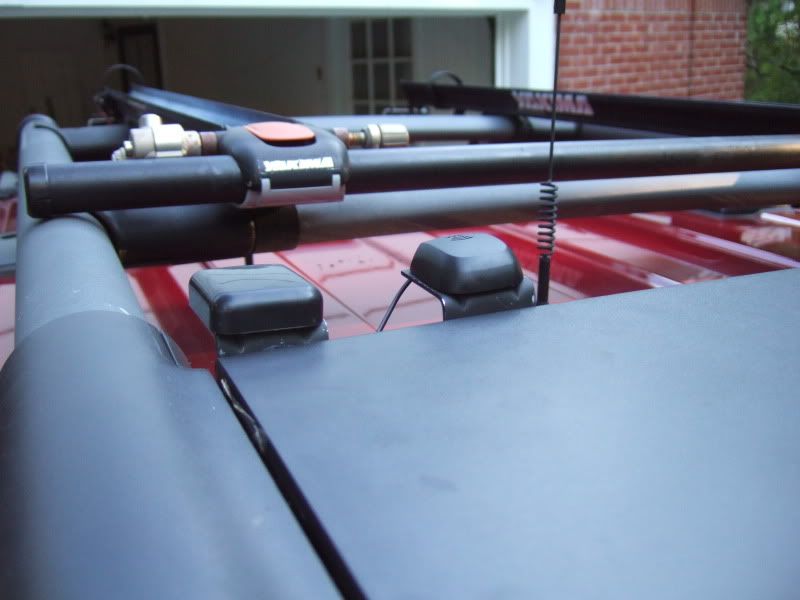 Turn signals added to mirrors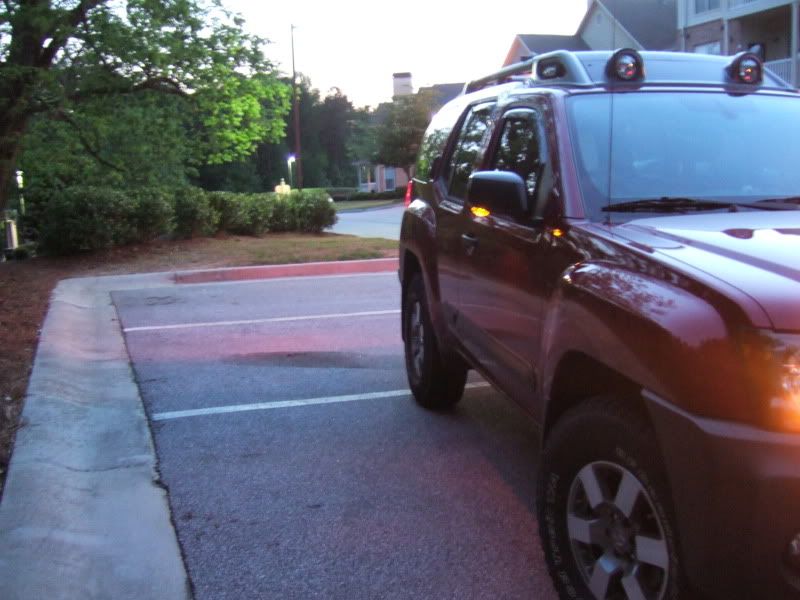 Project get rid of the silver
Grill and lower trim painted. Used Rust-Oleum outdoor textured in dark pewter.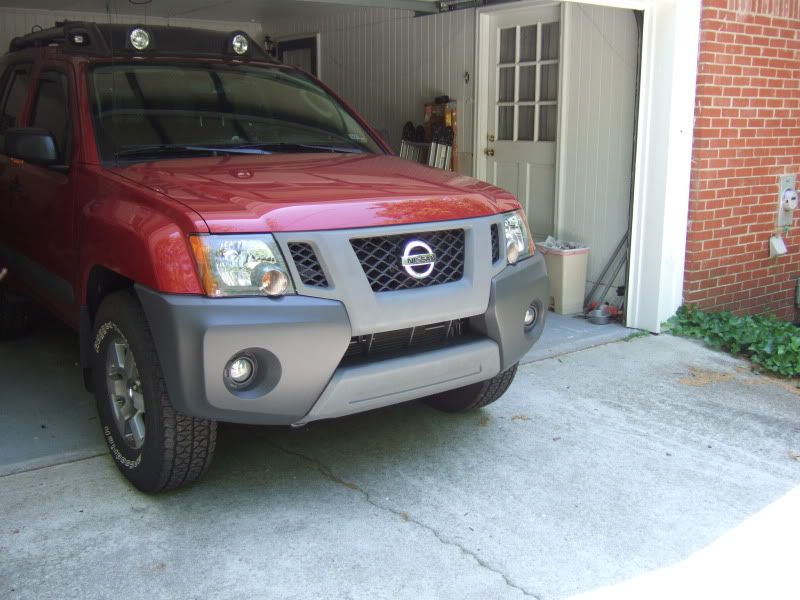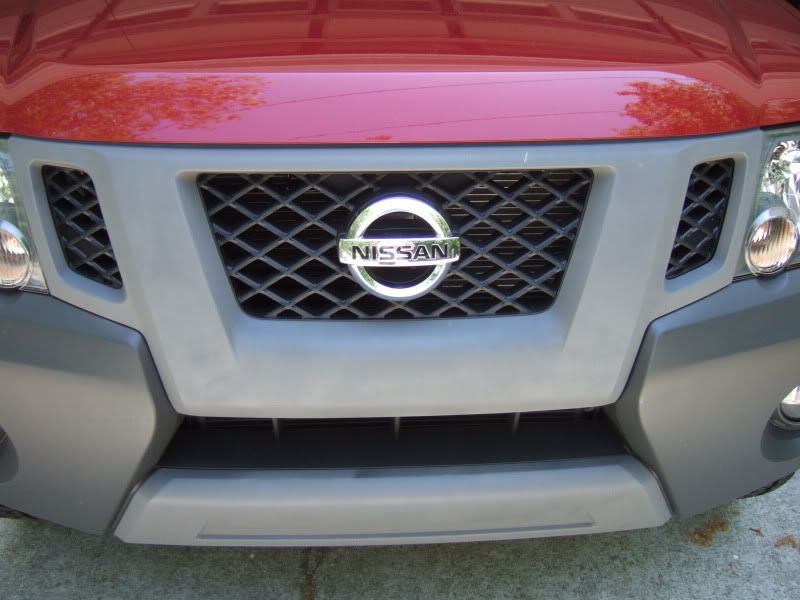 Headlight mod done to match the grill.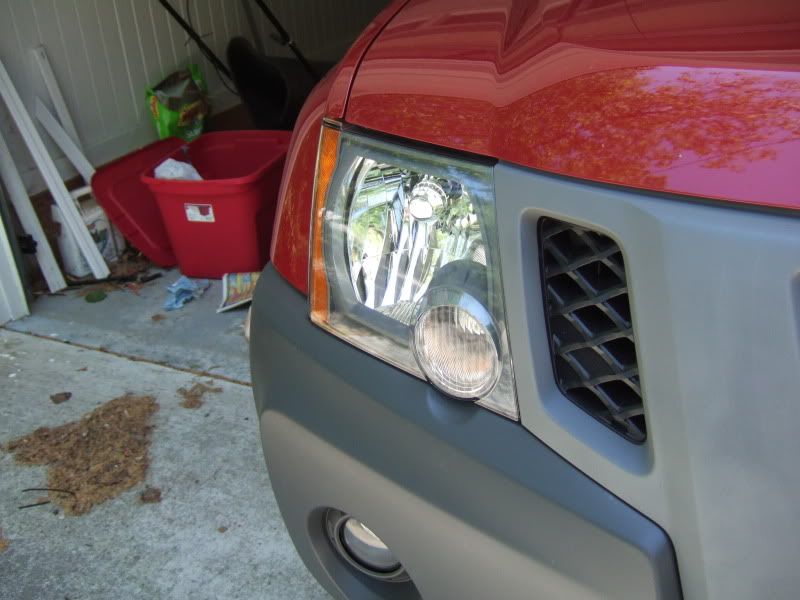 Painted rear bumper to match the front..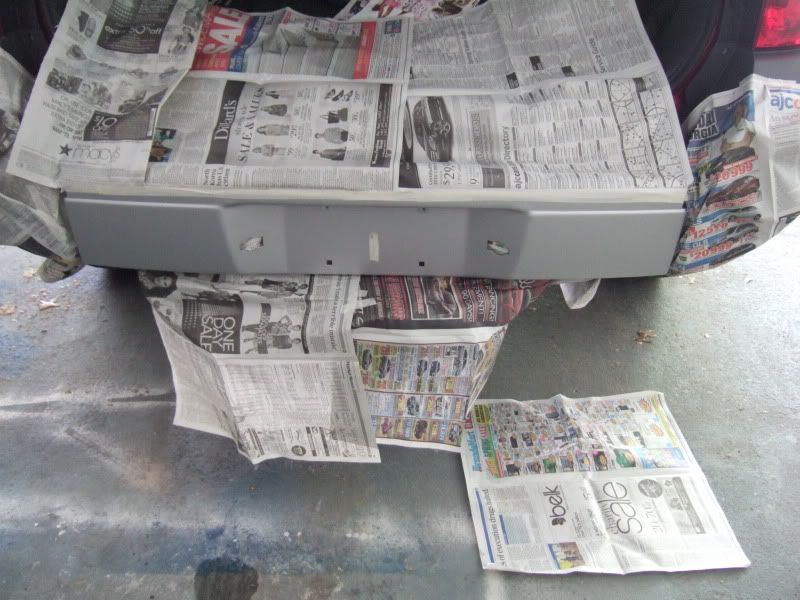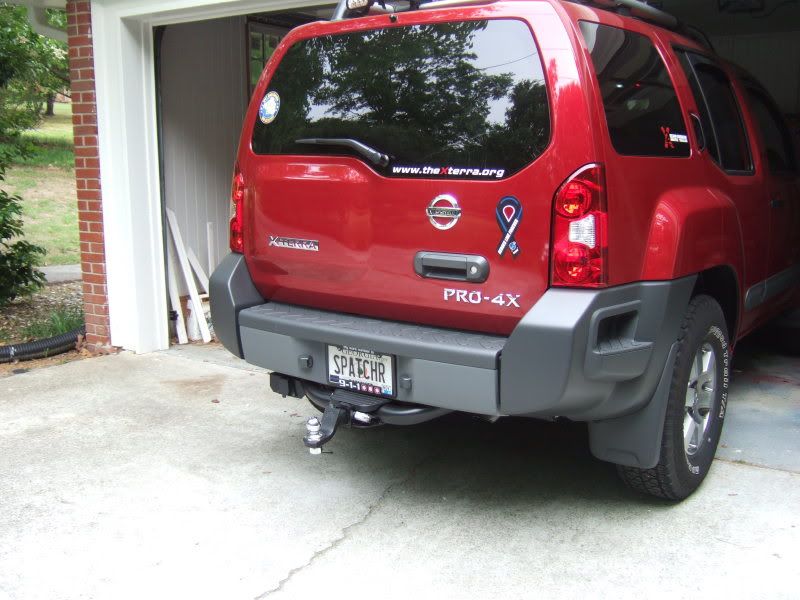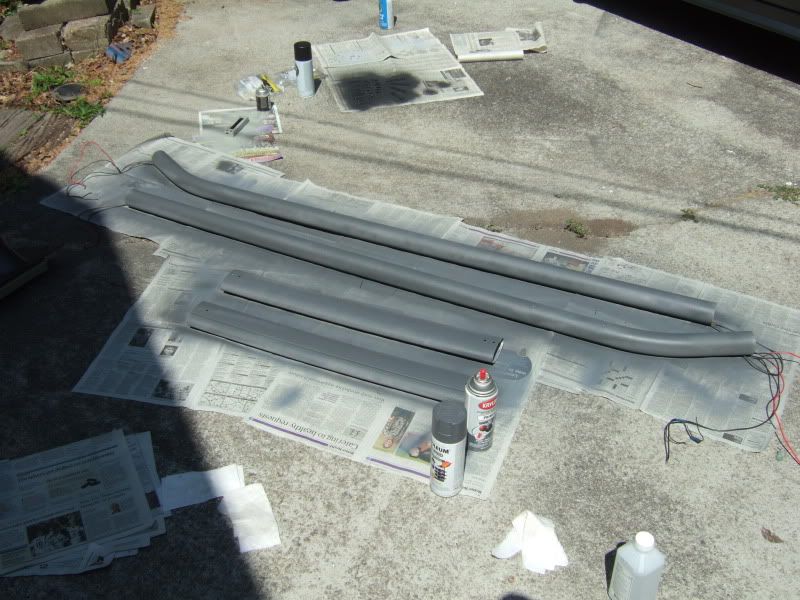 Left the Xterra logo on the rails to use as a paint mask when I painted them.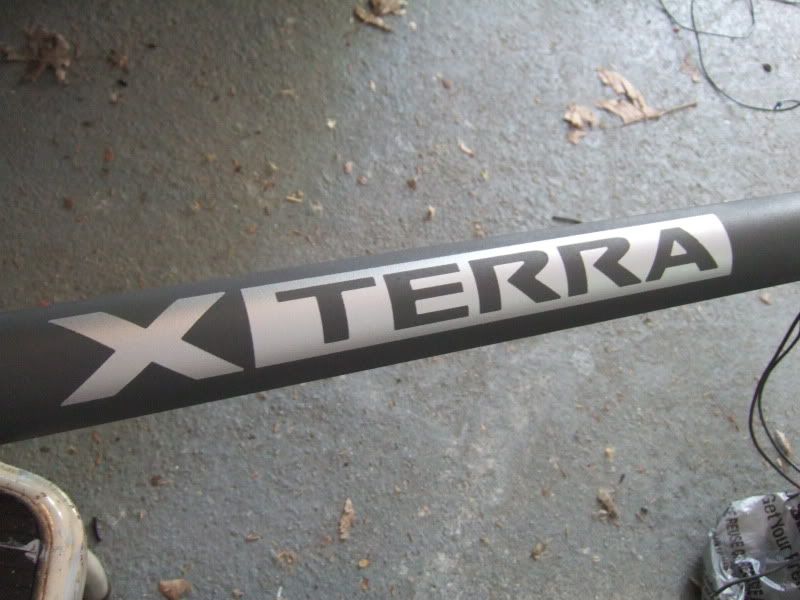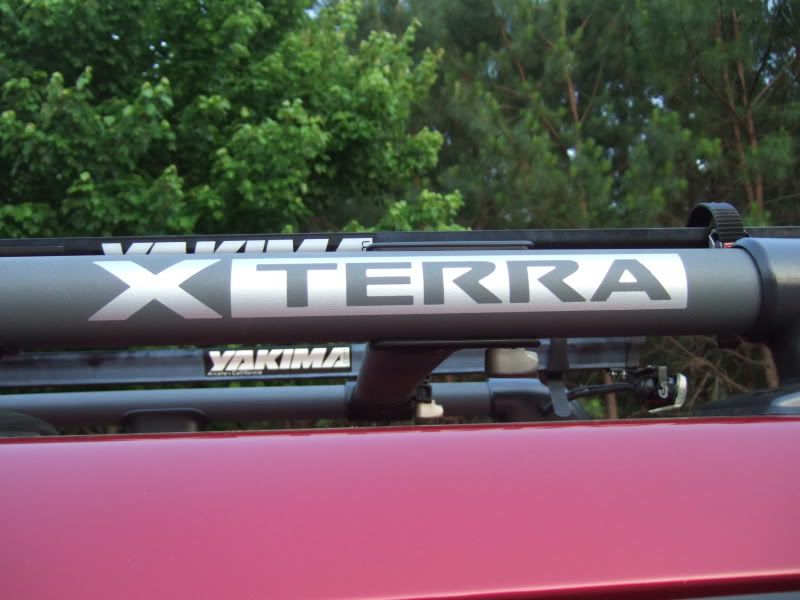 Speaker for power airhorn bolted to bumper.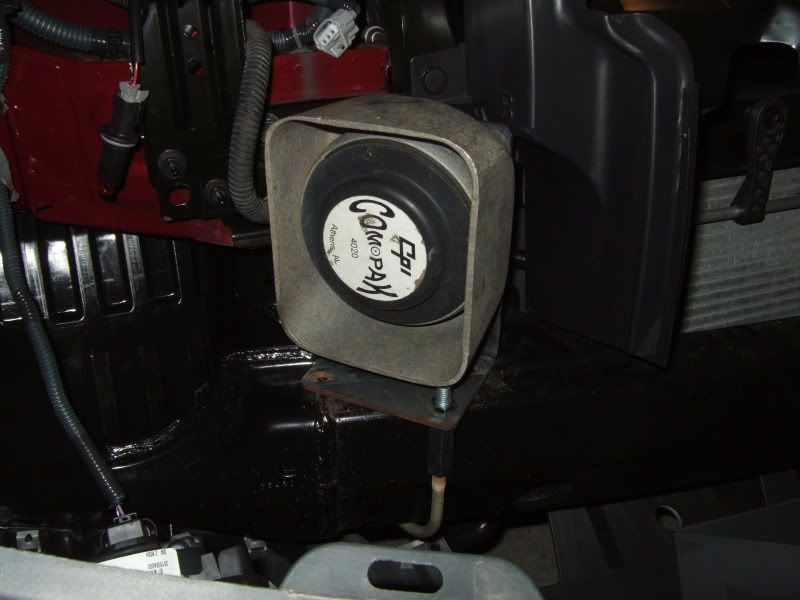 Daytime running lights, headlight mod done again in flat black, gunmetal Plasti-dip on Grill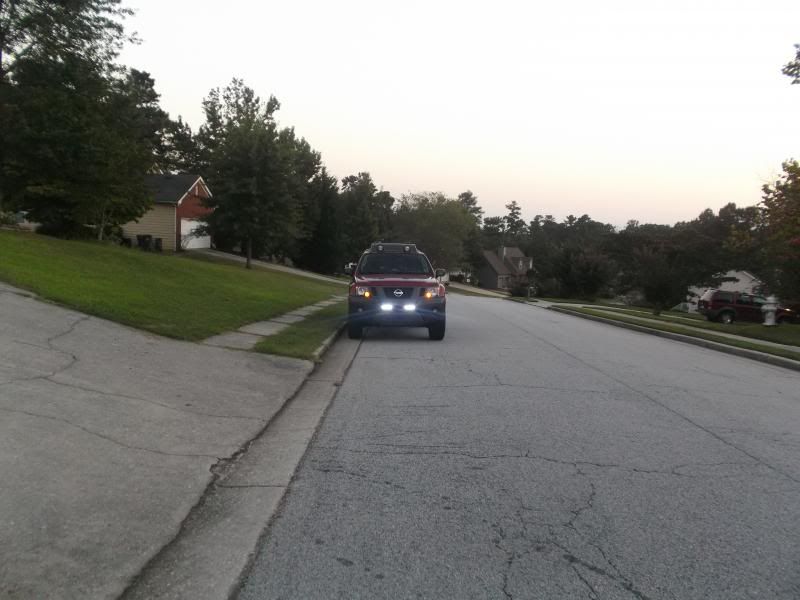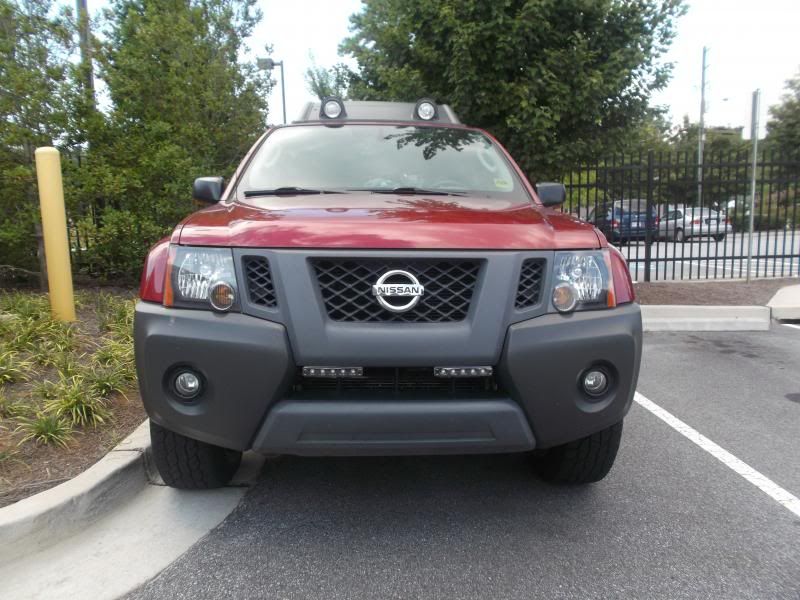 Decals