Discussion Starter
·
#1
·
I did this mod today on my fathers 1993 4 Runner. Very cool wish we had one for ours.
Main use, keep your cool even after you ran through Mud water and dust!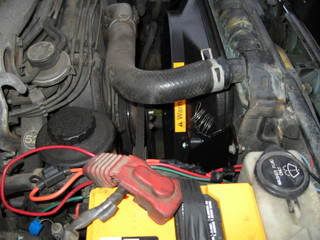 What it does,
Says it frees up 17 HP and you can feel it from the get go, no clutch fan!
Has optional manual switch, you can leave on auto, it turns on to cool.
But get this, towing a hill? Turn it on manually.
Or crossing water? Dust bowl? Mud pit? Turn it off manually! Keep from drawing the crap through the radiator! That's why I like it!
Says it increases water pump life also.
Very easy to install, all the relay work is done. See that silver wire? (just below the hose) That is the temp sensor that just goes into the radiator, no block sensor needed! And adjustable on off points. Very easy to adjust. Just a knob. Has a neat rubber seal around the edge it really draws some air! 2800 cfm!
I did figure how to do one for our X using 2 relays, a diode and a switch plus a block temp sensor. But I am not sure how the system works now.
Also this baby can be run backwards as a pusher! Be cool to just install it for that! Turn it on to keep mud out! It may be easier than I have worked up. But a Mod I may do. Certainly want to. You really can "Feel" the freeness of the engine with no clutch fan on it! Amazingly good product.
MC