Discussion Starter
·
#1
·
Ok here is the deal, I hate to fill a tank for the snow thrower and toss it in the X. And, I nearly ran out of gas this past weekend trying to make the Ohio line, It would have been great comfort to have a can, even an empty one to get going. They make a special non explosive gas for spare gas. Be a thought for this. Anyways. Half of something is better than all of nothing. So, I figure a gallon or 2.5 I even seen a 3 gallon tank that fit great. But I am going for the DOT approved one when I find it.
Simple if you have a Shrockworks bumper and a Hi Lift.
I just too the same ramp end like I used on my interior Bike rack Mod. And some nuts and bolts. Only need what is on the left.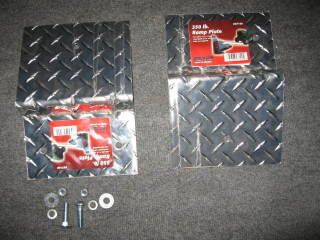 This shot pretty much explains it, Bend it same as in Interior Bike rack MOD, Then drill some holes (This stuff is tough!) Slap some stove bolts through, file off sharp edges. And use an old Wide Boat Tie down strap.
The strap is rated for like 3000 lbs And the Aluminum part for 350 lbs. So I think a 3 gallon gas can will go.
I road tested this, It won't budge. It's tilted slightly toward the rear in case of a spill.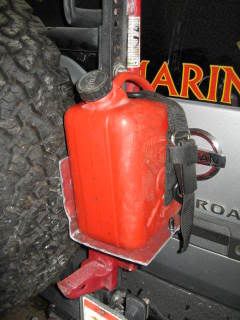 Here's the whole shot,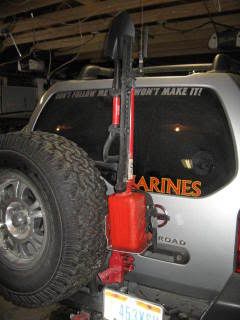 Plenty of room. But, DRAWBACK You can't open the rear hatch! It Hits!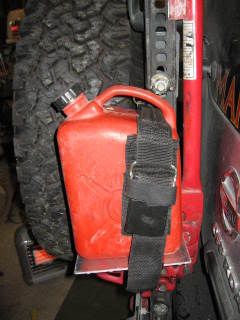 But it comes off real quick and easy, you can use wing-nuts. And move it here,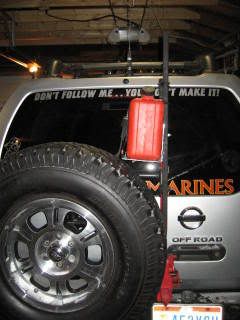 in this location the door does open and in both locations I'd be plenty confident to haul a 5 gallon Jerry can up to the station and back, easy. Not so sure about Off Road yet. When I find one. (I Did!)
http://www.scepter.com/gc/gc_page.exe?F=F&K=JerryCans&R=&SN=02091804186981147182154&FF=I&FK=&Z9=0
Pretty cool way if pours, designed for refueling autos and CARB compliant. So until I fall on something better, this is it for now. Here it is Mounted, pretty workable so far, no test.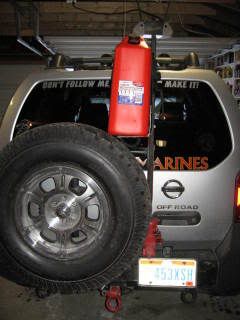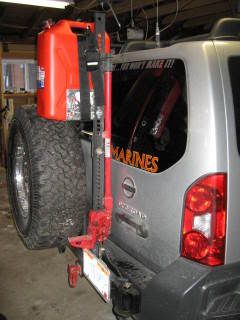 Yet test it. I know it can hold the weight Just worried about movement. But seriously I think for OFF Road a 3 gallon or even a 2 gallon would serve the purpose to have something should someone run out.
NOW Idea number three, Is use the 3 empty holes on the spare tire and use some studs and spacers in same size as Lugs to bring the same bracket out past the face of the wheel on the rack and secure a can to the center of the wheel on the bracket. BUT, I don't like that because it would make it stick out and be prone to get hit. But a possibility.
This bracket comes off in less than 30 seconds and cam be stores under rear seats. I'll be using it. Hope I find a suitable can. MC