Discussion Starter
·
#1
·
Live from Paragon! Exclusive to THENEWX.ORG
1st Day arrivals, all went well, some last minute mods. Echo Valley would be a real good place for someone to put a campground. This year, you pay and have to wear a wrist bracelet same as Paragon, Seems some people did not pay last year, new rules.
On to Paragon next day. Early Arrival Our TRAIL LEADER was none other than Jeremy. He must have slipped the staff a $20 check in was very fast and down turtle trail to the playground where Jeremy involuntarily demonstrated the proper use of a Hi Lift Jack on the rock Garden.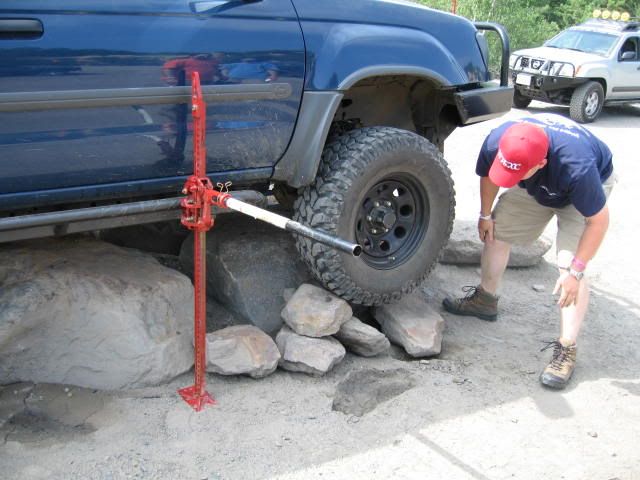 To top that act, Darrick next demonstrates why not to take a shortcut through deep mud pit, well, it got deep fast. He quickly took the lead he was to keep for the day of Dirtiest Vehicle in our group. And from what we seen all Of Paragon for the day!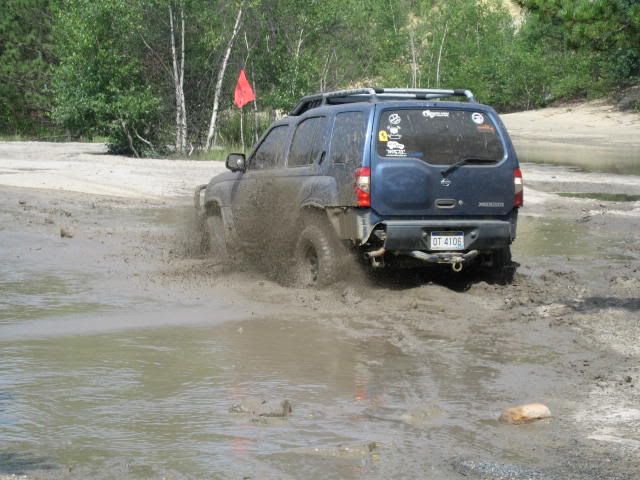 On we go, deep into the woods to the Rocky Meadow; the insects haven't even arrived yet.
But we brave a Rock Garden that only Jeeps can negotiate gingerly. This is me playing in the play ground, see Muzikman Pic below for good demonstration of what it was like.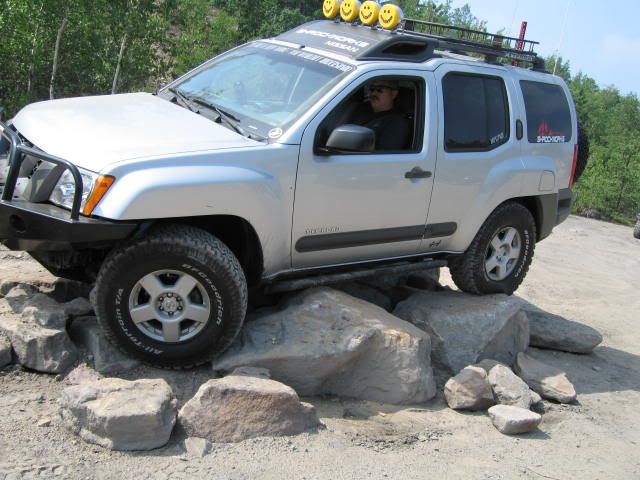 This trail was a Black - Blue 2 ! Took us quite a while to get everyone through with no damage, but…. Jeremy yet again decides to give us another Hi Lift Jack demo when his LR shock mount got hung on a rock. Then he got us all concerned with that same noise you hear when a F Diff goes. But, he still had power and got out.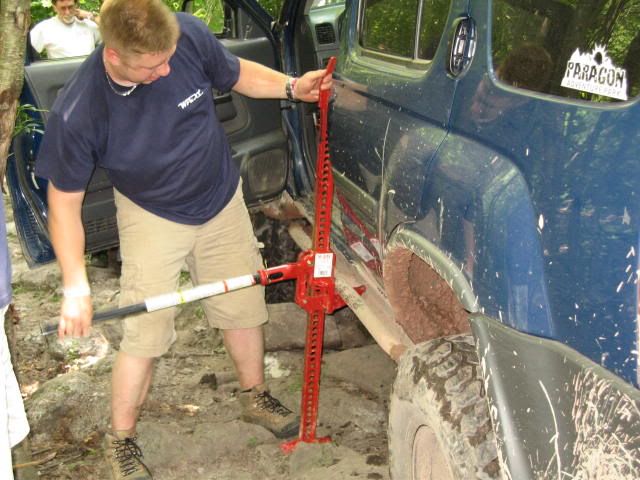 After this the trail got Black Black, so Black, we took another way out. We had less than 2 hours to make exit and had to get busy!
We think the trails were poorly marked because of the recent flooding.
This ate up a lot of time. So, once we got on Green trails it was a mad rush to the Exit at max trail speed of 15 MPH for about 3 miles and through the water crossing.
This is the rock garden we had a time with, heavy spotting, lots of contact, where Jeremy used HLJ
This was Jeremy's problem Could have more easily been cured with something to lift just the wheel, Like one of those tools that has hooks on it that hook into the wheel for the HLJ I always wondered what that would be good for, now I realize. Rocks under the front wheel got him out, his flex was too great to allow the rear wheel to lift.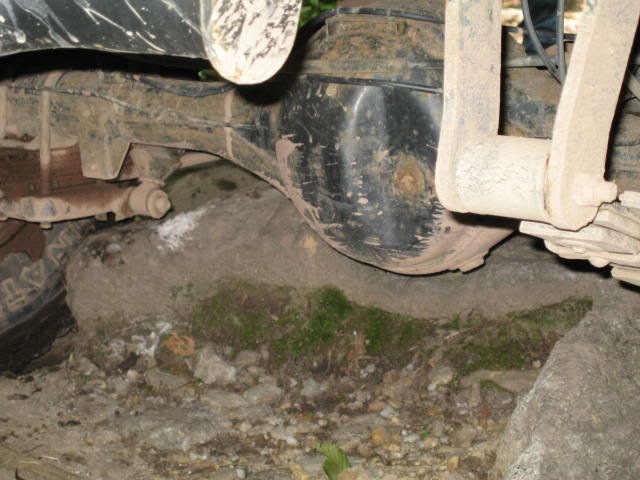 This is our Valued member Muzikman going into that rock garden 1st.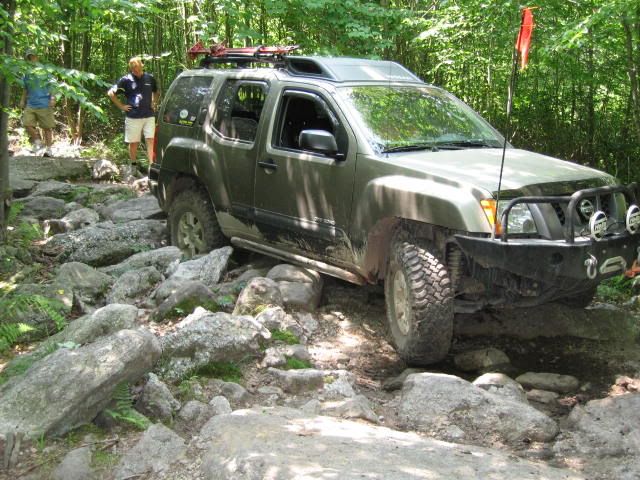 This is the WPAXC Group.
We cut it pretty close arrive Just before the 5 O'clock deadline. All was well, No real Trail Damage in our group.
And remember, you saw it here 1st using a Blackberry as a modem from parking lot.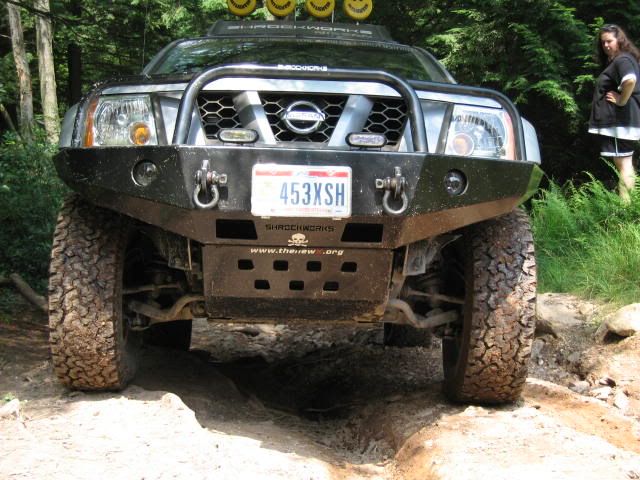 Friday Rausch Creek Pics. Less action, more fun!
Taken just hours ago, Uploaded from middle of no where's ville, Rausch Creek,pa
Powerguy, AKA Dana Trail Leader, Rausch Creek is much more User friendly at the office and have some great trails pictured here.
Possibly more later. Kinda slow uploading without the Cable Modem.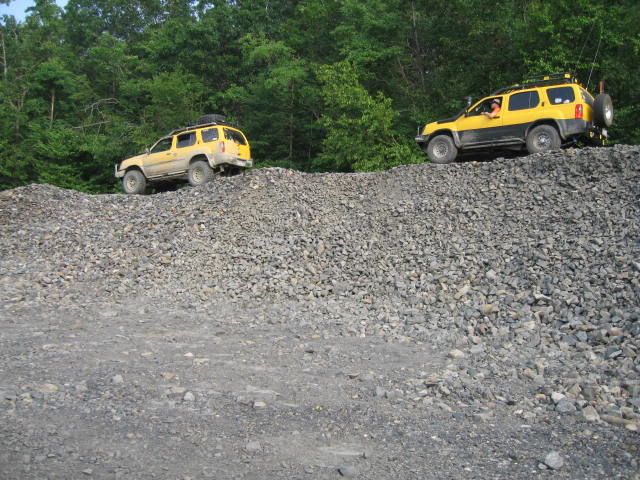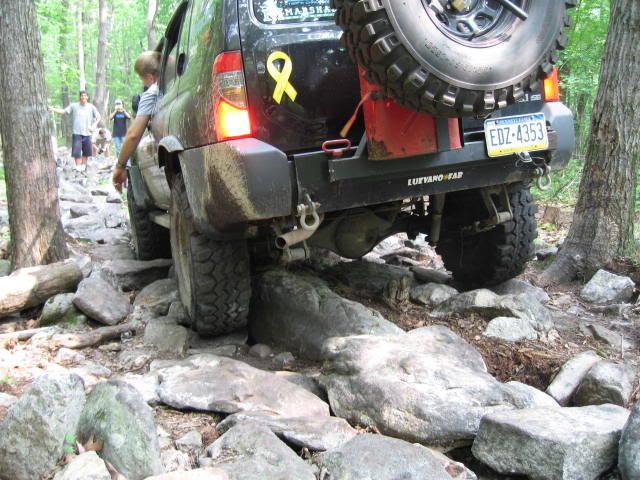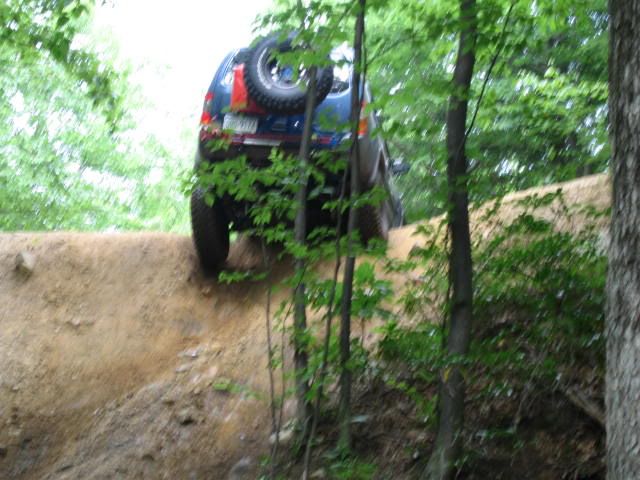 Update 3
MC on the rocks in exit. Sissy X 30 Degrees +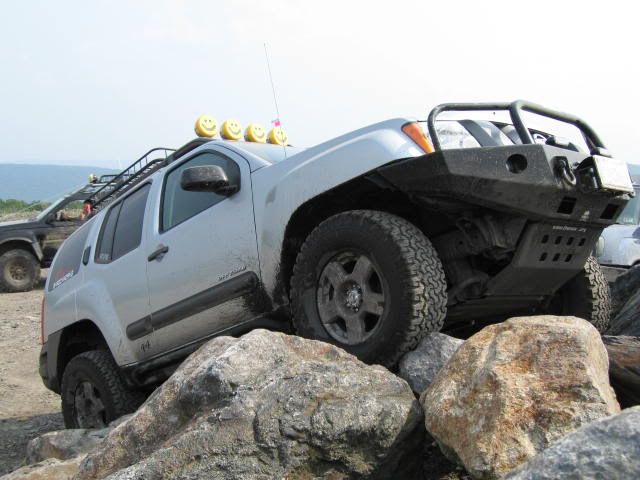 This is Muzikman He got the most Air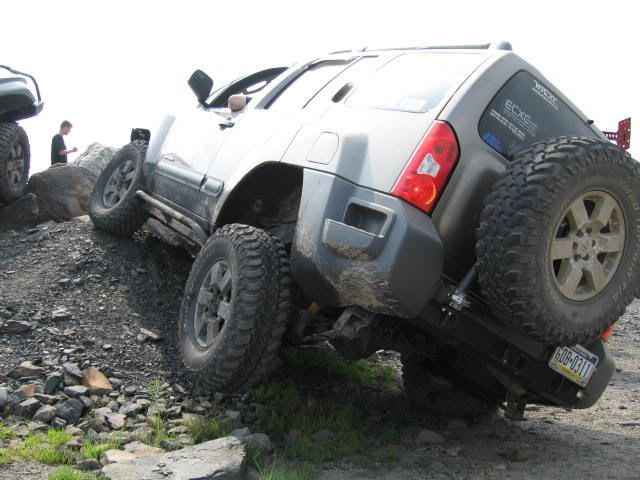 But Darrin Here got the most height and incline with More than 36 degrees estimated by the fact he had more than me.
It's raining today. LOTS of close calls yesterday and Daryl has some minor BD on LF fender and door from tree.
everything is pretty tight here, Jeep trails. I'm sure today someone else id going to get bounced off a tree.
And, As far as rolling a X on a Green trail going speed limit out of the park. Very unlikely.
One thing for sure, is safety is our first concern. We did all we had to do to beat the clock and we did.
3rd and Final Day for Me, there was some Sunday running, but I went to my Cabin. Where the wheeling is a bit tougher I'd say! Ok Day 3 Started out like this! Rainy, low visibility. I really thought we was going to end early because of flash flooding. Raush Creek cocktail, two parts mud 1 part rock today.
Gee I hate to Hog the Camera, but Dana did not let the weather get us down, he went right down to business leading us to this trick to get us warmed up. Great trail leader. And, a little bit crazy! LOL But that's what makes a Great Trail Leader.
This is what a Lot of the AM went like, One hole was so swamped, we waited 10 min for it to drain.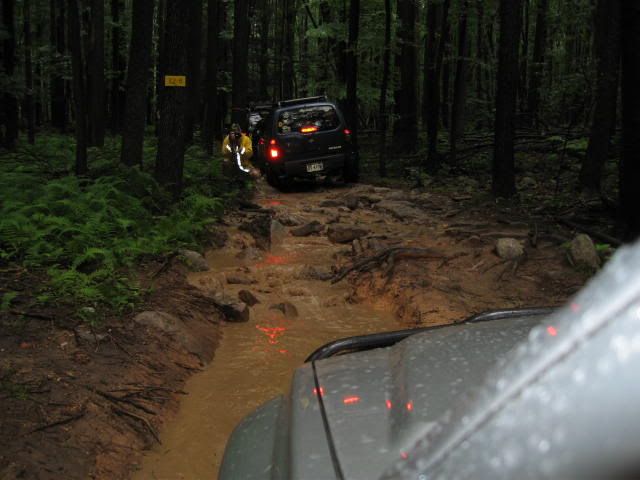 Yes! That IS Jeremy again, demonstrating the use of a Hi Lift Jack Again! This time someone Else's rig.
You can understand we did have a few small recovery operations weather related I am sure.
Now you ain't going to believe this shit. The last of the group was lagging behind a bit training a new driver,
So I waited up and when they fell in we went TOP speed up this climb, Cont.
I heard a bit of Chatter on the CB about "He probably is going to get me for no seat belt." Just as I topped the hill I had to slap on the Binders to keep from hitting this! He fell in in front of me and behind front of group and ran with us long enough to get the camera out to take a movie and some still. Only Ripley would believe it! Maybe he was checking for flooding?
We again was making a run for the exit, But Rausch Creek is a lot more tolerable about being a little late.
Here we are After the run, Air up time. As you see the day cleared up really nice for a great party as usual.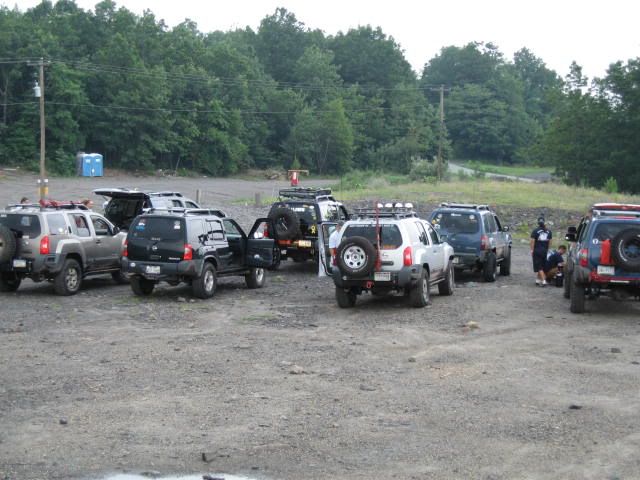 Our Great cook! Who knows his name, my mouth was too full to ask! (Really I did not take picture)
Thanks to my Nephew who was treated to a trip to ECXC for helping me install All my SHROCKWORKS parts. And taking most of these pictures.
Special thanks to Dana (Powerguy) of our WPAXC who organized our great trail rides, always kept a positive attitude and showed us some crazy but safe off Roading! (Always behind the video and camera except for this picture)
Thanks to all who look. It's a really great event Mike puts on, Start making plans to be there next year! I want to go back!
MC
No one beats MC's coverage..... Only at THENEWX.ORG! MC
MC