Hey guys,
So, since I know that I'm not the only one who tires of threads with big talk, and little substance I decided to remain silent as a ninja for over 2 months while I secretly moved forward on this. So, rather than leading you on for week after week while running up a dozen pages of suspense I'm making this only now that I'm done, and the first post is full of pics.
First to address any potential haters, I realize that this is not for everyone. You build your trucks they way that you want, and I'll build mine the way that I want. I realize that for many, a Shrock front bumper is the only way to go, however I'm tired of being lied to, and Shrock will not be seeing a penny of money from me for a front bumper. I want/need a winch, but since I drive a Nissan and not a Toyota, the aftermarket leaves much to be desired. I haven't found an aftermarket bumper that really tickles my fancy. I started to like to look of the Iron Bull, but their ridiculous price and horrible customer service cost them at least one bumper sale; mine. I almost ordered a KMA, but I felt like I was making a choice based on which bumper I disliked the least, as opposed to which bumper I actually liked the best. Does that make sense to anyone? So, since to be honest, I have always really liked the lines of the stock bumper, I'm going to run it until the aftermarket creates a winch bumper that I actually like (or until Matrix12480 wants to make me a wincher like his bumper. cough cough...
)
So, since I'm building my rig towards an ExPo type project, not a rock crawler, a hidden winch will work well for me at this point. I found that there were currently two known Xterras with a winch in the stock bumper (I'm now the third). There is some guy in Canada, and there is Steve "RockyMtnX". I contacted Steve, and he was such a great guy, that the emailed me a set of drawings and helped with some tips he picked up along the way
when he built his winch mount
. Thanks again Steve, you are the man! :notworthy:
Well, after many a pleasant night spent out in my garage enjoying an ice cold beer, blasting some Led Zeppelin on the stereo and cutting, drilling and welding away, shes finally finished! (except for deciding how and where to mount the legally required front license plate)
I must say I'm very happy with how it all came out. It is stout as all hell, looks good, and sits nearly flush. Final weight of the winch mount was 42lbs, and it replaces the 25lb stock steel bumper. Alright, enough yapping, I'll save some for the responses. Here she is:
$100 Metal and most of it cut to size. (I know someone
)
~$30 Welding wire and shielding gas.
$10 spray paint
~$75 Beer
40-50 hours labor/beer drinking :whax: / :drink:
I know this is a lot of pics, but to be honest, when I was building it, I was wishing that I had more pics to go off of, so maybe someday this will help someone.
Quick peek:



The beginning:



Shackle mounts:




Frame mounts:



After what seemed like AN ETERNITY of measuring twice, cutting, measuring twice again, adjusting, measuring more etc... I'm FINALLY ready to start welding! (kids ignore the T-shirt, in addition to the auto-dimming mask, I'm actually wearing auto dimming sleeves, they appear instantly when I pull the trigger, i swear
)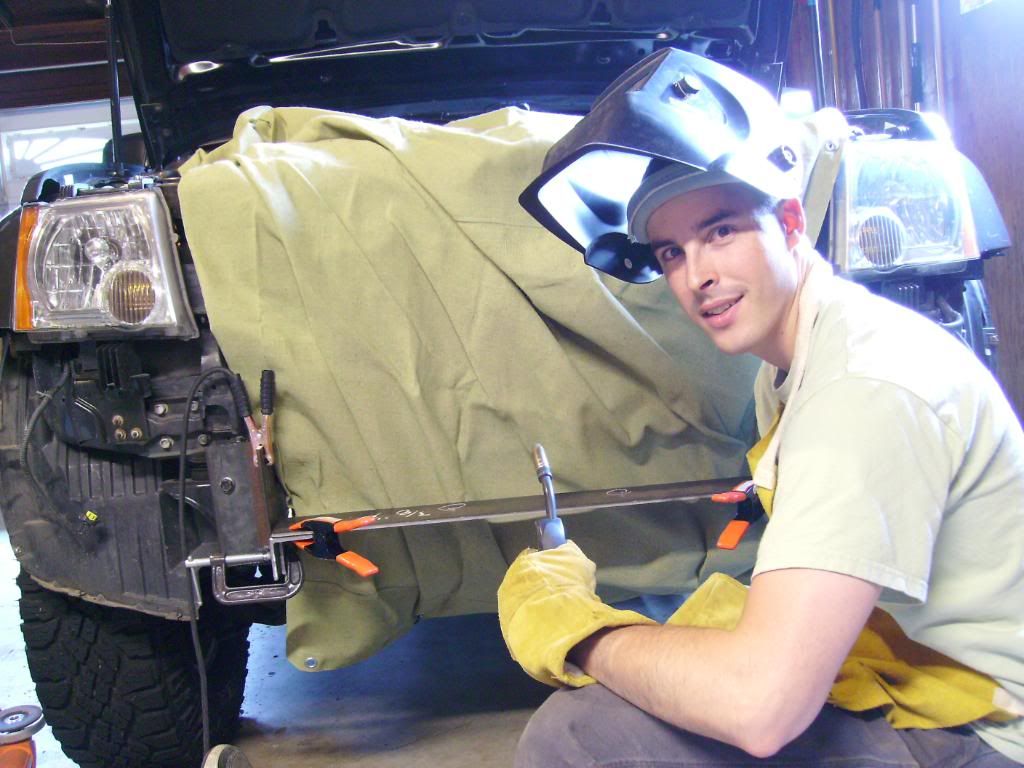 Wow those are some magically strong paper bags!




Approach angle with NXRocks Skids:



Adding the winch, its a Recon 10,500 winch w/ synthetic line from the thenewX.org group buy. Its TIGHT, but it fits:



Nissan must have known that I was going to install a winch here, because they pre-cut the bumper support EXACTLY where I needed it to be cut. Win! :cheers:



Cutting the bumper to fit involded A LOT of cut, test fit, cut, test fit ect... I found that if you chug half a beer each cycle, it becomes less tedious by the 9th or 10th attempt. :drink:


DONE!



Before after profile comparison, it only sticks out a hair further than the license plate holder did:




So, Whaddaya think?
Update 6-20-11:
I finally had the time to add some "bumper wings" to the winch mount. It was something I should have done originally fo a bit better protection from fender benders, but its done now. I basically coppied what Steve "RockyMtnX" did with his
now available for sale, production winch mounts
except mine is angled down 12º due to some differences in design. I included a pic with the stock bumper to give an idea of the similiar to stock coverage. In other news, everything else with the mount is still doing great. No problems.