Username:
Deltaphi216
Year:
2006
Make:
Nissan
Model:
Xterra
Trim:
S
Color:
Solar Yellow
MO4wd.com's September 2012 Member of the Month!
Armor:
- Shrockworks front bumper
- Shrockworks Rear swingout bumper
- Shrockworks sliders
- Shrockworks radiator, engine, front diff, and transmission skids (still need the gas tank skid)
- Ballistic Fabworks c200 diff cover
- Lower Body Protection w/ herculiner
Exterior Mods:
- VIGG hood blackout
- Dephep roof rack w/ custom rear light bar
- Raingler RBH3 handles around factory bars and dephep rack
- Stealthed door handles, door side moldings
- Painted windshield cowl w/ Krylon Fusion Black paint (due to the plastic fading) -
Windshield cowl, grill, & body side molding painting - Second Generation Nissan Xterra Forums (2005+)
- Herculined rear corners -
Herculined Corners and Rear Bumper - Second Generation Nissan Xterra Forums (2005+)
- Wade In-channel Vent Shades
- Hood Rod Mod
- LED courtesy lights
- Gobi Ladder
- Morimoto mini H1 projectors w/ 6k hids
- engine cover painted with EW3 paint
- shrock bumper mounted 48" hi-lift jack
- Trimmed front fenders to fit 35" tires
- 2 6" Totron LED bars
- 1 20" Totron LED Bar
- 1 40" Totron LED Bar
Interior Mods:
- Raingler interior roof net
- sunglass holder
- Kenwood ddx-6019 p-nav double din HU
- Axxess AWSC steering wheel control unit to allow steering wheel audio controls w/o RF package
- generic license plate backup camera hooked up to HU
- Alpine type R 6x9's and 6 1/2's
- Tinted all around but still legal up front
- Painted switch panel w/ ew3 paint
- Door switches swapped from amber to blue led's
- Dash Cluster swapped from amber to white
- White gauge faces -
White Gauges - Second Generation Nissan Xterra Forums (2005+)
- Reversed LCD screens in the cluster -
How-to: Remove the Gauge Cluster and Install Reverse LCD's - Second Generation Nissan Xterra Forums (2005+)
- dash cluster swapped again to blue and white -
bored last night so i took the gauge cluster apart again! - Second Generation Nissan Xterra Forums (2005+)
- Pathfinder lighted steering wheel controls - led swapped to blue to match the rest of the truck
- Blue Leds behind the interior door handles
- Rev mod for the back cargo area
- Blue leds in the cupholders
- Rex rug mod
- Weathertech Digital Fit front floor liners
- Nissan all-weather floor liner for rear seats
- maglite door mount
- switchblade key
broken, don't waste your money
- rogue key mod
- Bracketron Mount for Iphone
- Coverking Ballistic/Molle seat covers - front and back
- Custom dash inclinometer
- Banana for safety!
CB Radio mods:
- Midland 1001LWX 40 Channel Mobile CB with ANL, RF Gain, PA, and Weather Scan -
http://www.amazon.com/gp/product/B00176RNLA/ref=oh_details_o06_s00_i00
- 3' Firestick II Tunable Tip BLACK -
Amazon.com: Firestik (FS-3BK) Black 3' 650W Tunable Tip CB Antenna: Automotive
- Firestik SS-3H Heavy Duty Stainless Steel Antenna Spring -
http://www.amazon.com/Firestik-SS-3H-Stainless-Antenna-Spring/dp/B00042LC9M/ref=sr_1_sc_1?s=electronics&ie=UTF8&qid=1344354607&sr=1-1-spell&keywords=firestik
- FireStik K-1A Push-n-Twist quick disconnect -
http://www.amazon.com/FireStik-K-1A-Push-n-Twist-quick-disconnect/dp/B000UTQUAK/ref=sr_1_1?s=electronics&ie=UTF8&qid=1344354706&sr=1-1&keywords=firestik+quick
- 18' RG-58/U Coaxial Cable With Pl-259 Connectors -
http://www.amazon.com/gp/product/B001JT0CGI/ref=oh_details_o02_s00_i00
- Roof Mount-Gum Drop Stainless Steel -
http://www.amazon.com/gp/product/B001JT5GPU/ref=oh_details_o00_s00_i00
- PA horn
Drivetrain/engine mods:
- Volant CAI
- Donaldson Powercore Filter
- Magnaflow 12580 Dual in- Single out muffler
- Custom exhaust to eliminate the y-pipe
- XTP intake manifold spacer
- Painted upper engine cover w/ ew3 paint
- Diehard Platinum D34 Battery
- eXternal_Sir battery tie down
- radiator/tranny bypassed
ALL SUSPENSION IS NEW AS OF 8-3-16
Suspension Mods:
- SPC Titan Upper control arms
- 4th gen Toyota 4runner coils
- Bilstein 5100 Shocks
- Superbump extended front bump stops
- Moog Titan length inner and outer tie rods
- 2" Nisstec adjustable rear shackles
- 1.5" to 2" OME CS061R Dakar Leaf Springs (lift depends on settle)
- 5100 bilstein rear shocks (designed for 3-5" of lift)
- 2" Body lift
- Removed front and rear Swaybar
Wheels & tires:
- 35" Cooper Discoverer STT Pros
- 2" hubcentric wheel spacers for the rear
- OEM 18 hole Steel 16" wheels
Current to be completed mod list:
1) Wire up rear locker
2) install temp/compass rearview mirror (sitting in a cabinet in the garage)
3) install side turn signals on front bumper
5) ?
here she is the day i got her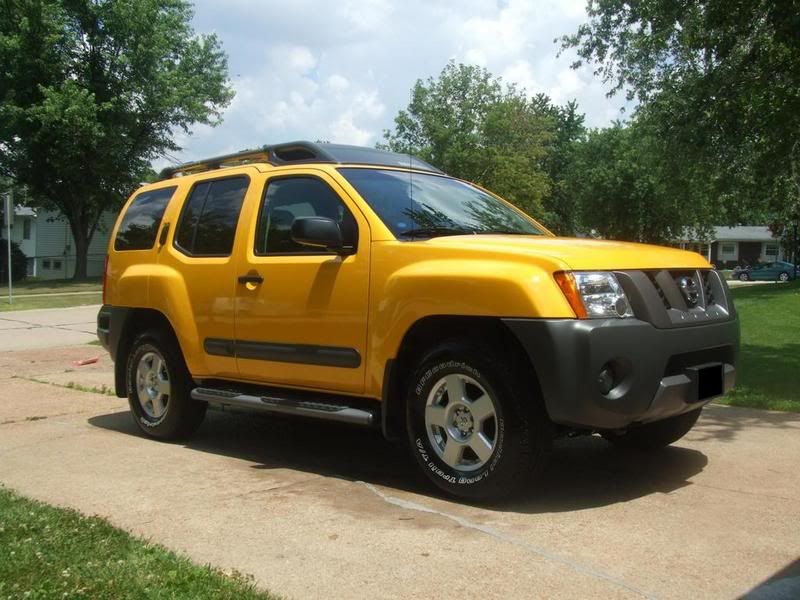 first snow
day after housewarming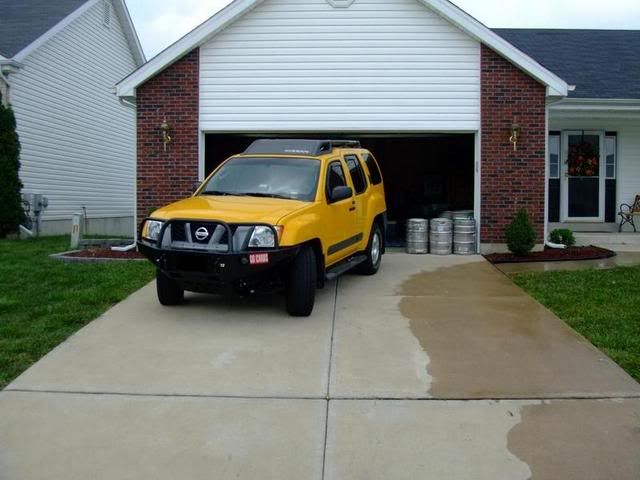 just stealthed the wheels (after front spacers but before the rear shackles)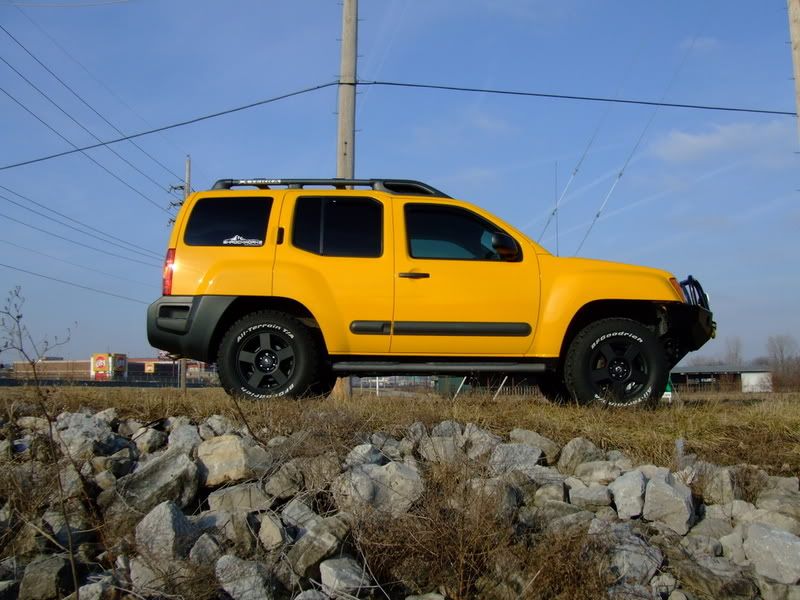 trying to blend in w/ the commoners
painted the side moldings (bumper paint)
... and windshield cowl (Krylon Fusion black paint)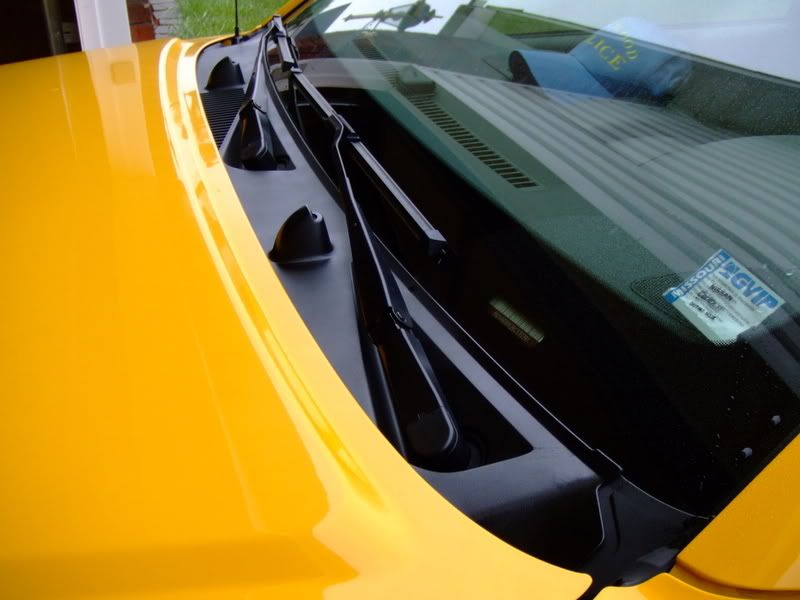 ... and the front grill (bumper paint)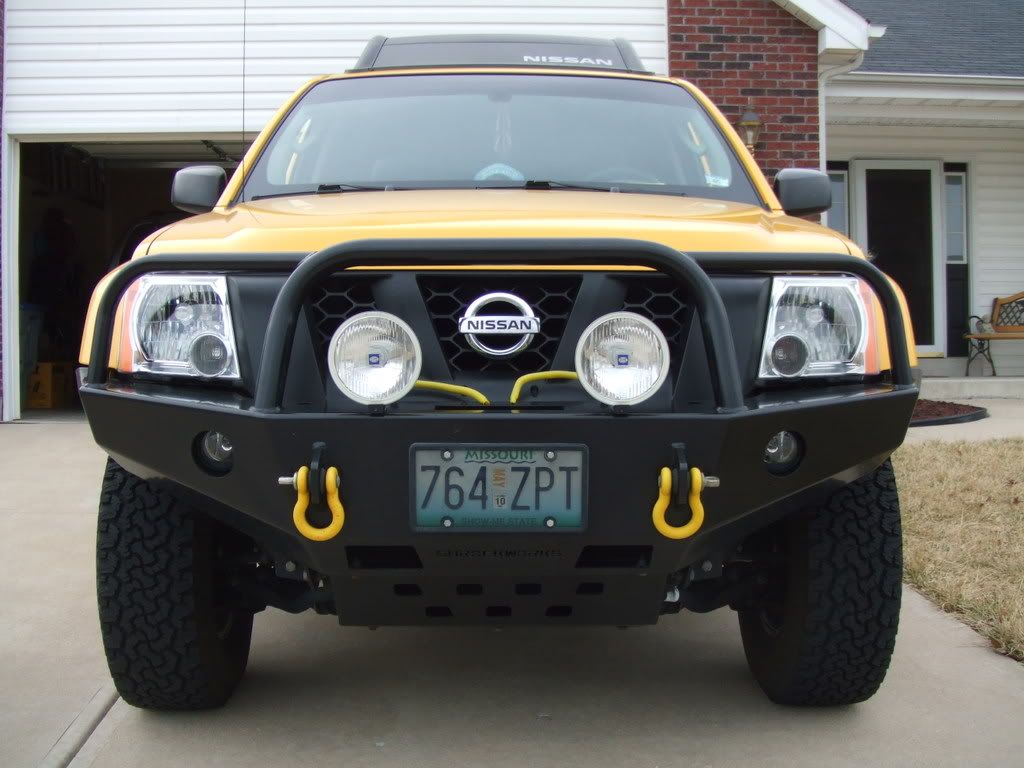 Hood Rod Mod
dephep custom lowride roof rack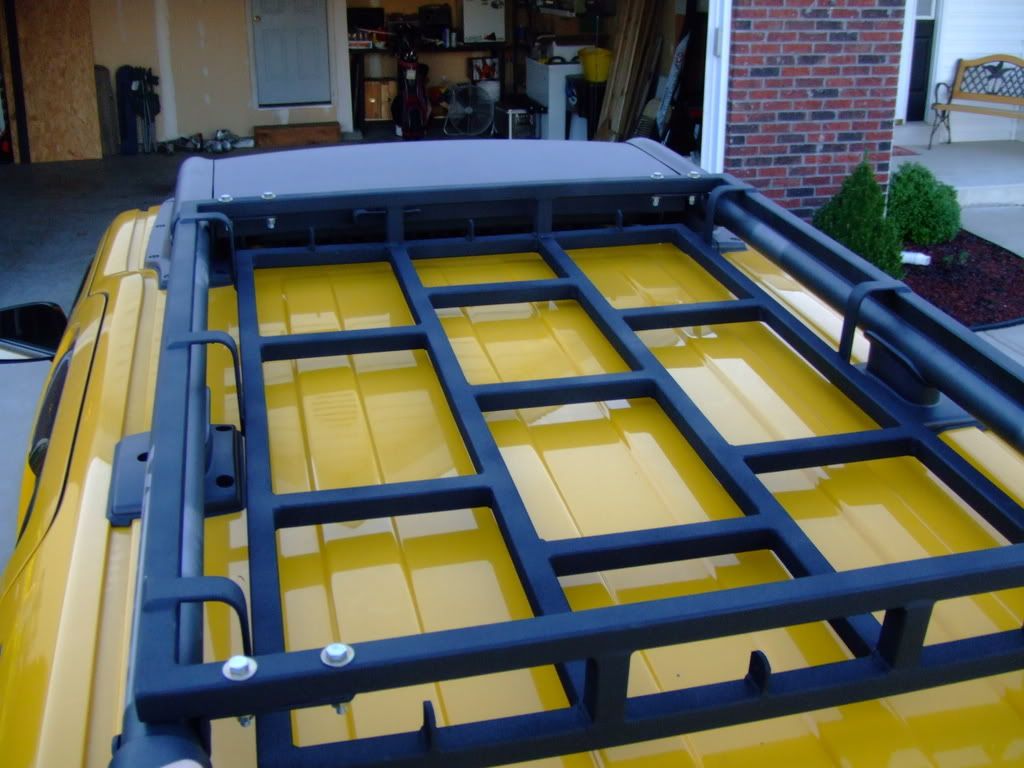 dephep custom backup light bar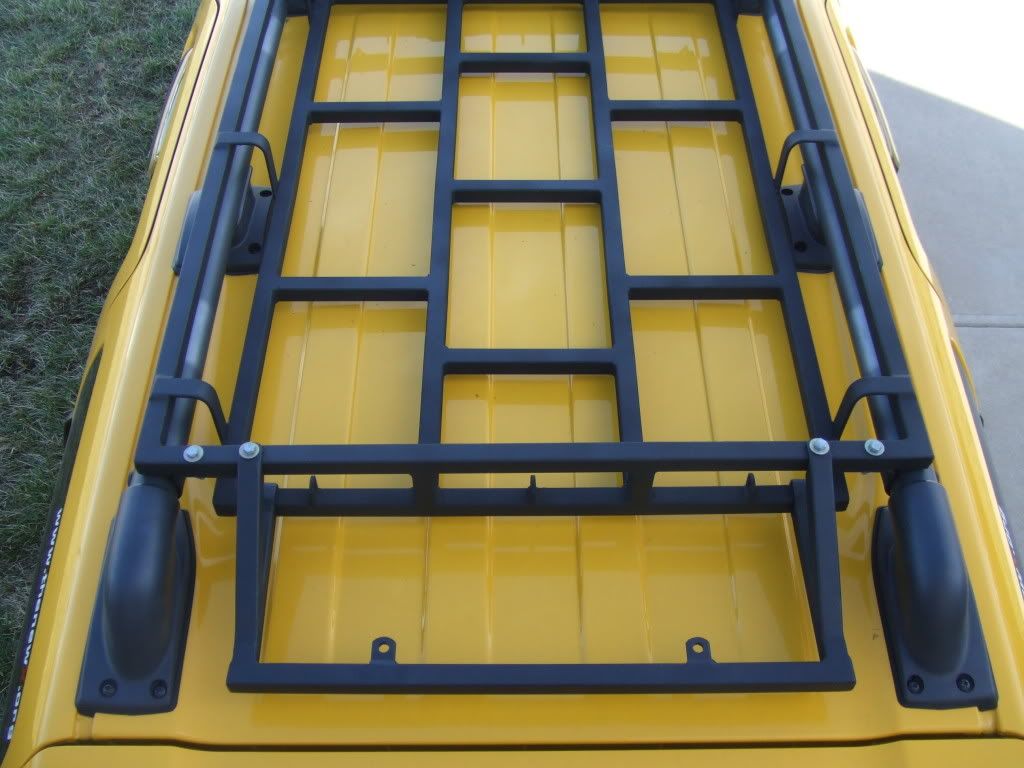 dephep custom rear lightbar for the rack...temp install (with old lights), before I wired everything up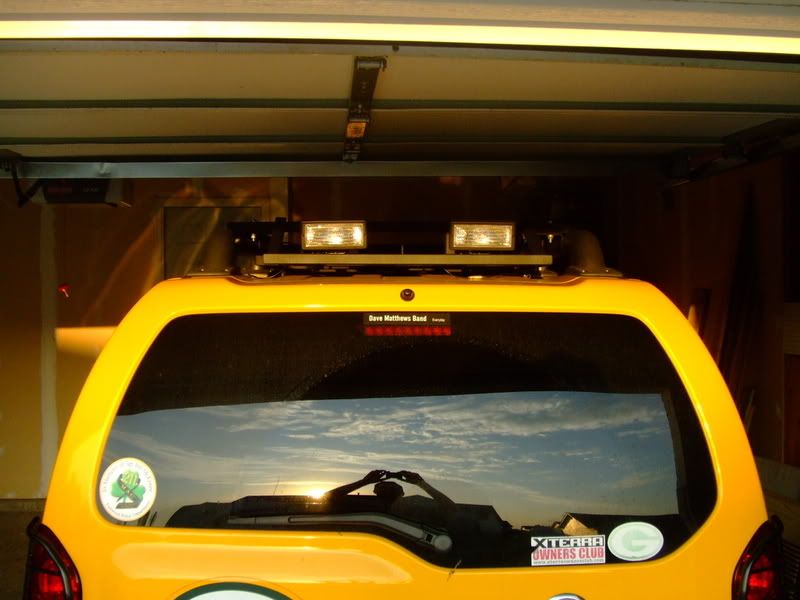 New backup lights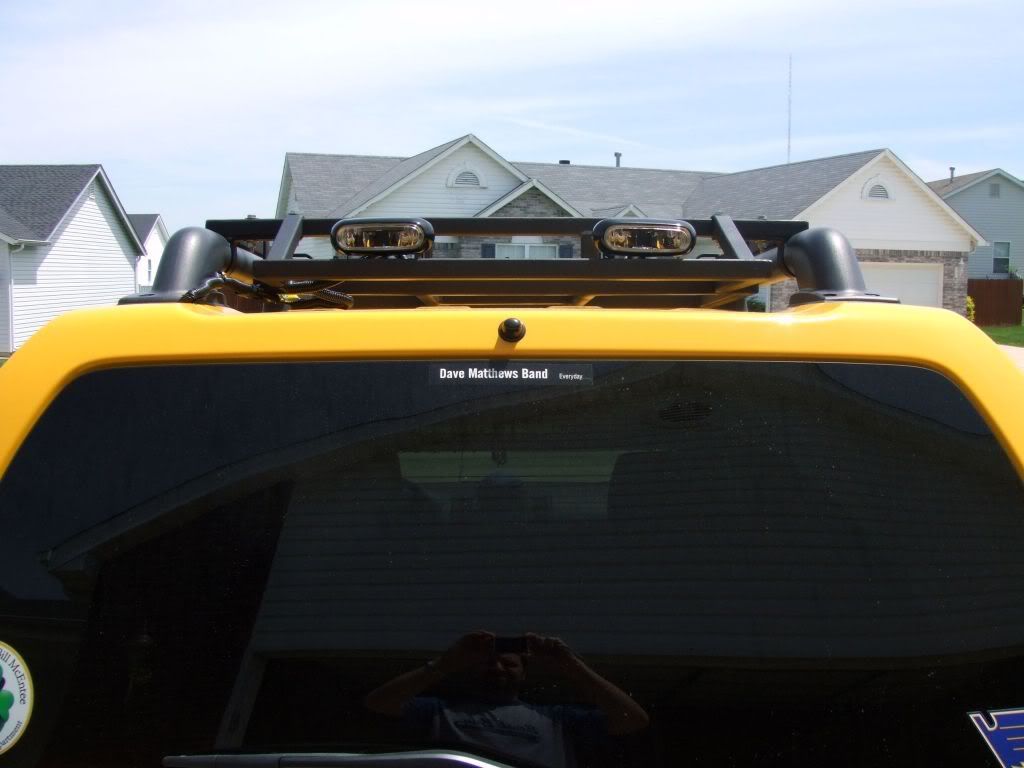 New Raingler roof handles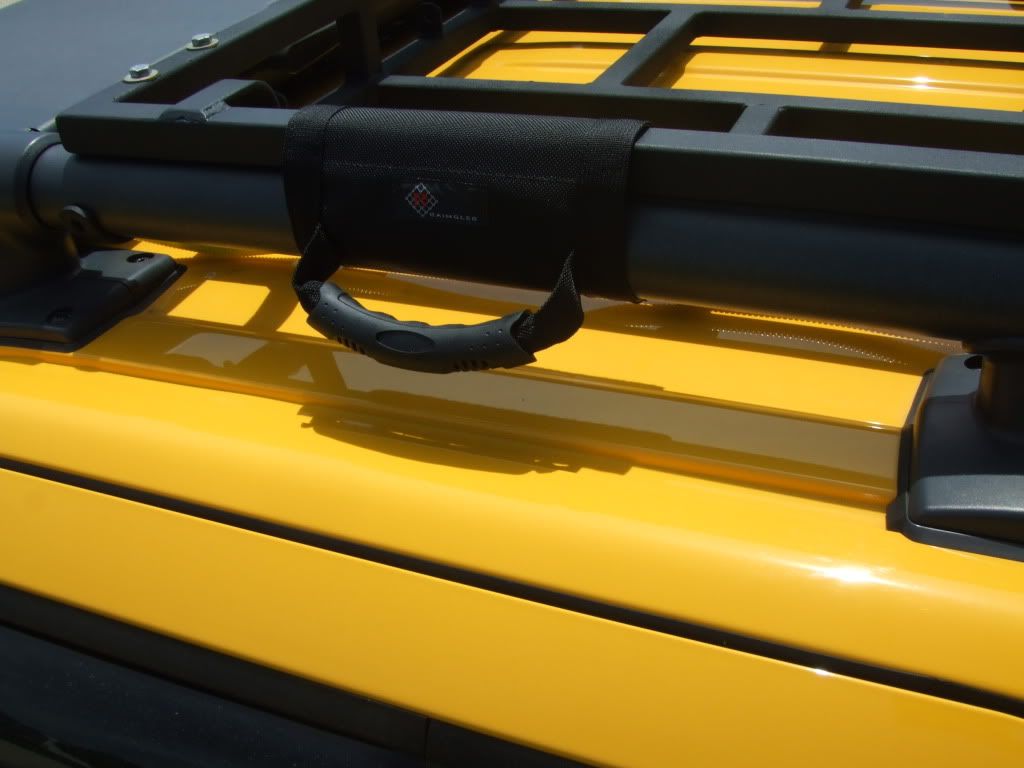 Painted the switch panel body color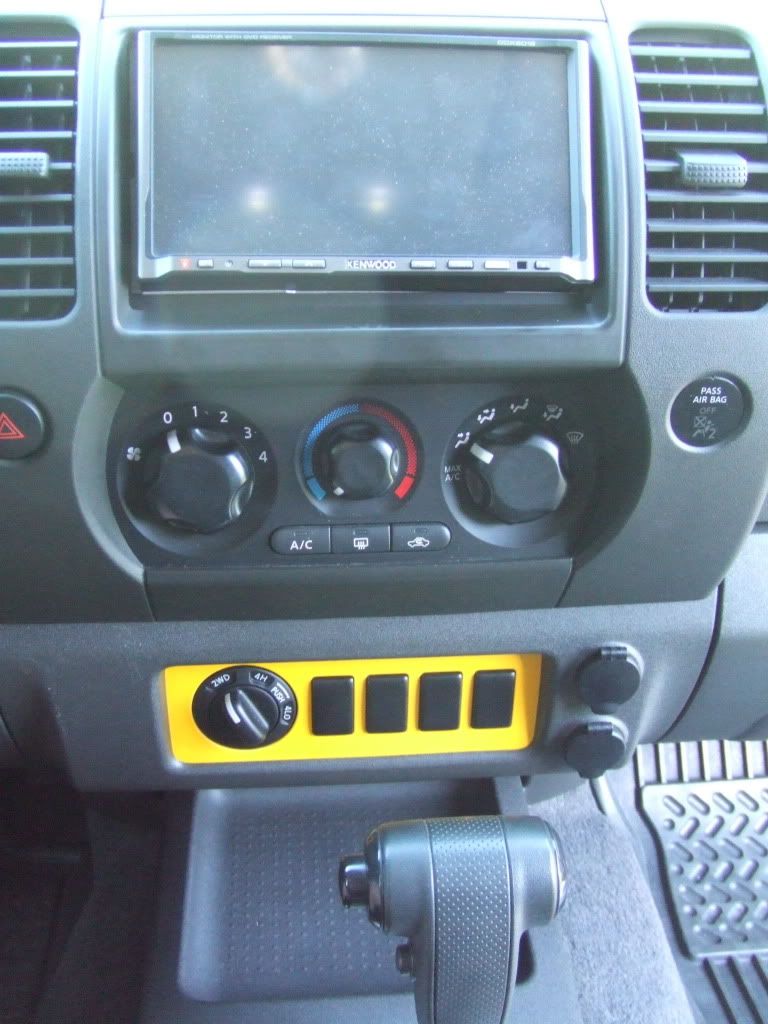 And put some switches in there
Herculined the rear steps and painted the inserts
white gauges and white led's in the cluster!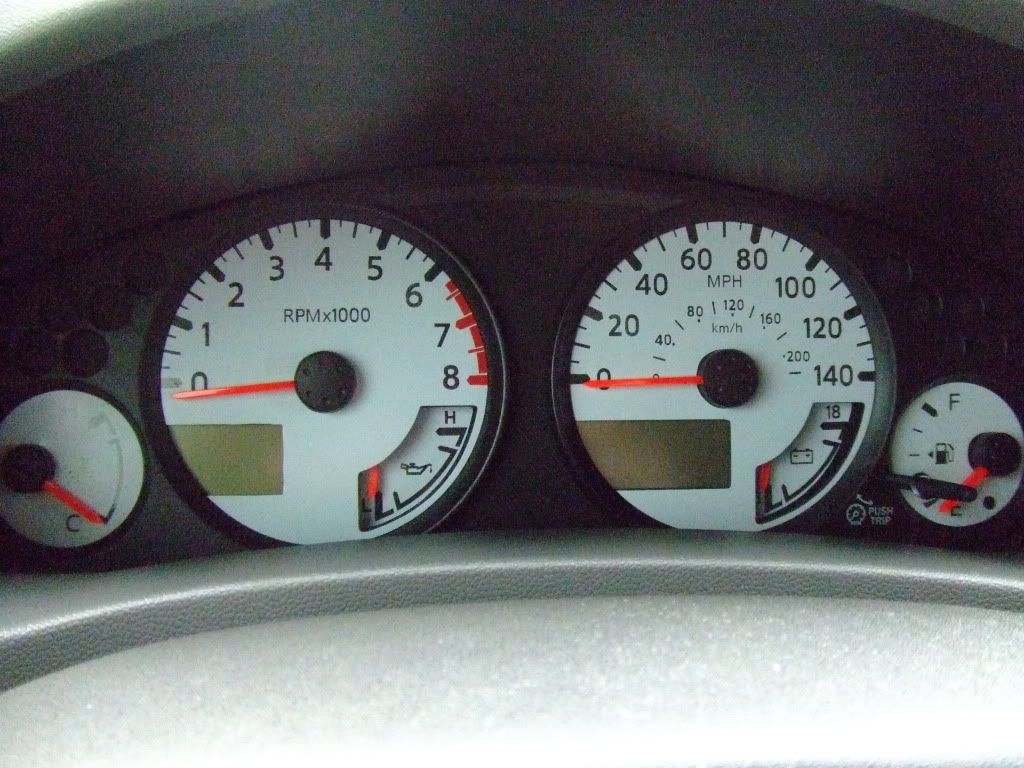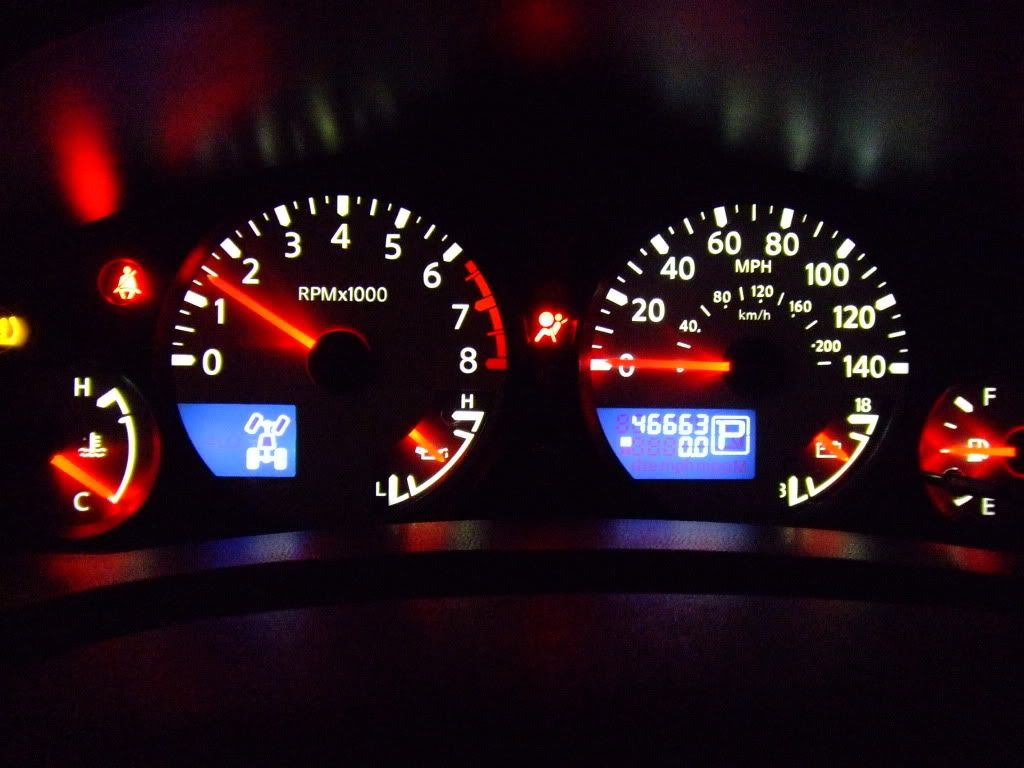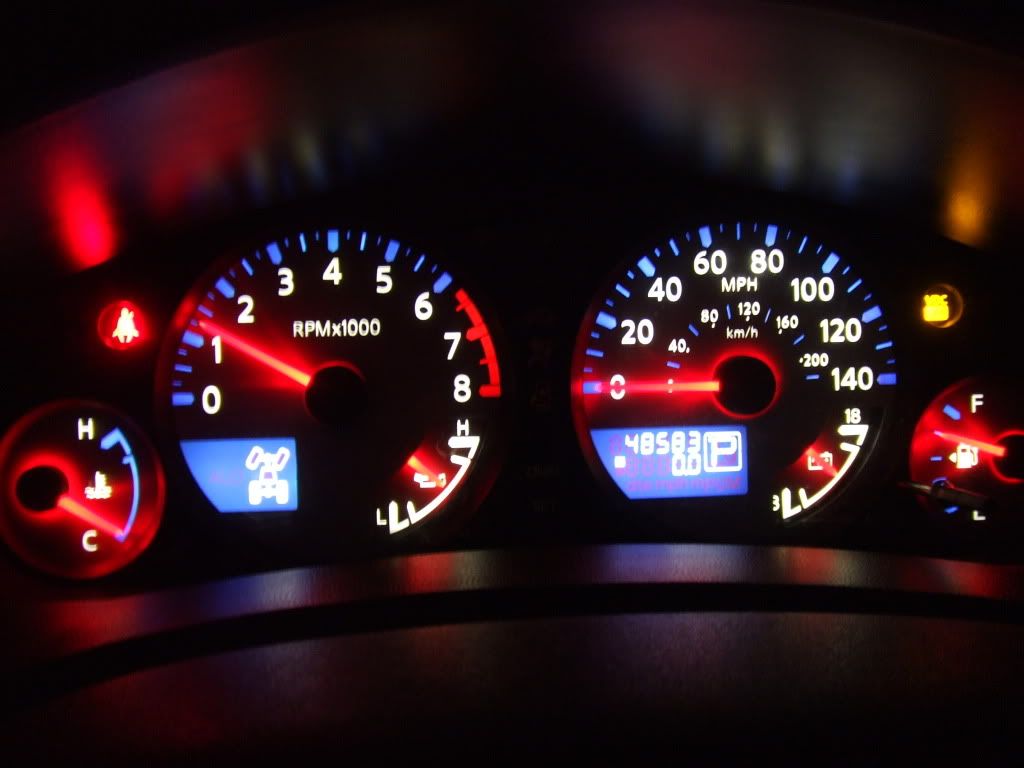 Herculined rocker panels w/ pinstriping
1.5" wheel spacers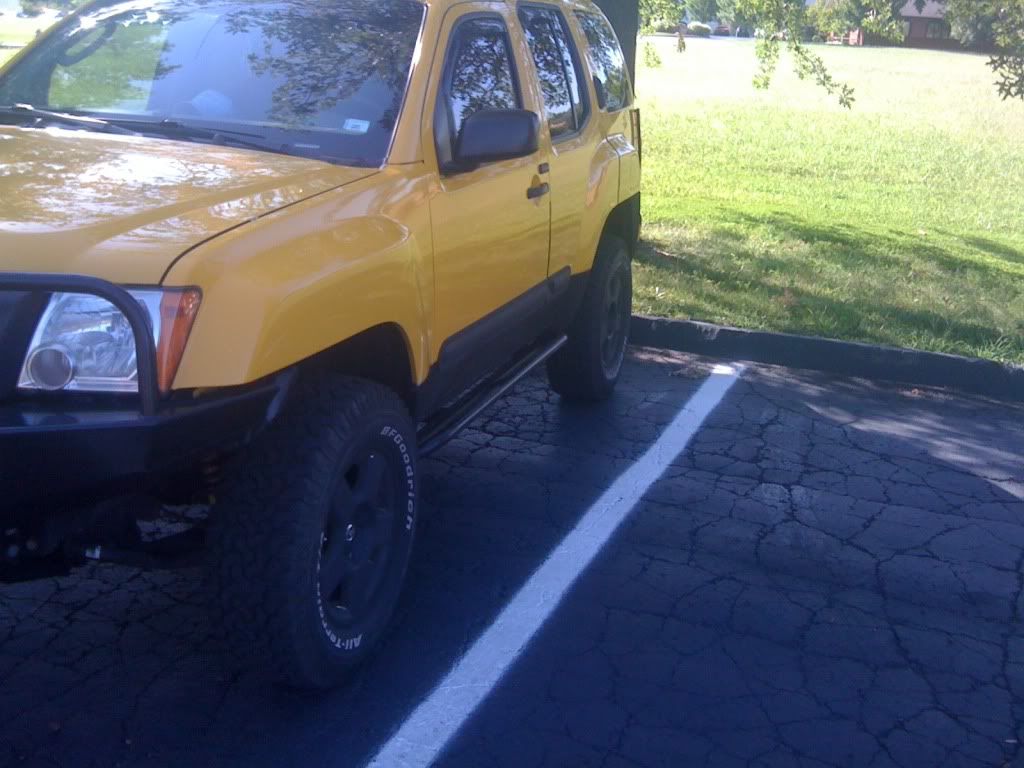 Pathfinder audio controls swapped to Blue leds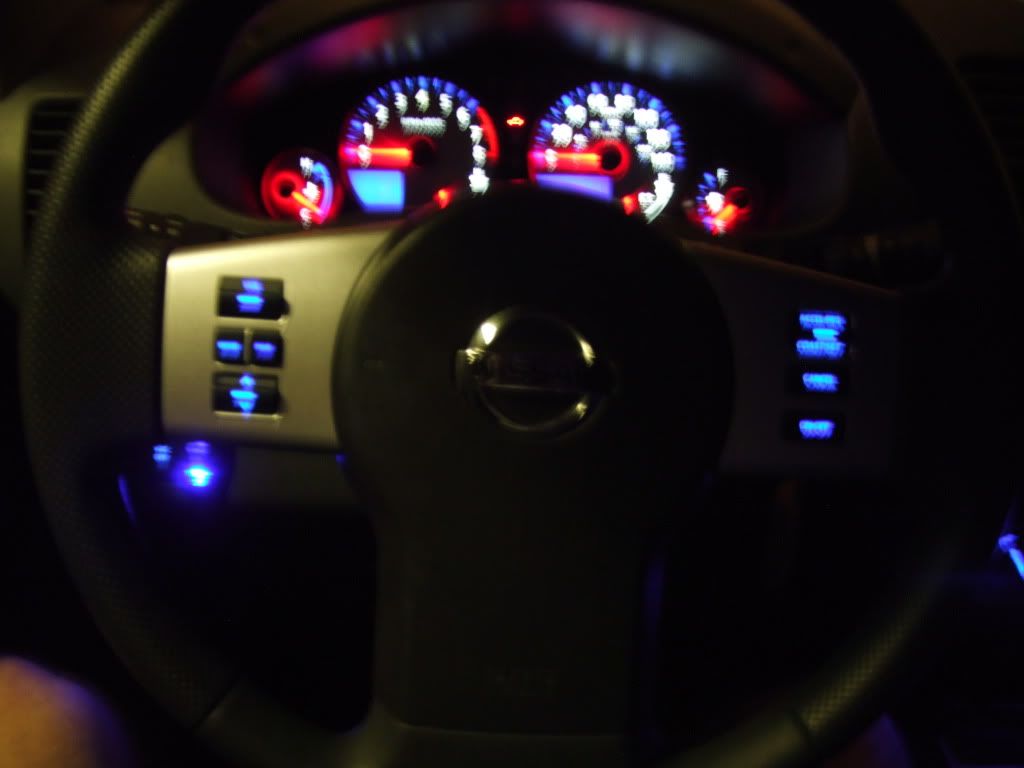 eBay projector headlamps w/ Hid's installed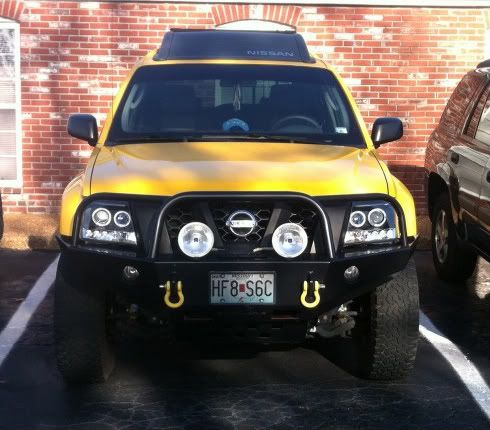 9" Nane bumper lights w/ driving beams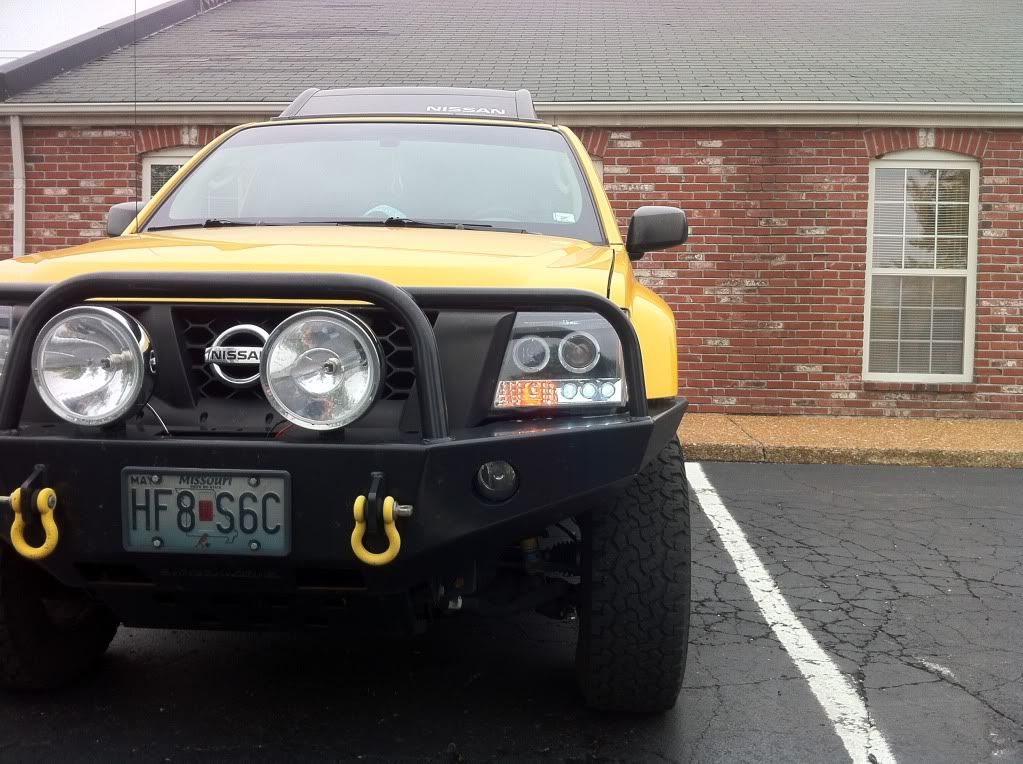 18" titan wheel test fit!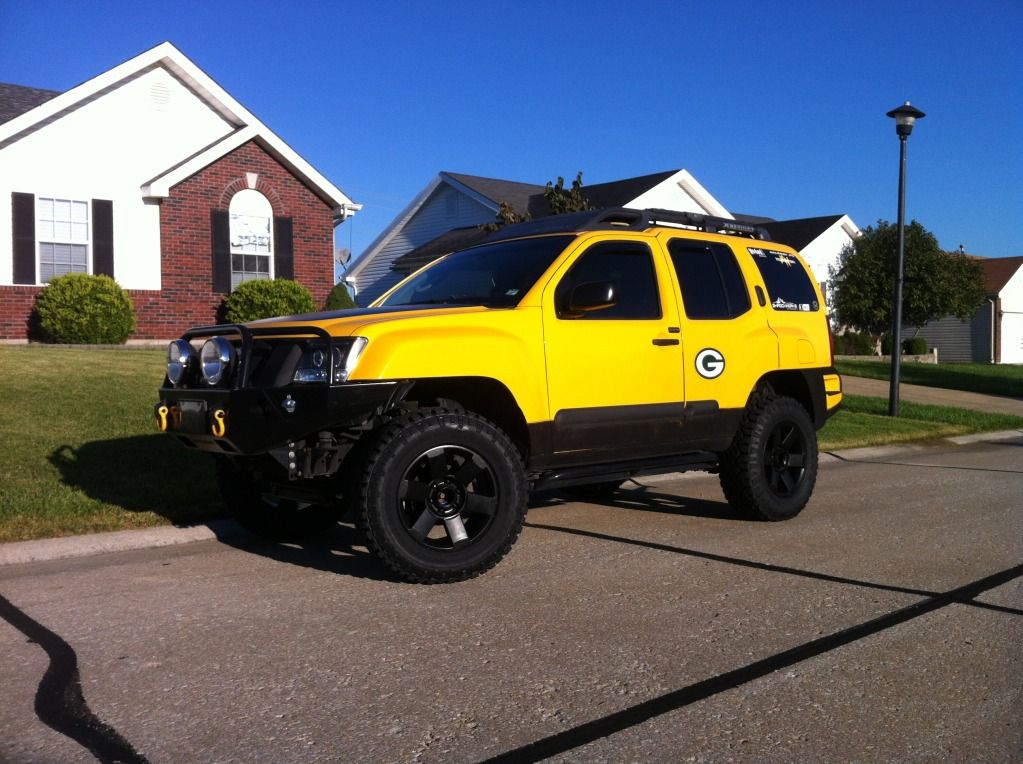 new 40" light bar installed and wired up. the mounting feet match the outer rack bolts almost perfectly!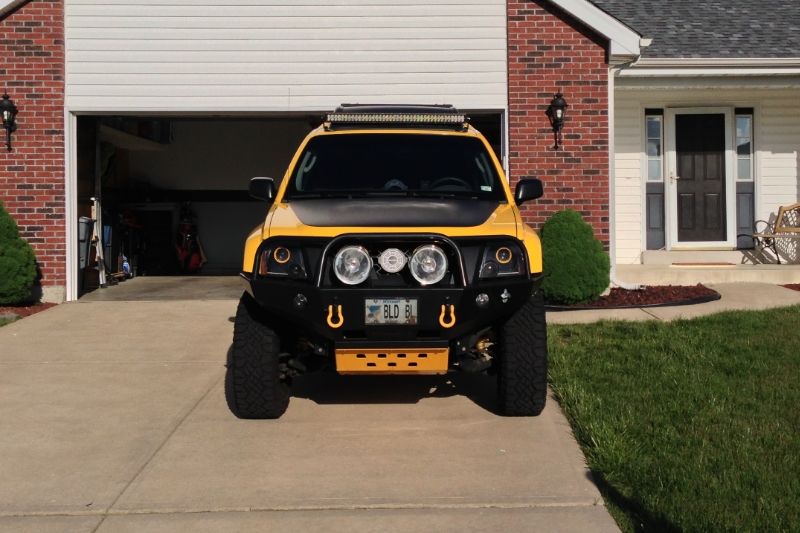 TITAN SWAP!