So I was curious if anyone has run either of these tires. I have scoured the web for reviews and they seem to be few and far between on these two models. I am looking for an aggressive tread patter A/T that has decent road manners, but can handle off road terrain with the best of them.
I have ruled out the BFG AT KO, I feel they are an old school design and I honestly haven't heard much good about their off road capabilities compared to their newly engineered competition. I honestly feel BFG is being a bit lazy and using this 20 year old design still, come on put out something new already.
Also, the GY DT's are out because of their tendency to wear quickly and the price tag tacked on it just doesn't seem like an economical purchase. So I narrowed it down to these two tires.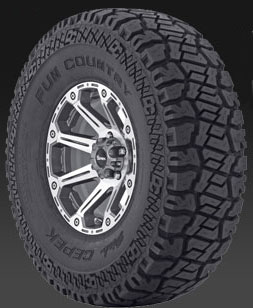 and
Any other suggestions for aggressive AT's would be great. Thanks.