Cruiser's Kiddy Carrier
Username: Cruiser
Year: 2008
Make: Nissan
Model: Xterra
Trim: Off Road
Color: Night Armor
Mods:
Interior:
3 carseats in the back
Exterior:
Shrockworks Front Bumper with no hoops
Smittybilt XRC8 winch with roller fairlead
OBA courtesy of Harbor Freight with male quick disconnect mounted on the top of the bumper
Shrockworks radiator skid
NXRocks original engine, transmission, X-fer, and gas tank skids all 3/16" steel
Shrockworks rear differential cover
NXRocks original split sliders
Shrockworks rear bumper without tire carrier
Yakima SpaceBooster cargo box
WeatherTech in channel vent visors
Electrical:
Optima yellow top
Sylvania Silverstar replacement bulbs in the main headlights
35w 4500K HID's in the stock fog lights
Fancy Harbor Freight 6" Chrome off road lights on the front bumper
Less fancy Harbor Freight Hella nock-off rock lights on the front bumper
750w inverter currently using the alligator clips but I'll get it wired under the passenger's seat soon
Midland CB in the center console with 4' Firestik and heavy duty spring mounted to the front bumper
Nissan keyless entry pad mounted under the driver's side mirror
Suspension:
Front:
Radflo 2.0 Coilovers w/750# springs
Calmini cam bolts
Front sway bar delete
Rear:
Calmini 2 leaf AAL added into the main pack by length
Calmini extended shackles
PRG shim kit with new u-bolts
Rancho RS-9000 rear shocks
Rear sway bar delete
255/85/16(E) BFG Mud Terrain KM2's
Engine / Powertrain:
Volant cool air intake without the big stupid hole cut in the side for the horns
Flowmaster 50 series delta flow muffler
Superchips Cortex
All synthetic oils in engine, transmission, differentials, and x-fer case
Comments: I've been building this rig as an access vehicle for 14er trailheads and other Colorado camping areas. So far it's taken me everywhere I've needed to go. I haven't had to walk to a single trailhead since I got it. Lake Como is the next big challenge. We'll see if I have time for that this summer. If not, then I'll give it a go next summer for sure.
Photos:
Last summer at the end of the Castle Creek Road in the Montezuma Basin. This was before the Radflo's, AAL's and front Shrock.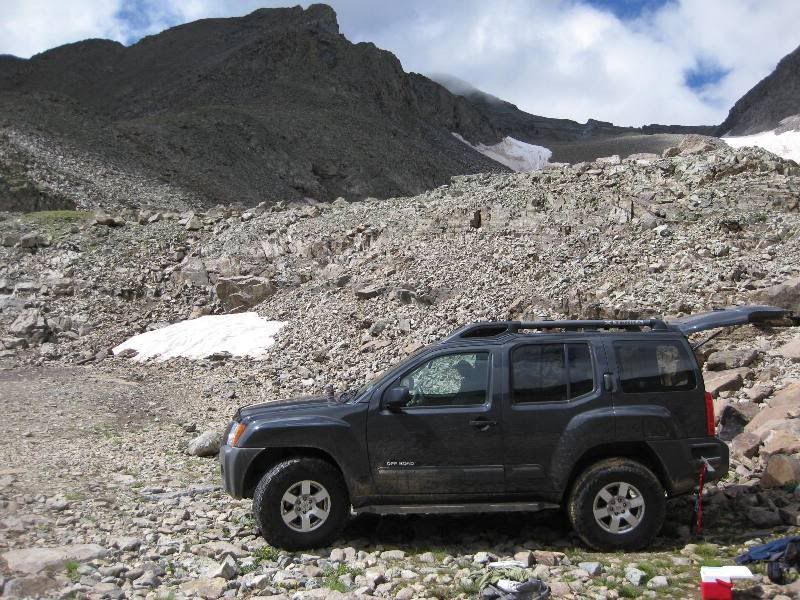 And a quick driveway shot after having the new tires mounted up.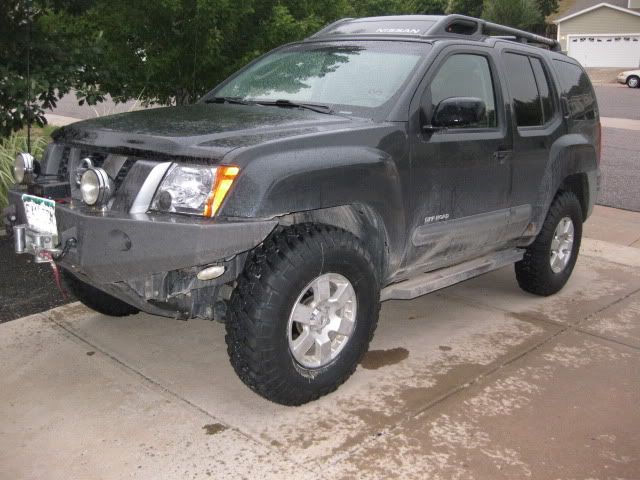 Hooked up to the Coachmen Apex 16RBX Hybrid
Parked at the upper trailhead in the American Basin