Intro Comments:
I have always liked the Xterra, and since buying one 3 years ago I have spent lots and lots of money thanks the people here. But the plan is to build a overland vehicle. About time I make a build thread.
Username:
cjs83
Make:
Nissan
Year:
2010
Model:
Xterra
Trim:
SE
Color:
Red Brick
Mileage:
41,XXX
MODS
Electrical:
Blue Sea fuse Block 5026
Die Hard Platinum Battery
ARB CKMA12 Air Compressor W/ pump up kit
Hella Supertone Horns
Wheels:
265/75/16 BFG A/T KO's in the garage and off the X
285/75/17 Toyo Open Country A/T II Now on the X
OR Rims in the garage
KMC XD Series Rims flat black 17" Now on the X
Bora 1.25" wheel spacers
Interior:
Weather Tec floor liners front/Rear
Xterra rear carpet rug, slits cut for utilitrack/ 2 sets of cleats
Frontier 5 Switch 4x4 panel
Mini 0806 Dash Cam
Raingler Gate Pocket
Exterior:
Shrock Works Front bumper
Warn m-8000s Winch
Shrock Works Rock Sliders/w dual supports
Shrock Works Fairlead
Shrock Works Flip up license plate holder
Maxterra Rear Bumper/Tire Carrier/Hi Lift/CB Tab/Backup lights
Matching spare rim/tire on tire carrier
Viggs Hood Black Out (needs to be redone)
Nissan Hood Visor
Nissan rear tail light guards
all 4 window vents (weathertec)
Southco Locking wetbox handle
Stubby Antenna
Boulder Iron works Shock Skids
Hefty Fab Steel Engine Skid
'05 Front Grill
Tinted front windows
OR body side Moldings
16" rear wiper with stiffer spring
Suspension:
Radlfo Extended Travel Coilovers 650lb springs
Extended Coilover studs
M14 Lower Shock Bolt
Nisstec 1" top plate spacer
PRG Rev2 upper control Arms
PRG Camber Bolts
Alcan Leaf Pack set at 2" with 300lbs over stock
PRG Shackles currently set at lowest setting
Bilstein Rear 5125 Shocks model 6253
PRG U Bolt Flip Kit
Nisstec Extended Brake Lines (all 4)
Updated Front Sway bar bushings
Rear sway bar removed
Driveline:
M226 Swap with ARB RD149 Locker 3.54 Gears
R180 w/ARB RD181 locker 3.54 Gears
ARB Diff Cover
Tom Woods Double Cardan Drive Shaft
Engine:
Volant 12740 CAI
AEM 21-209EDK Dry flow filter
XTP IMS
Magnaflo 12580 Muffler Y-Pipe Delete
Marine Brass +terminal
Lighting:
20" SR light bar on front bumper
Morimoto LED fog lights in the Shrock Bumper
Projector Headlight Retrofit/ W halo's and Devil Eyes
Backup lights in the maxterra bumper
VLED LED corner lights
LED Backup Lights got them from Maxterra
Future Plans:
waiting on Steevo to make 4.10's for the R180
DepHep or Gobi roof Rack?
XD series Addicts wheels 17"
Bedline some stuff
Hefty Steel Tranny skid
Hefty Aluminum transfer/gas skid
RCV Axles?
maybe a tire carrier with gas can holder.
Bully Dog GT Tuner.
Custom CB install
PHOTOS
Not current but here are a few. I will post current pics soon.
Completely Stock not much after I bought it...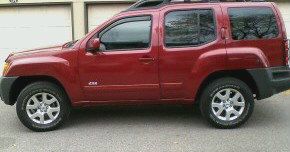 Bumpers and headlights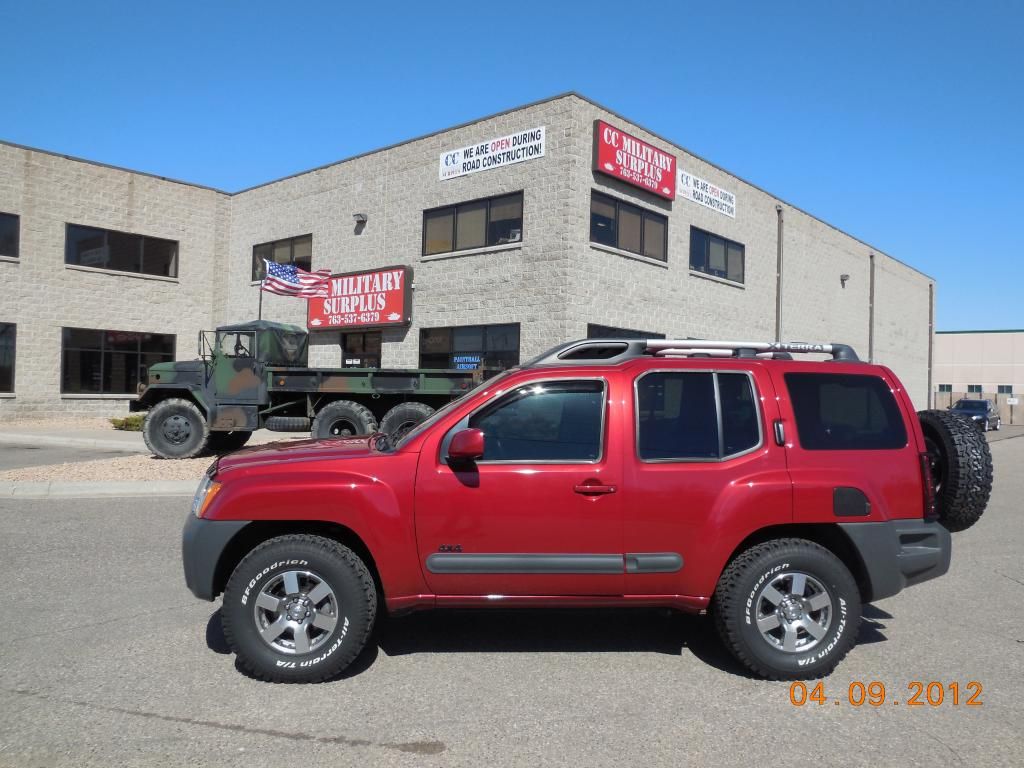 Comments:
After a few set backs with the m226 swap everything should be good to go now, just waiting on it to get all put back together. Big Thanks to Iron Rock offroad for doing the M226 swap and lockers and gears, was the first Xterra they worked on.