Discussion Starter
·
#1
·
So I have a shrock bumper which is installed and I am looking at picking up a winch...
i found this one
Firstly, what do you think of this winch $449.00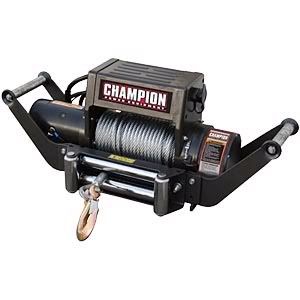 here are the specs
This 9500 lb. truck winch features a powerful 3.6 HP series wound 12 V DC motor, designed for cold climates and low heat generation. The enclosed heavy-duty snatch block enables you to double the 3/8-in. aircraft cable and effectively pull up to 17,000 lb. loads.
Features:
Speed mount designed to fit 5.08 cm (2-in.) class III receiver
Integrated solenoid assembly
3-stage planetary gear system
Cam action clutch for freespooling
Automatic brake in the drum
Heavy-duty roller fairlead
1.52 m (5 ft.) battery power lead
Motor: Series wound, 2.7 kW/3.6 HP (12 V DC)
Gear reduction ratio: 294/1 (12 V)
Cable (dia. x L):
ø 9 mm x 26 m
(ø 3/8 in. x 85 ft.)
Drum size (dia. x L):
ø 63 mm x 228 mm
(ø 2.48 in. x 9 in.)
Includes a speed mount hitch adapter, 20,000 lb. snatch block, quick disconnect power lead, and roller fairlead
Specifications:
Dimensions (L x W x H):
Winch:
56.9 cm x 18 cm x 27 cm
(2.4 in. x 7.1 in. x 10.63 in.)
Weight: 36.5 kg (80.5 lb.)
Winch and mount:
66 cm x 44.4 cm x 30.4 cm
(26 in. x 17.5 in. x 12 in.)
Weight: 50.9 kg (112.1 lb.)
Warranty: 1 year limited
Secondly, How do I install it, I know shrock gave me a triangular shaped bracket, but I dont have the instructions and I remember the instructions mentioning very little of winch installation.
thanks