Discussion Starter
·
#1
·
I think I put a post regarding this topic before, but I am starting a new one with pictures and goodness.
I went ahead and started the bedlining process of the cargo area. The cover panel was by far the most PITA step, so far. It is of a different material than the rest of the cargo area, and the prepping really didn't do much for it. It might have helped if I cleaned it off afterwards, too. Oh well. It is coming along quite nicely, and I will keep the pictures coming as the pieces are done.
The cargo area cubby cover (I don't know the PROPER name for it
). This is before I sprayed it. Notice the not-so-great prep job.
My *awesome* spray job. Not so much. The texture of the cover really prevented it from giving the duplicolor much to "stick" to, so it was almost like I just sprayed it black.
After a few coats and lots of drying, this is how the cover turned out, once placed back in the cargo area. Not a whole lot of difference in the picture, but it is a little bit different. Things don't slide quite as much when back there now.
The next thing I am spraying is the piece that surrounds the trunk latch, the part that is missing here.
It seemed small enough to actually test out with the proper prepping.
Here is above trunk latch surrounder, removed and ready for prepping.
Sanded, cleaned, and ready for sprayage (although, it doesn't look like it in the pic).
After a couple of good, even sprays, it looks pretty good. Just have to let it dry now.
Next I chose to spray the right steel runner that is alongside the cubby cover. Did the prep and clean, and spray a 2 light coats on it.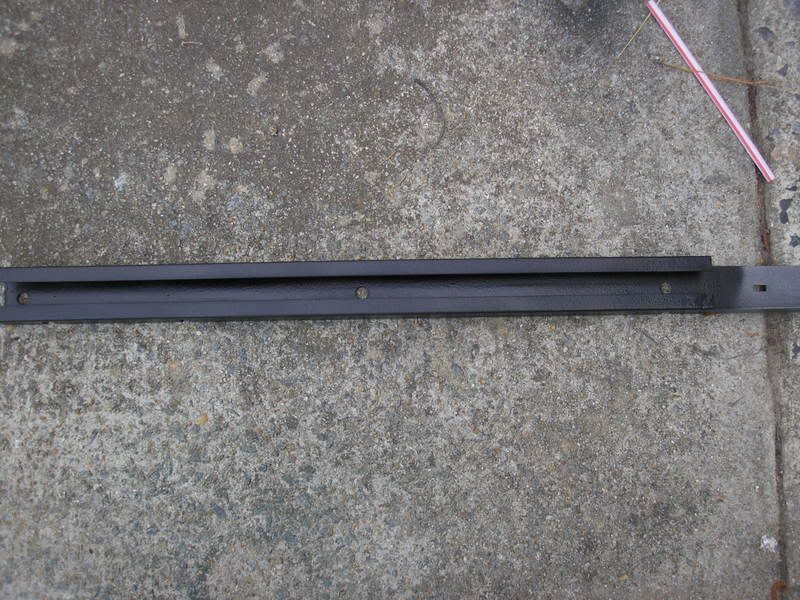 Can't forget this piece, which accompanies the steel runner. It goes at the top, where I didn't spray the steel runner.
That is all for now. I got a little dizzy from all the spray. I will update tomorrow, once all have dried and been installed. :headbang: