Well I had the pleasure of actually winning something (unlike most raffles ive ever tried) at GPAXs Shocker Run last weekend. Not only was it a great time and did I meet some of the great members of this forum, but I entered a raffle and won twice, so now I have some decisions to make..
I got these- $500 mickey Thompson gift certificate and $100 prg gift certificate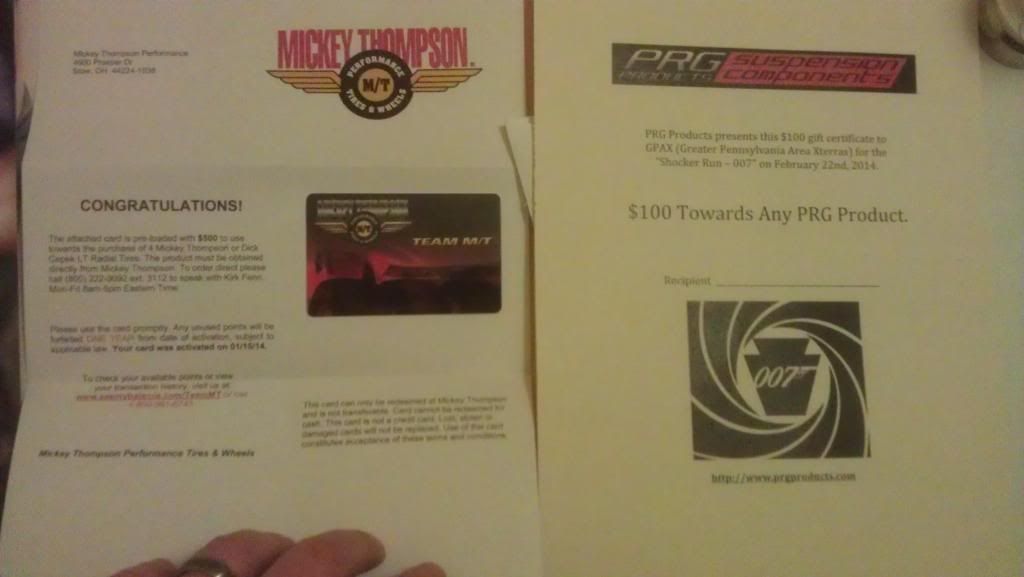 What's funny is I just bought a pair of the mickey Thompson baja atzs... but they were 32s, so naturally I have to go to 33s now right? I don't really have an excuse at this point. Little worried about the fact I already have rubbing from the 32s on these rims, but I guess I'll figure it out... SO, what tires??
http://www.mickeythompsontires.com/truck.php
I noticed they discontinued the Baja atz, replaced with the Baja atz p3?? You see the Baja TTC claws? 200 pounds, 54 inch, yeehaw!
http://www.prgproducts.com/shop/category/xterra/leveling_lift_kits/
Now with the prg certificate, I'm thinking of getting a 1" spacer with adjustable shackles at 1.5", thoughts?
Sh rock bumper is coming end of April, so I will be getting the heavier duty coil springs from nisstec