Senior Member
2010 Avalanche White Xterra S 4x4
Join Date: Mar 2014
Location: Murrieta, CA
Posts: 363
No-weld Roof Rack
---
Hey everyone, I recently built up a quick and dirty addition to the OEM roof rack. I've gotten some great info from this forum and want to do my part to give back whatever I can, so I've written up this post with the process of now I created this in hopes that someone can get some usable information out of it. I apologize that I don't have as many photos as I'd like of the process, so this isn't really a how-to.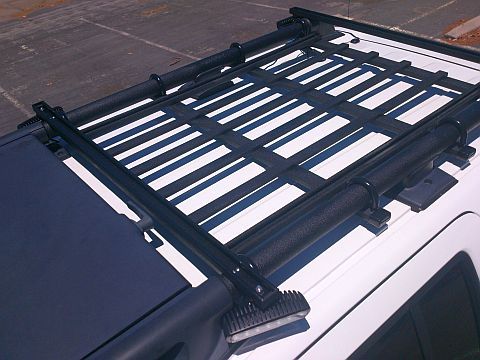 The main advantages of this design are that it is inexpensive and requires no welding and minimal metal-working tools or skills (which I have virtually neither of). It is also very strong and would hold anything that I ever intend to put on the roof (gas cans, firewood, etc). I also designed it to have two "over the rail" crossbars that hold side-facing lights, and allow me to haul long items like pipe or lumber. Overall, this design is a spinoff of some of the other no-weld racks that people have shared on here.
The rack is built from low profile 13/16" unistrut and rectangular aluminum tubing, and attaches to the OEM roof rails with U-Bolts that have rubber tubing slipped over them for cushioning.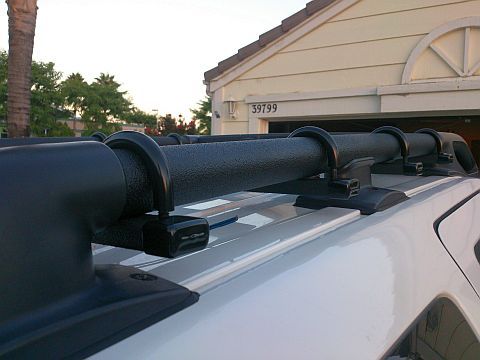 Home Depot and Lowes commonly stock the standard size unistrut(1 5/8" x 1 5/8") or the low profile size (1 5/8" x 13/16") in 16 gauge galvanized steel with a slotted back for about $15 per 10 foot stick. I purchased mine from a local supplier called OneSource Distributors. It was just over $10 per 10 foot stick and is made from non-slotted 14 gauge galvanized steel. I chose to use this instead of the Home Depot stuff because it is stronger and looks better, plus it was cheaper. In total, I needed four 10' lengths at a cost of about $44 including tax. If you forego the "over" crossbars that are holding the side-facing lights, you'll only need three sticks.
I cut 4 crossbars to mount under the OEM roof rails at a length of about 38" each (sorry, I don't have the exact length right now but I can measure them if someone needs me to). Again, in the spirit of making this easy for someone with minimal metal working tools and skills, you can cut the unistrut various ways. I used a 7" metal cutting blade that I bought for $4 from Harbor Freight mounted to a handheld circular saw, but you could also use a reciprocating saw or jigsaw with a metal blade, or a hacksaw and a lot of elbow grease. For anyone who has never had to cut metal like this - the blade throws tons of sparks, so just make sure to wear long sleeves and safety glasses and keep your pets and kids away. Also be warned that the metal gets very hot during cutting and will burn your hand if you're holding the metal too close to the cut.
With the four crossbars cut, I proceeded to drill the holes in each crossbar for the u-bolts. You need one hole on each side of each of the OEM roof rack tubes. I determined where to drill the holes by simply holding one of the crossbars up to the OEM roof rack rails centered and then slipping a u-bolt over the tube and marking its contact points with a sharpie. I drilled them a little larger than the u-bolt diameter to allow for some adjusting and to compensate for my non-precise method of measuring their location. I used black oxide steel u-bolts for 2 ½" outside diameter tubing from McMaster Carr (part # 3201T23), which were $1.55 each (I needed a total of 8 of them). I also ordered 8 black rubber end caps for the unistrut crossbars (part # 3312T62) at $0.74 each and 10 feet of 3/8" inside diameter 5/8" outside diameter UV resistant black PVC tubing (part # 5231K7) to cushion the u-bolts at a price of $10.70 (I had a few feet left over, but 10' was the minimum order quantity) from McMaster-Carr, since these items are not readily available at any local stores. In hindsight, I should have ordered a few more rubber end caps since I've been finding other things to use my left-over unistrut for.
Sliding the PVC tubing onto the u-bolts proved to be quite a challenge. I cut small lengths about 5-6" long each and used WD-40 to lubricate the bolt and the inside of the tube. It took a lot of twisting and pushing and forcing the end of the u-bolt against my workbench (or the palm of my hand) to get them over the threads and centered. In hind-sight, I wish I had used soapy water instead of WD-40, as I ended up needing to soak the completed u-bolt assemblies in rubbing alcohol overnight to rid them of the WD40 residue. I've seen some people post online that they had better luck with this step by clamping one end of the u-bolt in a vice, but I didn't have a vice to test this method out and you need to be careful to not damage the threads of the u-bolt. I found some success with using a small box-end wrench (bigger than the diameter of the bolt but smaller than the outside diameter of the tubing) to push the tube along the bolt while I held the other end and twisted back and forth on the tubing.
I then visited a local metal yard in search of some length-wise material for the rack. Most of the rack designs I had seen used 1" x ¼" aluminum flat bar that was secured to the crossbars with sheet metal screws through the top. I planned to go this route but was discouraged to see that the metal supply yard didn't stock any ¼" thick materials. I instead found some scrap 1"x½" rectangular aluminum tubing that turned out to be a perfect length to give me four sections at about 43" long each. This turned out to be a better option because the hollow insides of the rectangular tubing allowed me to drill screws through the bottom of the unistrut channel and into the aluminum tubing, so there were no screw heads sticking up on top where the cargo needs to go. In addition to the 4 aluminum tubes, I also cut two lengths of unistrut the same length so there would be a total of 6 length-wise bars with the two unistrut ones on the outer edges and the 4 aluminum ones in the middle. The unistrut lengths provide a full-length tie-down channel. In hind-sight, I wish I had cut these two lengths of unistrut about 5 or 6 inches longer so I could have run them further toward the rear of the Xterra for rear-facing lights.
With everything cut, it was just a matter of screwing it all together. I used a file to smooth the edges of my cuts as I was piecing everything together. I placed two screws at each point where the metal mated up, to prevent it from flexing too much and give it additional strength. I used ½" long #8 sheet metal screws and drove them up through the bottom of the unistrut crossbars and into the aluminum tubing. Where the length-wise unistrut pieces mated with the unistrut crossbars, I actually drove the screws down through the top so that the sharp ends of the screws were facing down toward the roof. I was planning on nipping the sharp end of the screw off pretty flush with the inside of the bottom of the unistrut crossbars, but it turned out to not be an issue once the rack was mounted up on the roof as you'd really have to try to get your finger up inside there and cut it on the screw. While screwing everything together, I used a small combination framing square to keep everything squared up as I drilled and placed the screws. At ½" long, the screws were just short enough to keep from poking through the top of the aluminum tubing.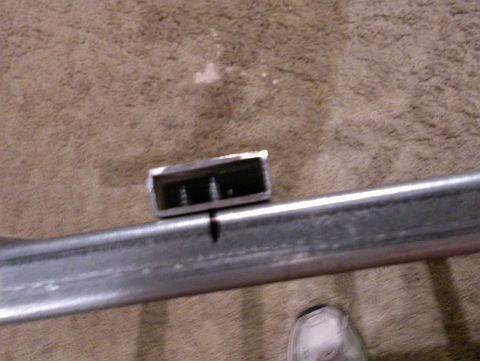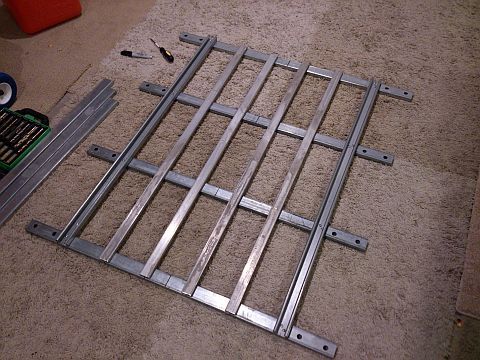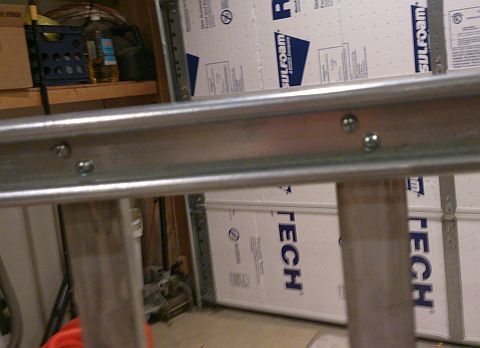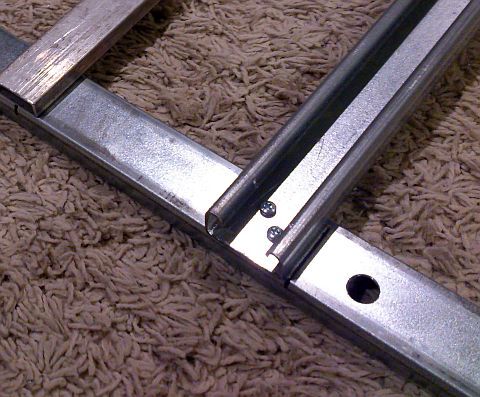 To finish the rack, I lightly sanded the entire thing with medium-grit sandpaper and wiped it down with acetone. I then sprayed a generous coating of U-POL #8 Acid Etching Primer over the entire thing before covering it with two coats of Raptor Liner.
To mount the rack on the vehicle, I had to remove the OEM roof rack tubes and bolt the rack to them first. I used the opportunity to sand down and raptor line the tubes, and I fished wires through them for my side and rear facing lighting.
Once everything was dry, I mounted the rack to the OEM tubes using a piece of wood and some clamps to ensure everything stayed straight and flush. I used self-locking nuts with nylon inserts in place of the nuts that came from the u-bolts, which I bought at Home Depot for about $8.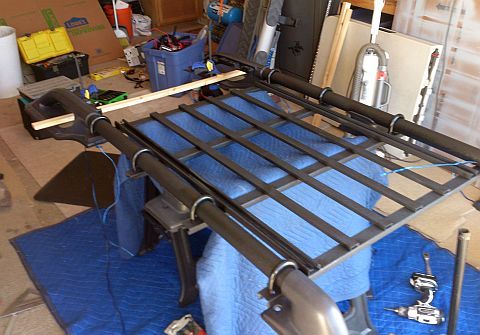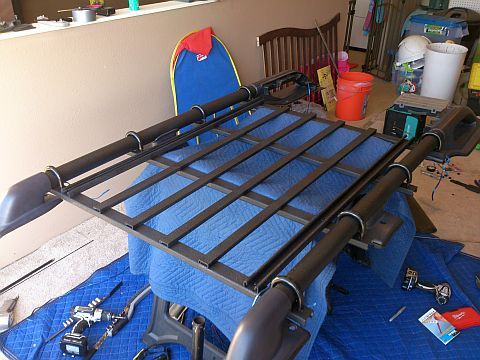 As several others mentioned when doing a similar project to this, the OEM roof rack tubes arch upward about 1/8" in the center. To compensate for this arch, I used some large rubber washers/grommets as shims under the two center crossbars. I just smashed them in between the crossbar and the tube, and they added some nice cushion and strength.
Once everything was fastened together, it was just a matter of asking a neighbor to help me lift the full assembly up onto the roof without scratching anything and fastening it all back down. I had read up on the many horror stories about the nutserts spinning freely when removing the OEM roof rack tubes. I was hoping to avoid this issue since I don't experience the snow or rain here in SoCal. I actually used the Nissan crossbar torx driver in the under-seat tool kit with a large pair of vice grips clamped to it, just to have better control over the amount of force used compared to a ratchet with a torx head or an electric drill/driver. I also used a tip I read from someone that said to tighten them a little before attempting to break them loose, and it seemed to work. However, as luck would have it, I had one nutsert start spinning when I was removing the last few screws. Fortunately, it was one of the supports in the middle of the OEM roof tube and I was able to get to it pretty easily under the headliner just inside the rear passenger door. I used some JB KWIK on a long wooden skewer to reseal the nutsert to the roof and was able to back the screw out no problem once the JB KWIK had fully set.
Once the rack was fully mounted back to the roof, I cut the two crossbars that are mounted over the top of the OEM roof rack tubes and finished them with bedliner as well. These are about 2" wider than the 4 crossbars that hold the roof rack insert to the OEM tubes. I then screwed them directly into the OEM tubes using self-tapping screws, since they won't hold any significant weight (just 2x4s, pipe, etc.). I mounted the lights to the ends of these crossbars before attaching them to the OEM tubes.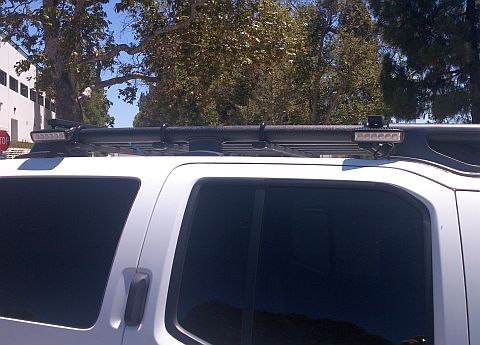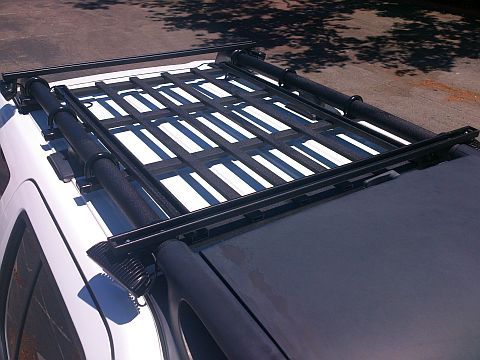 In the end, I am happy with the overall design of the rack. As I mentioned, I would do a few things differently if I did it all over again, namely using soapy water on the PVC for the u-bolts instead of WD-40, and cutting the 2 lengthwise unistrut pieces longer so that I could mount a light bar further back on the roof toward the rear hatch. All-in-all, not including paint/finishing supplies, you can build this rack for $100 to $120. I did need to purchase the metal cutting blade and a step drill bit from Harbor Freight, which added a few bucks to my total cost. I also ordered some plastic unistrut plugs from ebay (similar to the rubber caps, but they go inside the end of the unustrut instead of over the outside of it) to plug off the ends of the two crossbars with the lights mounted on them, and to cap off the front and rear ends of the two length-wise sections of unistrut for a more finished look. I'm sure you can come up with many variations of this rack to make it cheaper or more expensive, stronger or weaker, or to make it easier or more difficult to install onto the roof. Happy building! 
Veteran
Join Date: Feb 2012
Location: San Mateo, CA
Posts: 1,612
Awesome job dude! I've been eyeing this type of setup for awhile and researching parts but haven't gotten around to building one yet.
You gave me more ideas of what and what not to do according to my needs for the rack.
Your rack looks very OEM-ish. Great job and thanks for sharing!
Question: Not sure if I missed it but how did you mount the two top crossbars to the OEM roof rack? You just screwed it onto the roof rack or did you also use the U-bolts? Kind of hard to tell from the pics.
---
Last edited by hybrid90; 07-14-2014 at

05:42 PM

.
Damn good work!! Thanks for posting.
Senior Member
2010 Avalanche White Xterra S 4x4
Join Date: Mar 2014
Location: Murrieta, CA
Posts: 363
Quote:
Question: Not sure if I missed it but how did you mount the two top crossbars to the OEM roof rack? You just screwed it onto the roof rack or did you also use the U-bolts? Kind of hard to tell from the pics.
I planned on using the u-bolts, but I couldn't get the bars mounted right where I wanted them because the u-bolts for the lower crossbars were in the way. If I had planned ahead a little better with the measurements and what not, I could have used them. I just drilled self tapping screws down through the inside of the unistrut and into the OEM roof tubes (2 screws per crossbar per tube, so a total of 8 screws). This wasn't as strong as the u-bolt method, but allowed me to keep the crossbars where I wanted them and should be more than strong enough to hold a pair of lights or have a bunch of 2x4's sitting on top of them. I also wanted these bars to act as tie-down points, but I'm worried they may not be strong enough just screwed down like that. I'll test 'em out soon and see how they hold up.
Quote:
Damn good work!! Thanks for posting.
Thanks!
---
Last edited by JFanaselle; 07-14-2014 at

06:13 PM

.
Veteran
Join Date: Feb 2012
Location: San Mateo, CA
Posts: 1,612
What model side lights are those?

How's the rack holding up so far? Have you tested the strength of the tie down unistruts yet?

Thanks!
Nice job, thanks for sharing!
Senior Member
2014 Super Black Xterra Pro-4X 6 MT
Join Date: Sep 2014
Location: Edmonton, AB, Canada
Posts: 167
Senior Member
2014 Night Armor Xterra Pro-4X
Join Date: Nov 2014
Location: Maui, HI
Posts: 119
Very Nice!
Hows it holding up? Any changes you would've made now that you had it a while?
Senior Member
2010 Avalanche White Xterra S 4x4
Join Date: Mar 2014
Location: Murrieta, CA
Posts: 363
The rack is holding up very nicely. We don't get bad weather here in SoCal, but I don't think that would affect it anyway. I've had quite a few things tied down up there and the unistrut doesn't budge a fraction of an inch. Very solid. I've had about 200 lbs up there with no issues at all.

To answer the question about the side lights - they're cheapo ebay specials. I think I paid about $14 a piece for them shipped. They're fairly bright, but not holding up very well. One has a lot of moisture inside and they've all faded pretty badly in the sunlight - the lenses have yellowed slightly and the black housings are more of a dark gray now. For the price, I'm not complaining, but I will be upgrading to something nicer eventually.

After having the rack in place for awhile, there are only a few minor things I would change:

1) I would extend the length of the rubber tubing to cover the U-bolts completely to the unistrut bars. About 1" of each side of the U-bolts was exposed, and they've taken on some ugly rust (again, we don't get horrible weather here, so I'm not worried about them rusting through, but this could be an issue for some).

2) I would be a little more careful about the location of the wire holes for the lights. While installing the lights, I had a hard time feeding the excess wire back into the large tubes on the OEM rack. Careful placement could have avoided this issue.

3) I would extend the long unistrut bars (that run parallel to the OEM roof rack tubes) further toward the rear of the Xterra - beyond the rear unistrut crossbar, so that I could have run rear lights further toward the back of the rig. Right now, I could mount lights to the bottom of the rear crossbar, but I will end up with a bad shadow behind the rig. I'll probably purchase or fabricate a separate light bar that will mount to the rear of the OEM rack mounts.
Member
2005 Grenade
Join Date: Oct 2014
Posts: 81
You might run into lift gate issues if you extend the lights too far. Something to think about.