Grinding noise
---
Hey,
I have a 6spd man transmission and recently ive been getting a strange grinding noise. It happens in every gear after about 2500 rpm's. If i shift it goes away until, you guessed it, i hit 2500 RPM's again. does anyone know what it is?
Veteran
2015 F-150 XLT Sport FX4 SuperCrew
Join Date: Jul 2009
Location: Edmonton AB
Posts: 3,158
Does it happen even when you're coasting at 2500RPM's? Is it worse when you give it gas? Could be something as simple as something rattling around somewhere...
---
Ford F-150 XLT Sport SuperCrew . FX4 . 4x4
In 2WD or 4WD - or both?
---
08 Off-Road | Knight Armour | 6 Speed Manual | HID Bi-Xenon headlights | LED Tail, Signals, and Interior lamps | Hella 500FF (with HID retro) | Custom Fab front light bar
Its both it happens when its in 2 High. But yeah It is worse when i give it gas. Thats mainly when its noticeable.
where does it come from or seem to come from..how loud is it....many phones can now take sound clips...or video clips..can you upload one? it would help us diagnose your problem.....does the sound seem to come from a certain side of the truck...or the middle?

you may have a bad torque converter....however, this is incredibly rare on these trucks...
---
The Great Ninja of the East


To view links or images in signatures your post count must be 10 or greater. You currently have 0 posts.

Veteran
2006 Xterra S
Join Date: Feb 2008
Location: MA
Posts: 2,069
I had a rattle, seemed to be RPM specific - turned out to be a rock vibrating on top of the skid, easy fix. Hope yours is something as simple, seems like the above is a good lead.
yes i agree the above post sounds very promising....but if you could capture a video or sound clip of it..I'm sure somone on this site could give you a better idea of what it is.
---
The Great Ninja of the East


To view links or images in signatures your post count must be 10 or greater. You currently have 0 posts.

Noobie
2005 Xterra S
Join Date: Jul 2009
Location: Tucson, AZ
Posts: 4
Here's my two cents' worth. I also have a 6-speed, have heard a rattling noise while accelerating. Seems to go away if I just barely put pressure on the clutch pedal.
I think I've found a likely candidate. There is a pin that connects the clutch pedal lever to a clevis that most likely goes into the clutch master cylinder. (see arrow in pictures below)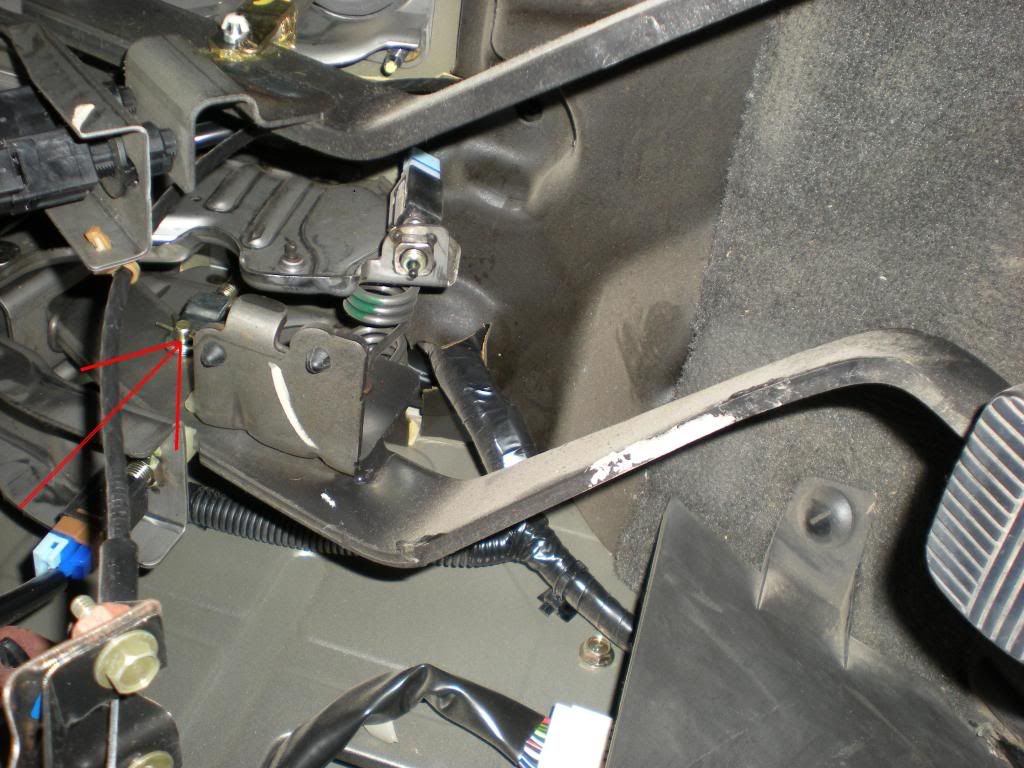 When the clutch is fully released, there is no pressure on this pin. The holes in the pedal lever and clevis are slightly larger than the pin, which allows the pin to rattle.
The mechanism is set up this way so that there is zero pressure being applied from the clutch pedal to the clutch master cylinder when the clutch is released. Any residual pressure being applied could potentially cause clutch slippage, premature clutch wear, so on and so forth.
I don't think there's anything wrong with having the pin rattle, it's just annoying. That being said, I'm also trying to figure out how to get it to stop...
Veteran
2005 Xterra X
Join Date: Nov 2009
Location: Dover, NH
Posts: 804
duct tape fixes all....
or pull it out, wrap some electrical tape around the pin, then put it back in...
---
Live Free or Die...